Sensational Sreeja scalps Batra, Mousumi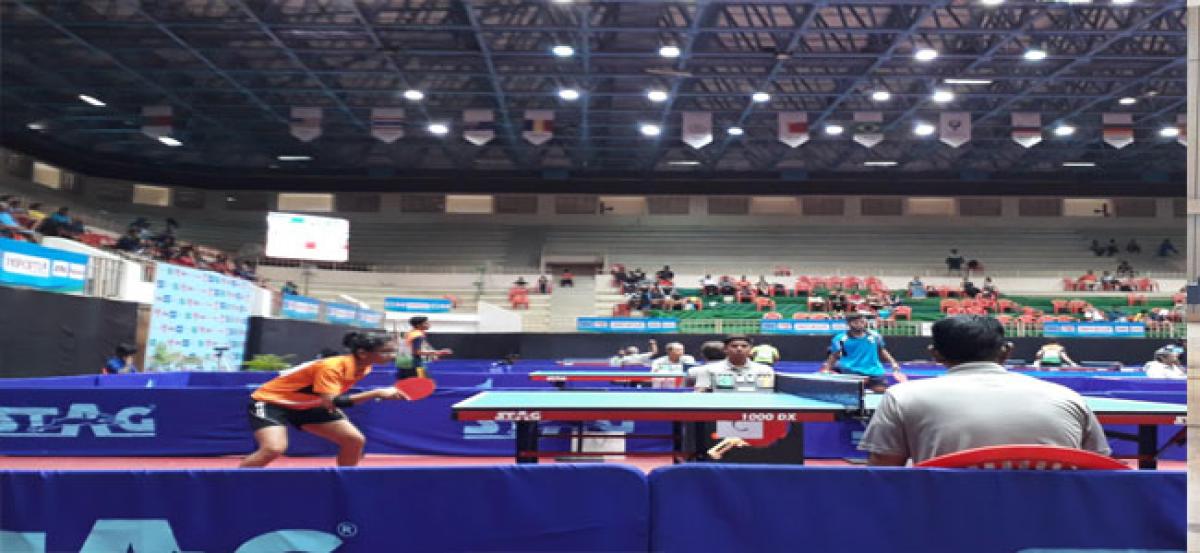 Highlights
The ongoing 11Even Sports National Ranking (Central Zone) Table Tennis Championships came alive, thanks to a stunning reversal in the women singles quarterfinals at Abhay Prashad Indoor Stadium here on Wednesday.The country's most happening paddler, the 16th seeded Telangana State player Akula Sreeja created the bi
Indore: The ongoing 11Even Sports National Ranking (Central Zone) Table Tennis Championships came alive, thanks to a stunning reversal in the women singles quarterfinals at Abhay Prashad Indoor Stadium here on Wednesday.
The country's most happening paddler, the 16th seeded Telangana State player Akula Sreeja created the biggest upset when she scalped fifth seeded Mousumi Paul in a dream match that went the distance. Sreeja, displaying temperament of a seasoned campaigner, edged out the hot favourite 4-3 with a a thrilling 14-12 score-line in the decider.
Sreeja, a product of Hyderabad-based Global Table Tennis Academy (GTTA) has been quite the giant-killer in the tournament. After having scalped Manika Batra earlier in the day, she accounted for fifth seed Mousumi Paul 11-9, 11-5, 13-11, 11-7 to enter the quarterfinals.
Her showings put to shade the other quarterfinal upsets-third seed Pooja Sahasrabuddhe was sent packing by another qualifier, Takeme Sarkar of West Bengal, who won 4-1.As compared to the Manav-Arjun needle match, Sreeja's win over Mousumi seemed pedestrian. But the way Sreeja launched herself from the first game, it was all over bar the shouting for PSPB's star performer.
The Telangana girl picked from where she left off in the previous round against Manika and pressed the gas pedal as if she was in a hurry to return to the hut for a well-deserved rest. Except for the third game, which Sreeja won 13-11, there was never ever a threat to Sreeja who went about the demolition job clinically.
Sreeja runs into Madhurika Patkar who beat Ayhika Mukherjee, a TTFI wildcard entry, in the Thursday's semifinal while Suthirtha Mukerjee takes on Takeme Sarkar.
Results-Quarterfinals-Men singles: (1) G Sathiyan (PSPB) bt Sourav Saha (PSPB) 12-10, 8-11, 11-6, 11-5, 8-11, 6-1 conceded; (4) Harmeet Desai (PSPB) bt Sougata Sarkar (LIC) 11-5, 8-11, 8-11, 11-9, 11-5, 11-7; Raj Mondal (RBI) bt (6) Subhajit Saha (PSPB) 11-8, 11-7, 11-6, 6-11, 11-9; Arjun Ghosh (WB) bt (7) Manav Thakkar (PSPB) 6-11, 11-6, 11-5, 4-11, 8-11, 14-12, 14-12; Women singles:
(1) Madhurika Patkar (PSPB) bt Ayhika Mukherjee (TTFI) 3-11, 11-5, 11-7, 11-2, 11-9; Sreeja Akula (TEL) bt (5) Mousumi Paul (PSPB) 11-9, 11-5, 13-11, 11-7; Takeme Sarkar (PSPB) bt Pooja Sahasrabudhe (PSPB) 11-8, 11-9, 7-11, 11-8, 11-9; (2) Sutirtha Mukherjee (WB) bt Divya Deshpande (PSPB) 11-5, 18-16, 12-10, 7-11, 7-11, 11-8.
Subscribed Failed...
Subscribed Successfully...