Foodie friendly Beverly Hills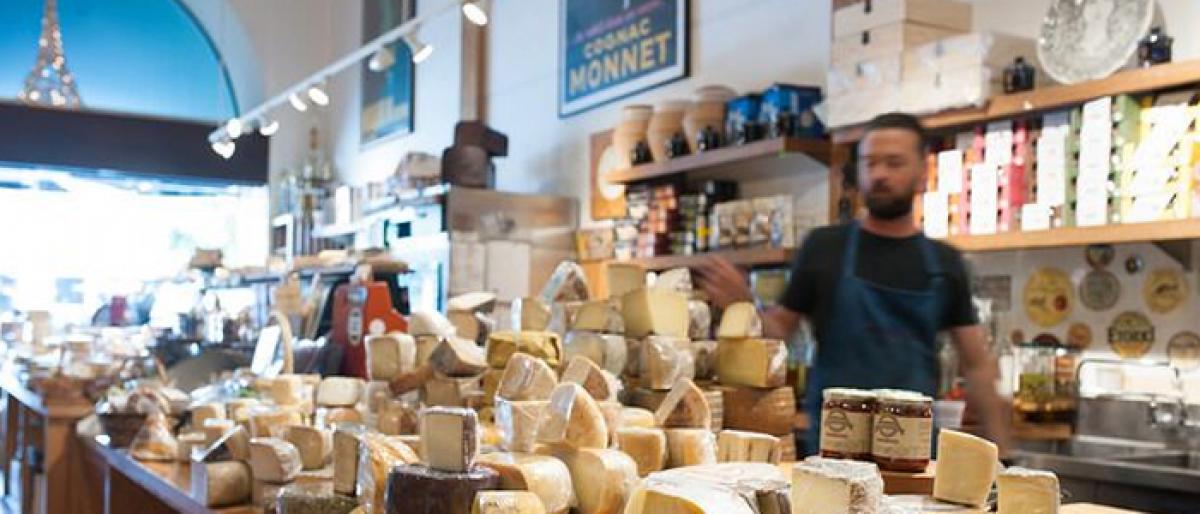 Highlights
Beverly Hills isn-'t all about shopping. The city also offers plenty of opportunities for noshing and dining. Bouchon — The French Laundry's Thomas...
Beverly Hills isn't all about shopping. The city also offers plenty of opportunities for noshing and dining. Bouchon — The French Laundry's Thomas Keller came back to Los Angeles, where he cooked in the early '90s, to open Bouchon in 2009. If you're hankering for classic French bistro dishes tweaked with a modern sensibility, this is the place.
The Cheese Store of Beverly Hills: The small inviting shop boasts one of the most comprehensive selections of imported and domestic cheeses around. The store also has a shrewd selection of wines that pair with cheese and enough gourmet goodies to drive any hapless shopper to distraction — caviar, truffles, charcuterie, balsamic vinegar, hazelnut oil and more.
Freds at Barneys New York: Shopping is exhausting. Once you reach the whimpering stage, take the elevator up to Fred's on the fifth floor and nab a table on the outside terrace, the better to enjoy a Beverly Hills Club sandwich with shrimp, crab, bacon and avocado. Soothing cocktails or a glass of Chardonnay can be ordered from the bar.
Lawry's the Prime Rib: Los Angeles is the home of the original Lawry's the Prime Rib, where rosy beef is carved from a rolling cart by a white-gloved master carver with a heavy gold seal around his neck. You choose the cut and the sides. But first, there's salad.

Matsuhisa: This funky little restaurant is where the whole Nobu empire started, when Robert DeNiro came in for dinner one night and met Nobu Matsuhisa. And where on any night of the week you could see a parade of stars lining up to get into the inner sanctum, a seven-seat bar screened off from the rest of us. For old time's sake, long-time customers still drop in for Matsuhisa's signature dishes: uni shooters, mixed seafood ceviche, tiradito (Peruvian style sashimi), new style sashimi and squid pasta with light garlic sauce.
Maude: Curtis Stone is best known in this country as host of the Food Network's 'Top Chef Masters', but the Australian chef has some serious chops, honed at Marco Pierre White's restaurants in London. In fact, he was chef de cuisine at White's Quo Vadis when it was awarded three Michelin stars. Curtis' television career took him away from the kitchen until he opened Maude last year in Beverly Hills. Named after his grandmother, who introduced him to food, Maude is his dream little restaurant, just 25 seats and seven tables.
The Palm Restaurant: This location seats 185 serious carnivores. The restaurant is known for its prime steaks and chops and crazy giant lobsters. Appetizers run the usual steakhouse gamut — shrimp cocktail, baked clams casino, crab cakes.
Spago: Executive chef Lee Hefter and chef de cuisine Tetsu Yahagi turn out light, graceful dishes, served on gorgeous ceramics specially made in Japan. The tasting menu is really the way to go here, but people still stop in for pizza with cured salmon and dill crème fraîche or a prime beef burger at lunch, and on Fridays Puck's long-time faithful customers show up in droves. The wine list is phenomenal, and pastry chef Della Gossett adds her deft touches to the menu.
Subscribed Failed...
Subscribed Successfully...