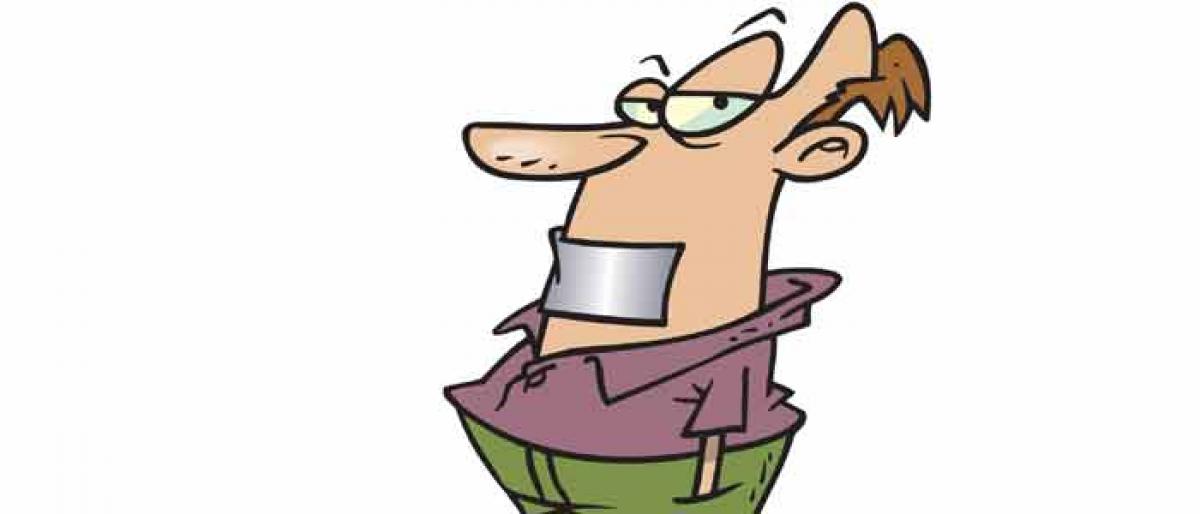 Highlights
I don't know if you realised it yet. But if you are a normal person with relationships – personal and professional – you are already in several abusive relationships. Since all personal relationships are some form of abuse anyway, let's deal with professional relationships here. Abuse in professional spheres invites legal consequences but some people have devised ways to inflict severe trauma with
ADVERTISEMENT
I don't know if you realised it yet. But if you are a normal person with relationships – personal and professional – you are already in several abusive relationships. Since all personal relationships are some form of abuse anyway, let's deal with professional relationships here. Abuse in professional spheres invites legal consequences but some people have devised ways to inflict severe trauma without getting caught.
Let's consider a simple situation. We pitch for a job and send a proposal. 'Okkagh, willgetgack,' gargles the person at the other end with that marbles-in-the-mouth kind of fashionable talk we hear these days. We smile like we have been taught to, even if the other person is choking on some self-inflicted marbles-in-the-mouth punishment. Anyway she does not get back as promised – maybe she's busy putting more marbles into her mouth.
After weeks of dignified restraint we gather courage and send a cheery reminder, 'hey, need any more information?' That's when we experience the first whiplash of silence. We see her online, see WhatsApp marks change colour and we deeply feel the big ignore. So we assume she is busy solving the US-North Korea crisis by putting marbles in her mouth.
A few hundred reminders ranging from 'hey I know you're busy' to 'I am going to die today', receive the silent treatment. Now the WhatsApp marks don't even change colour. We give up. Just when we get over the humiliation we get a call. 'I tried reaching you yesterday,' demands marbles as if it was our fault. 'Come and deliver'. We try to tell her, hey I was planning to get married but for you I will cancel my marriage. 'I'll get back,' she says and she is gone.
Cryptic is the currency here. We send thousands of messages, shift marriage venue next to place of work and walk in to do the job next day. 'Sorry,' says Marbles cheerily, 'Your programme is postponed by a few hundred years hahaha. Forgot to mention…was busy.' We walk out nonchalantly. We have lost the human capacity to feel our feelings. Marbles has more problems than all of us. Marbles looked deeply upset by our lack of feelings – her new problem.
As we reach home we get a call. It's Marbles. 'Your replacement didn't come, so come and do your stuff like NOW (write article, deliver talk, train).' We go shamelessly (we are professionals you see) and deliver. Okkkaagh. Any feedback? Silence. Now you are used to this. We call after a few days. Payment please? Silence. After weeks of messaging and mailing we give up. That's when we get a cheque for part of the payment.
We don't have any energy left to ask about the rest of the money. And if you want to see the remaining money ever again, better maintain cordial relationships with Marbles. Thanks, we message with a smiley. Silence. Received cheque. Sorry to have troubled you, over WhatsApp. Silence. We feel like buying marbles and stuffing them in our mouths as well. We write off the amount.
Just when we think we have recovered from the trauma, we get a call. It's Marbles. 'Can you do this job for me?' she asks enthusiastically. Do you even realise what you did to us Marbles? We are wary after the last bout of the silent treatment. 'What is it?' we ask. 'Hmm, let me get back to you,' she says. Our heart sinks. 'No, no, please wait,' we plead. It's too late. The silence has begun. The marbles fall in place. We, are losing ours. That's how it works. Now, all of you who can identify with this, welcome aboard. Join the Silent Sufferers Club. Silently.
By: Harimohan Paruvu