Using artificial flowers and plants skilfully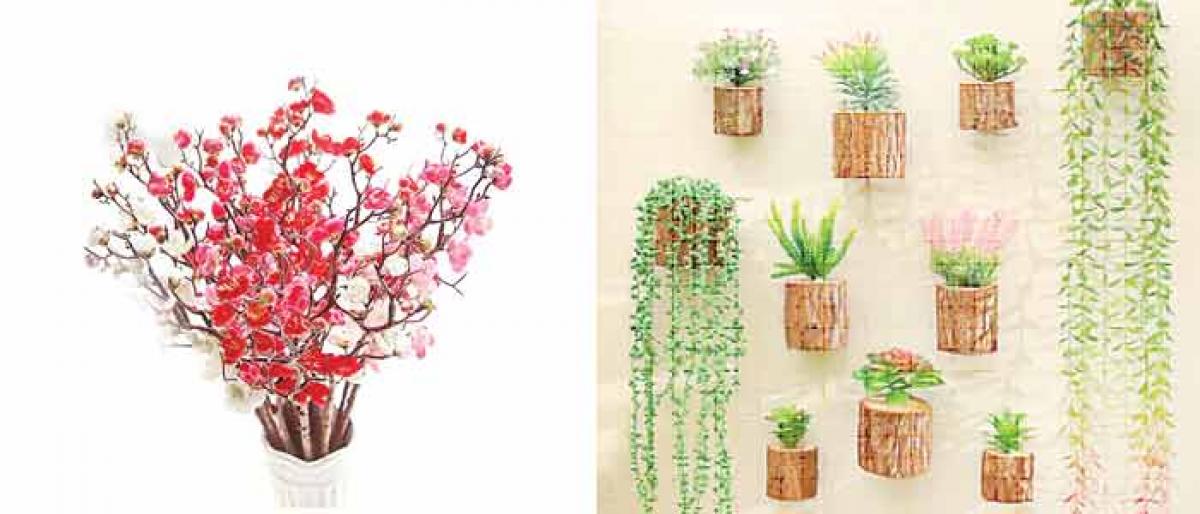 Highlights
Plants and flowers can give a very different feel to any environment. They lend beauty and colour to a room if placed in key locations such as a...
Plants and flowers can give a very different feel to any environment. They lend beauty and colour to a room if placed in key locations such as a coffee table or window sill. Flowers or a plant may be the perfect solution for an empty corner. In most cases, artificial plants are the best if chosen with care. They are not only used to decorate homes but also hotels, restaurants and offices. Artificial plants made in the right way can give a special touch, elegance and sophistication without the maintenance problems compared to real plants.
The advantages of using artificial plants: Unlike natural plants, artificial plants and flowers do not wither or attract unwelcome insects in your home. No watering is required. You can change and store them easily. You do not spend much as real flowers as they do not have to be cared for and changed every few days. They do not cause allergies.
Minimal care needs to be taken: Dust and dirt can stick to them if they are near a window. But with just soap and water, they can look perfect again. But one should invest in flowers and plants of best quality and make sure that they are placed well so they don't end up looking artificial. One can use many types of artificial plants. Succulents and cactus plants: These artificial plants are those with thick stems or thorns and look the most natural.
Potted trees: There is a variety of potted plants available, from palm trees that give a tropical touch, to cycas, bamboo, ferns and climbing ivy. You can find them in every size from small plants in flower pots to trees several feet high.
Flowers in a vase: The most real looking artificial flowers are pink and white carnations and sprays of white or purple orchids. Artificial roses are also used in interior decoration with stems that are not as thorny as real roses. Sunflowers and jasmine look beautiful in arrangements too. A nice touch is to get a spray of perfume in the same fragrance as the artificial flowers that you have and mist them lightly to create a special ambience for guests.
Outdoor plants: These welcome a guest even before they enter. A brick exterior wall space or a large main door is just right to put hanging p lants like geraniums and ivy.
The dining room: Centrepieces on the dining table combining different colours of flowers look wonderful. Large plants or a creeper hanging from the ceiling in the corners give a different dimension to this room. One can even have a vertical wall made up of artificial plants for a unique look.
The bathroom: Plants can be a perfect foil for a corner, or to place over the toilet or laundry if you do not have much space. African violets and succulents can be used most effectively here. Bonsai are also perfect in this environment because they give a touch of serenity.
The kitchen: It is better to keep artificial plants rather than natural plants in the kitchen. Grease can be wiped from the leaves and flowers can be washed. Place them above or along the cabinets to give a green touch to the kitchen.
The bedroom: Doctors advise you not to not to have natural plants here as they give out carbon dioxide at night. Artificial plants give a feeling of softness and sophistication. Flowers can be placed on the table next to the beds.
By: Beyniaz Edulji

Subscribed Failed...
Subscribed Successfully...