Transforming lives online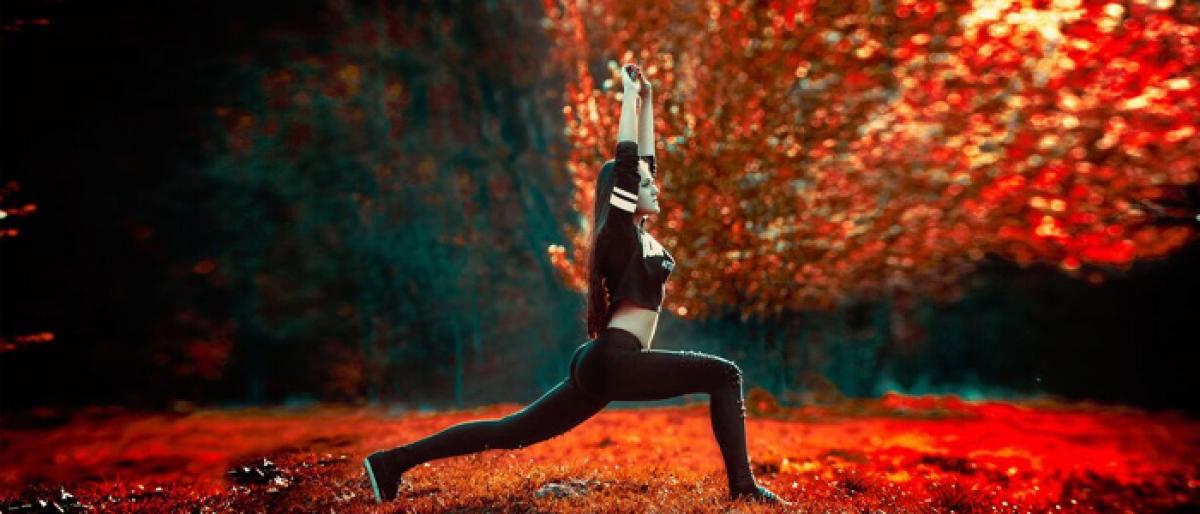 Highlights
As people spend a lot of time doing majority of their activities – communication, entertainment, learning and academics – online, the digital world is an evolution. But of the many industries that saw a radical growth because of the revolution, one field that surprises is that of fitness.
As people spend a lot of time doing majority of their activities – communication, entertainment, learning and academics – online, the digital world is an evolution. But of the many industries that saw a radical growth because of the revolution, one field that surprises is that of fitness.
The emergence of people spending more time on the computer was looked at as a doom for health and wellness. But then, fitness enthusiasts took to the internet by storm and started imparting knowledge, helping people understand its importance. And here is where we come across some people who've made interesting careers using this opportunity. Several young fitness enthusiasts have not just transformed lives through the internet but also have made a difference to the fitness revolution.
Traditionally, fitness and nutrition advisors were found at hospitals, gyms and wellness centres. But the increasing demand and supply they have online is staggering. In fact, we speak to three such youngsters who have made this their life and are living it up. Interestingly, all the clients who trust them immensely, with whom they share a close bond, are strangers who they've never met. Imagine transforming lives just through online interactions…
Krishna Chaitanya, squats.in, Hyderabad
For this 25-year-old, fitness was never a career option. In fact, event today, he holds a full time job at an MNC. However the online portal squats.in changed his life. With over 150 clients so far, he is in a happy. The Visakhapatnam lad who's been in Hyderabad since four years holds the position of a nutrition and fitness consultant with the acclaimed website.
"I love my job and the fact that I can make difference in people's lives," he says. While the online world seems limiting, Krishna puts it perfectly when he says, "When we got to a trainer or a nutritionist, we speak to them and come back home. However, the lack of proximity makes someone online keener to follow up. I am always happy to respond to my clients whenever they contact me. It's not about physical availability but the time I give them."
Having done an elaborate nutrition and workout course with the website, Krishna is quite kicked about his work, but recognises the challenges too. "It's not easy to keep people motivated when they hit a plateau. That happens due to various reasons and in such times you've got to try everything to push them," he shares.
But since he doesn't meet clients directly, keeping track of their workouts and diet can be difficult. However, he tracks changes and decided if he needs to get stricter. "While I don't check every meal of all clients, at times I realise the need to do that because some clients cheat often. The fear of having to be accountable sure discourages them," he says.
Suman Narang
The Lean Mantra, Jabalpur
This girl from Jabalpur took the IT route and lived in Delhi for nearly 10 months before realizing she wasn't meant for a desk job. Soon, her sports background (she's a black belt in karate) and personal interest in fitness drew her into a world she now adores, that of her many clients and their changed lives.
"I left my job and went away to travel, which is what I love to do even today. I wanted to enjoy the freedom and be stress-free even if it meant making no money at all," she tells us recalling how her journey began.
Asking parents for money didn't seem an option and she decided to use her knowledge to help people transform into healthy individuals to make some bucks. "I was always chubby and had lost weight myself. My sports history helped understand the functioning of the body. When I transformed, friends asked for advice. It worked for them and that built a credible profile. I put up the transformation stories online and got my first clients," recalls Suman, who runs The Lean Mantra that has a presence on most social media platforms.
With over 50 clients in around a year since she began, she tells us how she operates. "I don't give diets and encourage people to eat what they like, but in moderation, even sugar! I believe that dietary changes to lose weight only result in a boomerang effect when one gets back to eating staple food."
Having learnt everything through experience and meeting knowledgeable people, Suman feels fitness is a lot more than the overhyped visit to the gym.
"I feel people should indulge in activities that keep them close to nature. I encourage going to the track and running, amongst other things," she says.
Suman signs off saying this is rewarding as a career. "It was never about money for me. It's really hard to be fat in India. No one spares you, family and friends. I am helping people deal with body shaming because I have been through it too. It makes me very happy."
Simran Khosla
ButtLikeAnApricot, New Delhi
All of 24, Simran gives nutrition and fitness advice on her Instagram page buttlikeanapricot. With over 300 clients and several success stories later, she's in a happy space. What's more, she has become so busy that she recently hired a team to help manage her work.
"I was going through a bout of depression when I wanted to take a walk. My mother didn't think it was a good idea to go out in the evening and suggested that I go to a nearby gym. The vibe there changed my life. Little did I know that I'd be drawn into it so much that in a few months I would start advising others and would even take this up as my career," she recalls.
Interestingly, for someone who has proven results of several clients and over 23,000 followers on Instagram, Simran didn't have an encouraging start. She recalls, "I thought of closing it down quite soon because people mocked me. But I had no Plan B and things eventually fell into place. I never thought about success and focused on valuing my work."
Simran's clients come from across the world – from 51 countries – and her biggest motivation is clients' success stories. "I have learnt only through experience and knowledge, and nothing makes me happier than people I never ever met telling me I've touched their lives," she shares.
By: Pranita Jonnalagedda
Interested in blogging for thehansindia.com? We will be happy to have you on board as a blogger.