When every movement is a story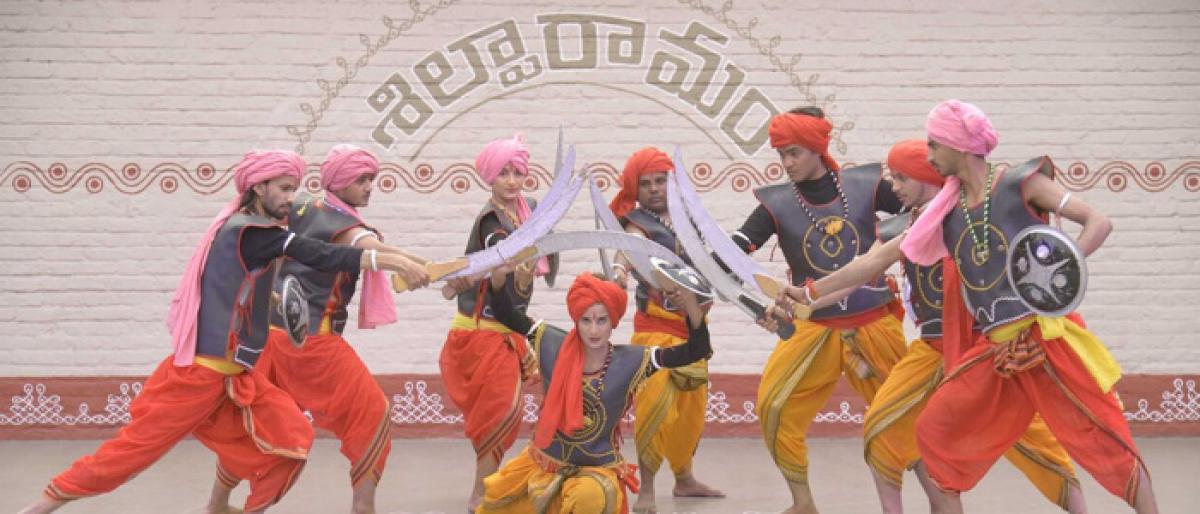 Highlights
As we walk into the month of May, another International Dance Day just rolled around the corner. On occasion of International Dance Day, Hyderabad's premier cultural hub, Shilparamam was abuzz with the sound of ghunghroos as the two-day Indian Dance festival was celebrated by Natya Mitram, a dance resource centre.
As we walk into the month of May, another International Dance Day just rolled around the corner. On occasion of International Dance Day, Hyderabad's premier cultural hub, Shilparamam was abuzz with the sound of ghunghroos as the two-day Indian Dance festival was celebrated by Natya Mitram, a dance resource centre.
Nayya Mitram not only promotes performances in classical dance but also organises seminars, workshops and research in the field of dance in order to raise more awareness about the nuances and intricacies of not only classical but also folk dances.
The two-day festival that happened on April 28 and 29, boasted of a diverse range of dances being showcased both across classical and folk mediums. On the first day, there were performances in Kathak, Bharatnatyam, Kuchipudi as well as folk performances in Lambada (the folk dance of Telangana), Dalkhai (a Sambalpuri folk dance from Orissa) and Koli (a Maharashtrian fisherman folk dance).
The second day featured Odissi, Sattriya and Chhau performances. The event featured dancers not only from India but from across the country. The performers boasted of a range of accolades and captivated the audiences with their grace and elegance.
However, one of the most striking features of the pieces performed were that they were highly influenced by myths and stories. And each piece interpreted the stories in their own way and presented them as such.
While mythological stories are characteristic of classical dances, it was refreshing to see these represented in folk forms as well as it seemed reminiscent of folk art in its root form, which is entertaining people through the telling of stories rather than just as means of introducing a little ethnic flavour in movies or programmes. In this regard Dr Hima Bindu Kanoj, eminent Kuchipudi dancer and coordinator of Natya Mitram says, "Folk is basically about speaking about your culture.
It's a group activity, which builds social relations and it's very saddening to see that that is disappearing. People are not really understanding or willing to learn our oral traditions because there is so much oral literature in folk. The root is always folk."
The dances explored a lot of themes from the Ramayana and Mahabharata of course seeing as they happen to be our most prevalent works of mythology. A Kuchipudi piece choreographed by Dr Bindu portrayed the entire Ramayana in 108 verses covering all six kands.
Another Kuchipudi piece called the 'Sivuni Sirasupaina' again choreographed by Dr Bindu explored the beauty of the Ganga, her origins and her journey from Aakash Ganga to Paataal Ganga. The Ganga as a subject was also explored in one of the Sattriya performances by Dr Joyeeta Talukdar performed to Bhupen Hazarika's evergreen "Ganga Behti Hai Kyu". Her performances also included a dance on the stages a woman goes through in her life.
Dr Talkudar offered an interesting perspective on the song in terms of social causes. She says, "I wanted to portray the various ferocious things that happen in India. I write for the website Women's World and Youth Ki Awaaz. I try to portray something in my dance where I can give at least a bit of education."
She went on to talk about stories are being told regarding various social issues in Kathak and Bharatnatyam that audiences can relate to and understand because of the prevalence of such topics in present socio-political narratives. She goes on to talk about subversions of notions of femininity in classical dance forms in terms of portraying women in Devi avatars such as Chandalika and Kali.
The event also featured a Kali Stutee performed by Odissi dancers Sri Radha Paul and Sanjeev Kumar Jena, which showed depictions of Kali at her most ferocious. Sri Radha Paul who has travelled extensively abroad also talked about how even audiences who are not native Indian and therefore not very well versed with Indian mythology and cultural codes also relate to stories told through the medium of classical dance because of its appeal and the powerful visual movements.
Chhau guru Chandra Madhav Barik, who is also an eminent exponent in Indian ballet and founder of Kirti Ballet of Performing Arts, talking about his Chhau piece on the story of Abhimanyu in the Chakravyuh and his subsequent death and elements of storytelling in Chhau and folk dances says, "Audiences relate and respond to folk dances and there are many programmes being organised around Madhya Pradesh, where I am based.
We have done other performances like Kiratarjun from the Mahabharat and Jhansi Ki Rani. We can tell any story through folk; it is not specific to mythology only. Wherever we have conducted programmes, we have seen that the audiences are very connected to us and the story we are trying to tell."
It was also a beautiful combination of the technicalities involved in dance along with storytelling not just in terms of steps and movements but also in terms of showcasing lesser known forms of other arts through dance. Case in point: A thumri (a devotional or romantic song usually sung in the praise of Lord Krishna sung in Awadhi or Brij Bhasha. This form of music is part of songs such as "Kaahe Chhed Mohe" from 'Devdas' but very little of it is noticed or represented elsewhere ).
"Kaahe Rokat" performed by Kathak guru Mitha Vinay explores the relationship between the "gopis" and Lord Krishna where the gopis question Krishna as to why he bothers them so much. Mitha Vinay says, "Kathak is about storytelling. We are all called Kathakars. So we have to tell stories about Ramayana, about Mahabharata, about Krishna. That is how it evolved."
Also, it was noticed that dance can tell stories often excluded from mainstream narratives and because of its visual appeal, the format and medium it employs to tell the story. For example, a Bharatnatyam piece about Nandi's devotion to Lord Shiva performed by Dr Himabindu Uppari. In oral forms of storytelling, topics like this would not be appreciated because it could be boring for the consumer or could be lost among other sentences and events but its importance to the narrative as a whole can be expressed in a visually appealing and stimulating form through dance and music.
It was indeed refreshing to see stories being told through dance because not only did it ground the audience to Grandma's tales told on a hot summer afternoon but also because of the visual appeal that came with the movements, the music, the costumes – a harmonious convergence of various other art forms into a performance and the sharing of not only a physical but also a mental space among the dancers themselves and between the dancers and the audience.
By: Sre Ratha