A celebration called wine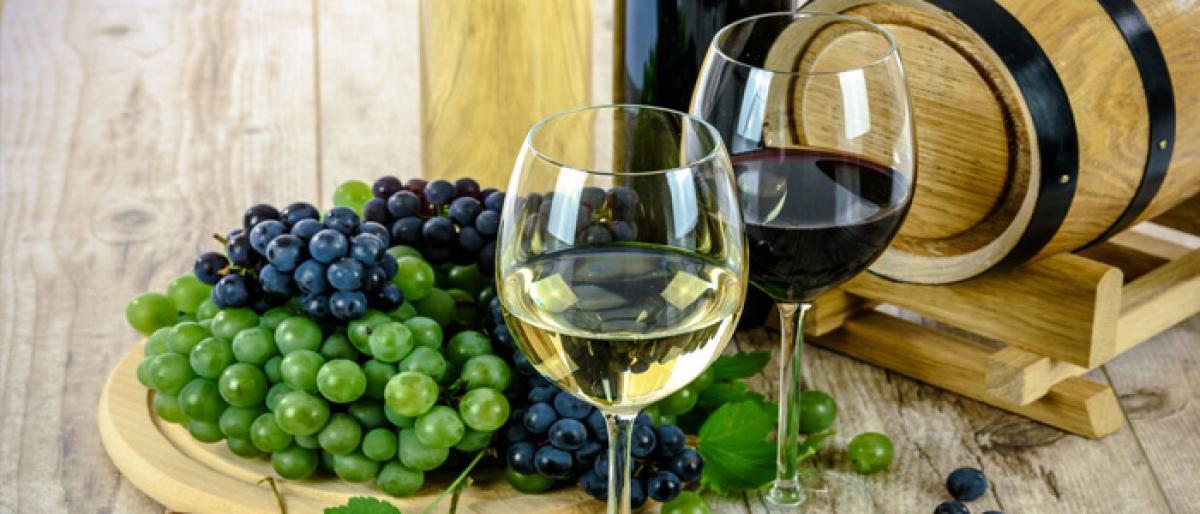 Highlights
Wine is the most fascinating of all beverages. It has been made for thousands of years and continues to get popular year after year. It is not only an alcoholic drink or a lifestyle. It is also a part of food, art and culture-defining the place where it is made. To know more about this intriguing drink, read on…
Wine is the most fascinating of all beverages. It has been made for thousands of years and continues to get popular year after year. It is not only an alcoholic drink or a lifestyle. It is also a part of food, art and culture-defining the place where it is made. To know more about this intriguing drink, read on…
What is wine?
We have all heard about wine but do we really know what is it? Wine simply put is fermented grape juice. Other fruits may be used to make wine, but the world over grape is the preferred fruit. Why? This is because nothing else can match the quality of wines made by grapes. Grape juice from different varieties of grapes can be used to make wines in many styles and colours.
Fermentation:
A known fact is when you store grape bunches in your kitchen or a warm place, a few berries start tasting a bit odd. They are less sweet, have a weird taste and do not taste like the other berries. This is a result of fermentation carried out by yeast flora present on the grape berry. A minor rupture in the skin allows these wild yeasts to start using the sugar and convert it into alcohol. This is similar to what happens in wineries where grape juice is deliberately fermented into wine. Thus, perishable grape juice can be stored for a long time once turned into wine.
How is wine different from other types of alcohol?
Most types of spirits and liquor are made by concentrating alcohol produced from fermentation of sugar produced from grains, malts or molasses. It involves two steps. The first is to make a fermented liquid, which is then followed by a second step of boiling it to release concentrated alcohol vapours. The collected concentrated alcohol is rich in alcohol but generally has only a few components of the raw material used. Wine, on the other hand, has several good components like potassium and antioxidants in it as it is a purely fermented product.
Comparable beverages:
Drakshasava, a local Ayurvedic preparation is very close to wine. It is produced from concentrated grape juice or from raisins with an addition of herbs and spices followed by fermentation. It has been used as medicine for thousands of years. Beer is also another fermented drink but is made from malt and flavoured with hops. Rice beer is made by tribals in the northeast of India. Mahua flowers ferment naturally and distilled spirits are also produced from it. Wines made from apples are called cider while wines made from pears are called Perry. Wines from strawberries, plums and cherries are also made in small quantities in Europe.
However, it is grape wines which have their own subtle but pleasing aromas and natural flavours. Each grape variety has its own unique and characteristic aroma and flavour profile. Wines made from grapes have the best combination of sugar, tannins and acid which helps in achieving good levels of alcohol while keeping the wines going for a long time. Wine, like any other alcoholic beverage, can harm you if consumed in large quantities. It should be enjoyed in small sips and doses with food and friends.
By: Ajoy Shaw
-The writer is and Independent Consultant Winemaker and Wine Professional. He has a rich experience of 23 harvests in India, USA and France. Having set up wine making operations for big companies like Sula Vineyards, he currently advises 5 wineries as a winemaking consultant. He has judged for many international competitions and is one of the most experienced wine professional in India. He regularly travels to many wine regions to taste and study wines of the world. He is the consultant for Hyderabad-based Asav Wines founded by Kishan Peddapally