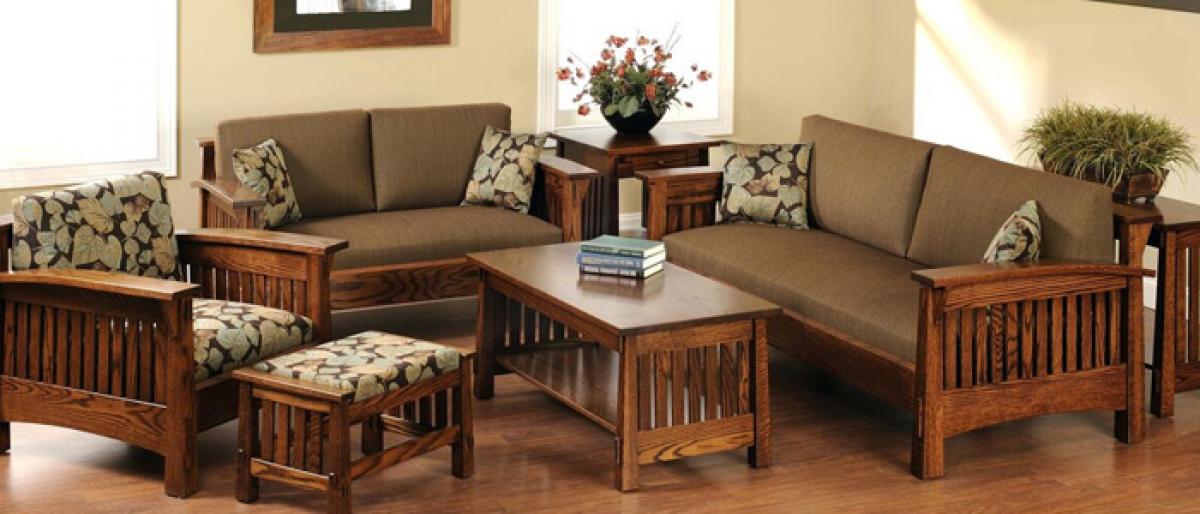 Highlights
In the past couple of years, the furniture realm has been witnessing a drastic change in design as well as in the materials being used in products. In today's market, discerning furniture lovers have various alternatives with respect to designs and styles of different pieces – from plastics and cast iron to wood, plywood, fibre boards, and ceramics. The choice of the material totally depends on th
ADVERTISEMENT
In the past couple of years, the furniture realm has been witnessing a drastic change in design as well as in the materials being used in products. In today's market, discerning furniture lovers have various alternatives with respect to designs and styles of different pieces – from plastics and cast iron to wood, plywood, fibre boards, and ceramics. The choice of the material totally depends on the customers.
Regardless, wooden furniture has been the first choice for a majority of furniture lovers preferably because of its rich cultural heritage and traditional designs. Wooden furniture usually comprises timeless pieces that can glam up even a simple décor and turn it into a dreamy space. While they are strong and long-lasting, the designs too never go out of fashion, as preferred by a majority of the Indian households. However, not many of us know the kind of woods that go into our furniture.
Until now, Sal wood and Teakwood were the most popular and commonly used materials for creating furniture, door frames, cabinets, tables and even decorative items. However, the most important factor, irrespective of the style, is the longevity and durability of the furniture. The durability of the furniture purely depends on the type of wood used in the manufacturing and that's why, of late, Sheesham wood has been topping the furniture trends for meeting both the aspects coupled with versatility.
So what makes this wood so enticing and the most sought-after for furniture?
Workability
Sheesham wood, also known as, Indian Rosewood bears a timeless elegance as it undergoes many stages of prepping before finally getting converted into furniture that is resilient to any kind of damage. This wonder wood has an innate resistance to decay, which makes it the best hardwood for intricate carvings. Artisans find it a lot easier to work upon thanks to its high tensile strength and customers just adore the carvings that are only possible on this kind of wood. Despite having a granular surface, Sheesham Wood can be hand-waxed to get a smooth finish, which also provides a high degree of termite resistance to the product.
Appearance
Unlike other alternatives, Sheesham wood is available in different natural shades ranging from being golden brown to a dark brown or chestnut color with darker streaks that give it a rich and lustrous appearance. While the furniture carved out of this wood can also be coated with different polishes and designs, furniture lovers prefer to go with its natural shade and unpolished version. Moreover, its grain structure changes to different shades when it comes in contact with a different lighting condition.
Economical
While this timber does not need any special care, like any other wooden furniture, Sheesham pieces only require to be kept away from with direct sunlight. This protects it from losing its natural lustre and helps it to retain its colour over longer periods of time without the fear of developing cracks and warping.
Durability
This unique timber seasons well, which makes it highly resistant to natural decay. Thanks to its durability, it is one of the timbers least susceptible to dry-wood termites. Moreover, Sheesham wood does not warp or split and that makes it a great choice for aesthetic furniture such as cabinets.
Sustainability
This is perhaps the most outstanding quality of this super wood you've probably never heard of. Due to its extreme tolerance to light frosts and long, dry seasons, it can be cultivated in ranges as high as 4,500 feet. This means, not only can it withstand a temperature range of below freezing, to over 122 degrees, it can also thrive in rainfall of 79 inches every year, survive four months of drought and grow in sand, gravel, alluvium and even sodium heavy soil. In short, if there is land, Sheesham wood can grow. Can there be anything more sustainable than this?
Considering all the aspects and advantages, Sheesham wood indeed strikes as the perfect choice for furniture. Of course, oak, teak, and other woods will always be there and remain a wonderful option for any kind of furniture but if it is about sustainability and a positive ecological impact, nothing can beat Sheesham wood to qualify for the 'Furniture of Future'.
By: Raghunandan Saraf, Founder & CEO Saraf Furniture