How Telangana State became reality so will be KTR becoming a great leader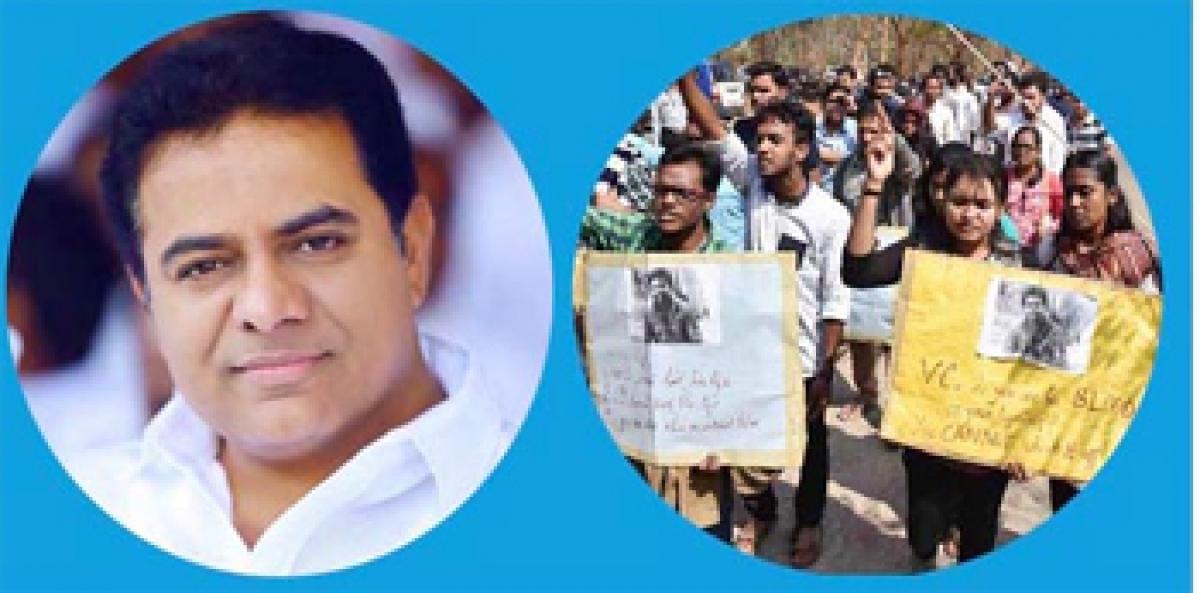 Highlights
The six decades of struggle for Telangana had resulted in the formation of Telangana State in India. Many lives were lost and many leaders were born. Each had risen to bring to notice the regional disparities and injustice meted out to the people of Telangana. The first major hurdle, a separate Telangana State has already been achieved. We have some evident problems and some underlying issues that
The six decades of struggle for Telangana had resulted in the formation of Telangana State in India. Many lives were lost and many leaders were born. Each had risen to bring to notice the regional disparities and injustice meted out to the people of Telangana. The first major hurdle, a separate Telangana State has already been achieved. We have some evident problems and some underlying issues that needs greater attention.
Now, as we aim for a Bangaaru Telangana (Golden Telangana/Dream Telangana/Samajika Telangana) we need the right leaders to rise at the right times of need.
In current Indian politics, there is a politician who is one of the most capable future leaders of India and the rising star from Telangana. Only thing is he has been overshadowed by his father who is more famous in Telangana and who has not rested until Telangana was achieved. This politician is called KTR, whose full name is Kalvakuntla Taraka Rama Rao and he has created a name for himself with his dedication and hard work and he is the son of the KCR (Kalvakuntla Chandrashekar Rao) who is the current chief minister of Telangana. The whole Telangana is looking to KTR as the future leader and especially the Dalits and down trodden are paying attention to this rising star.
Time and again KTR has proved that he could be a great leader. I myself have become his follower first time when I heard him speak on the issue of Telangana and when he answered some of the most tough questions asked by the reporters. Highly impressed with KTR communication skills and his maturity towards the topics of Telangana, I mentioned to my father Puli Sarangapani on how intelligent this guy KTR was and I have never heard any one more passionate about Telangana like this person. My father who is a close associate, friend and student of Prof. Jaya Shankar sir who is the father of the telangana told me that sir had these things to say about him.
Dr. Jaya Shankar sir words referring to KTR:
"Yeh bacha bohut kabil hai. (This boy is very capable)" and also he added "As much as getting a separate Telangana is a reality, KTR's rise to becoming a great leader is that real"
KTR is one of the only leaders who managed to talk and respond to the national media debates on Telangana and highlight the Telangana issue and bring awareness to the lot of national audience. He made an argument of discussion with facts and confidence. Recently, he has managed to win the Hyderabad Municipal elections and again proved that he can be an effective leader who can accomplish big things with this hard work and dedication.
Currently, being the minister of IT and Panchayat raj, KTR's role is bringing lot of multinational IT companies to win the hearts of the Urbanites and increase the brand name and goodwill for the "Brand Hyderabad" has been unstoppable. With the Warangal elections and Hyderabad elections he has proved that he can campaign and strategize. Although in the beginning he started as an underdog, In spite of lot of negative comments about him for getting special status for being the son of KCR, KTR has withstood the criticism and proved and made a name for himself with hard work and dedication.
"He who becomes a Prince through the favour of the people should always keep on good terms with them; which it is easy for him to do, since all they ask is not to be oppressed"
― Niccolò Machiavelli, The Prince
To be the rightful heir of the TRS and be an effective leader of Telangana, and to rise and be a star in Indian politics, KTR has all the right mix of skills and intelligence and also we heard from the father of the Telangana Dr. Jaya Shankar sir itself that KTR is bound to be a great leader and will work with commitment towards golden Telangana. But something's that have to be done to be that great in my opinion is to rise up to the challenges and be able to take the risks and make decisions time and again that he is the champion of the people and especially the oppressed sections of society who constitute major section of the society. In case of the burning topic of Injustice to Rohith Vemula the inaction by TRS and especially no statement from the rising star of Telangana is really cause for concern and entire people are watching it.
Rohith Vemula, a student from Hyderabad Central University (HCU) who is a Dalit and had died due to the political pressure by the Central Government and Vice Chancellor to rusticate a group of Dalit students and one among them happened to be Rohith Vemula. Rohith was a research scholar at the esteemed Hyderabad Central University who has worked hard to reach to a level in spite of all the adversities in his life. His scholarship was stopped and he was not allowed into the hostel and literally he was discriminated by the university. This created a challenging situation where Rohit felt suffocated and all that he worked for going in vain and he felt like he was cursed being born as a Dalit and decided to end his life. A bright young mind who could have been a great asset to society has left this world could have been avoided.
I think there are some things a leader like KTR and the Telangana government could have done in this situation and people are watching and wanting the justice.
He could have met with the mother of Rohith Vemula. This would have created a situation of empathy with Rohith Vemula's mother and then that KTR stands against any injustice of Dalits.
The government could have sent an emissary like Kadiyam Srihari or Eetala Rajendar or Balka Suman who is a young MP to normalize or defuse the situation and work towards understanding the problems of the agitating students and the life lost.
There was a delay in the govt. to talk and act until the debate came up in assembly and has become a national topic.
VC's coming back to university had added a fuel to the fire and has led to more agitation and more students getting arrested and also caused injuries to lot of the students and few are in Coma too.
Lot of the eminent people from inside and outside of India are calling for the ouster of the VC due to his inadvertent attitude of silencing the students seeking the justice for Rohith Vemula. In this situation KTR could have been an ambassador. For being a young minister that KTR is he could have really acted as a better negotiator because of his age, wisdom and understanding capability. The students could have been more open to a younger person like KTR on their problems.
Till now, KTR has created an identity for himself with his maturity in understanding problems of people of Telangana. I think it is about time for him to rise up to the challenges to distinguish himself as the champion and future leader of Telangana. In Rohith Vemula's case, a young life lost, a mother yearns for justice. While the prestigious Hyderabad Central University has failed and killed the son of the soil. It is about time for the future leaders to define the course and be champion of justice too.
"In any moment of decision, the best thing you can do is the right thing. The worst thing you can do is nothing." ― Theodore Roosevelt
By Avinash Puli
The views expressed in this article are personal.