Congress defends Digvijay's charge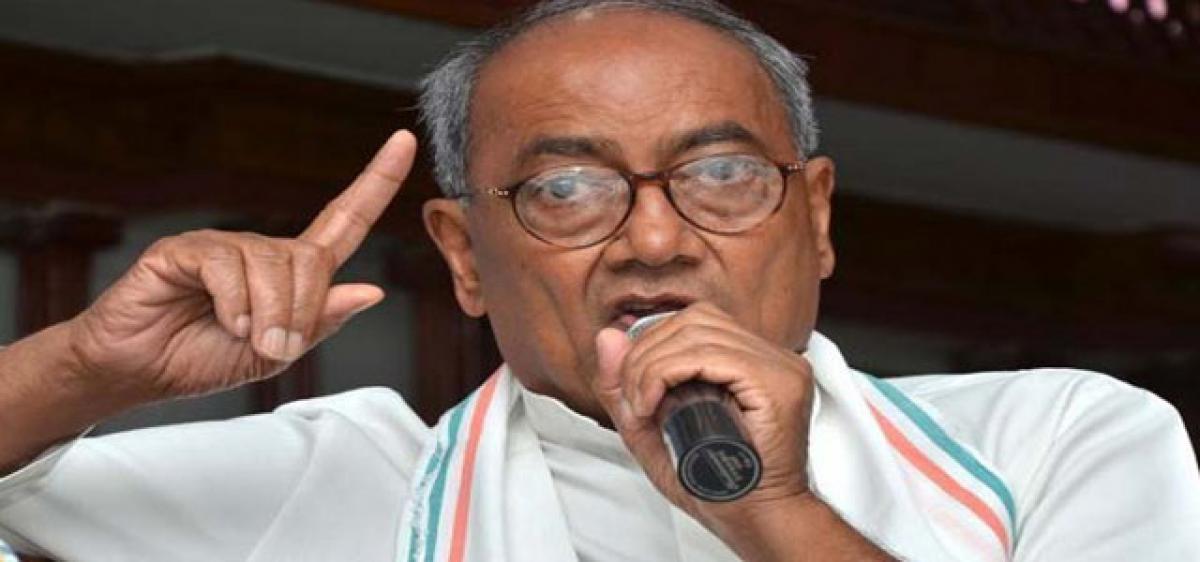 Highlights
The Congress party on Wednesday condemned the "overreaction" by the TRS leaders to some tweets by AICC General Secretary Digvijay Singh.
Congress leader Shaik Abdullah Sohail demands that the Chief Minister order an inquiry to find out the truth
​Hyderabad: The Congress party on Wednesday condemned the "overreaction" by the TRS leaders to some tweets by AICC General Secretary Digvijay Singh.
"TRS leaders are targeting Digvijay Singh only to gain media attention. They did not even understand the graveness of issue raised by Digvijay Singh in a series of tweets.
He clearly expressed concern over some officials using dubious and illegal means to trap Muslim youth and implicate them in fake cases.
Is it wrong to expose an action which could hurt the innocent Muslim youth," asked Greater Hyderabad Congress Committee (GHCC) Minorities Department Chairman Shaik Abdullah Sohail.
Abdullah Sohail said Digvijay Singh did not target the Telangana police in his Tweets, but he only pointed finger at a few officials who were illegally trying to lure some Muslim youths to join the ISIS.
"It is the duty of the police to catch criminals. But it is wrong to first incite someone to commit a crime and then catch them to win rewards and applause. Congress party never supports anti-national activity or any other action that hurts the interest of our nation.
Provoking Muslim youth to join anti-national activities by creating a fake website also amounts to treason and therefore, Digvijaya Singh has pointed that some officials are resorting to such means to trap innocent Muslim youth," he said.
The Congress leader ridiculed the protests organised by some TRS leaders by burning the effigy of Digvijay Singh. He said most of the TRS workers who took part in the protest lacked understanding of the issue and its seriousness.
If Chief Minister K Chandrashekar Rao is really honest towards Muslims, he should order an independent probe into the allegations levelled by Digvijaya Singh. Else, he must apologise to the Muslims for his failure to keep a tab on some police officials who misused their position to tarnish the image of community.
"Why the Chief Minister is reluctant to order an inquiry into the allegations? Is he trying to cover up something under the garb of protests by his party workers," he asked.
Abdullah Sohail recalled that it was during TRS regime that five undertrial Muslim youth were killed in an alleged encounter at Alair. Even after more than two years, the Special Investigation Team (SIT) did not submit its report.
Similarly, he said that the mystery behind the brutal murder of Shaik Mustafa, the 11-year-old boy near Mehdipatnam, is yet to be unravelled even after three years, he added

Interested in blogging for thehansindia.com? We will be happy to have you on board as a blogger.