Congress protests attack on Dalits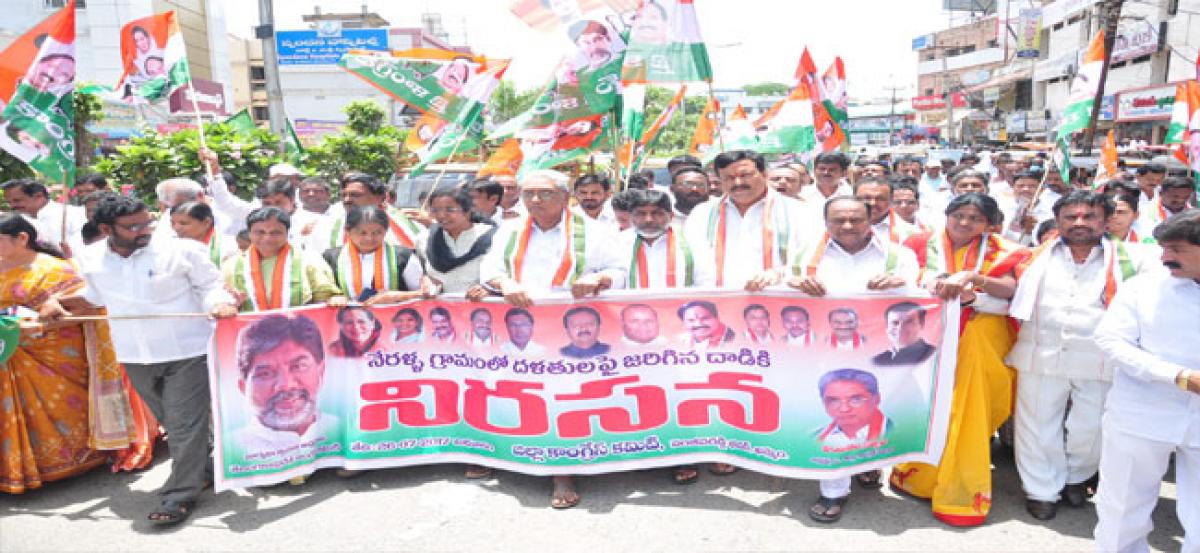 Highlights
The Congress demanded an unconditional apology from Chief Minister K Chandrasekhar Rao for the highhandedness of the police against the villagers of Nerella under Tangallapally mandal in Rajanna-Sircilla district recently. The leaders also demanded the Municipal Administration and Urban Development Minister KT Rama Rao to tender his resignation immediately owning the responsibility of attack again
Khammam: The Congress demanded an unconditional apology from Chief Minister K Chandrasekhar Rao for the highhandedness of the police against the villagers of Nerella under Tangallapally mandal in Rajanna-Sircilla district recently. The leaders also demanded the Municipal Administration and Urban Development Minister KT Rama Rao to tender his resignation immediately owning the responsibility of attack against the Dalits.
Leading a protest rally here on Wednesday, Telangana Pradesh Congress Committee working president Mallu Bhatti Vikramarka criticised the government for the illegal detention and torture of villagers belonging to Dalit community and other underprivileged sections.
"Cases under SC and ST Atrocities (Prevention) Act should be booked against the police personnel who involved in the barbaric assault against the Dalits," Bhatti demanded, questioning the stoic silence maintained by the Chief Minister over the issue.
Alleging that government was supporting the sand mafia, the Congress leaders questioned why were the Dalits kept in illegal custody for about five days before they were produced in the court. He found fault with KT Rama Rao who represents Sircilla for not showing concern over the illegal detention of the Dalits.
Demanding the suspension of Sircilla Superintendent of Police Viswajeet Kampati, he urged the government to withdraw the cases foisted against the victims, besides providing compensation and medical care.It's the responsibility of the government to provide ex gratia of Rs 25 lakh each to those who died in road accidents caused by sand transporting lorries, Bhatti said.
Telangana Legislature Party Deputy Leader Ponguleti Sudhakar Reddy, former minister Sambhani Chandrasekhar, DCC president Aitham Satyam, former MLA Rega Kanta Rao, Md Tajuddin and Md Fazal were among others took part in the rally.
In Bhongir, Congress Legislature Party leader K Jana Reddy describing Chief Minister K Chandrashekar Rao as a man of magical words, advised him to maintain dignity while commenting on others
On Wednesday, Jana Reddy took part in the protest programme organsied by the district SC Cell against the attacks on Dalits in Sircilla, at the Collectorate in Bhongir. Addressing the gathering, Jana condemned the attacks on Dalits and demanded stringent action against the culprits. Mocking TRS leaders, Jana stated that as matured politicians, Congress leaders would not react on every comment of ruling party leaders.
Stating that the Congress had laid foundation stones for the production of power in the state, the CLP leader advised the government not to take hasty decisions with regard to power supply and push the state into losses. "People will teach a befitting lesson to TRS in next elections and Congress will retain its glory," he predicted.
Demanded the resignation of IT Minister KT Rama Rao, DCC president Budida Bikshamiah Goud sought compensation of Rs 25 lakh to the people who lost their lives during the transport of sand besides suspension of police officials involved. Congress leaders Guduru Narayana Reddy, Kumbam Anil Kumar, Pothnak Pramod
Interested in blogging for thehansindia.com? We will be happy to have you on board as a blogger.