Congress posts still elude Revanth, Vijayashanti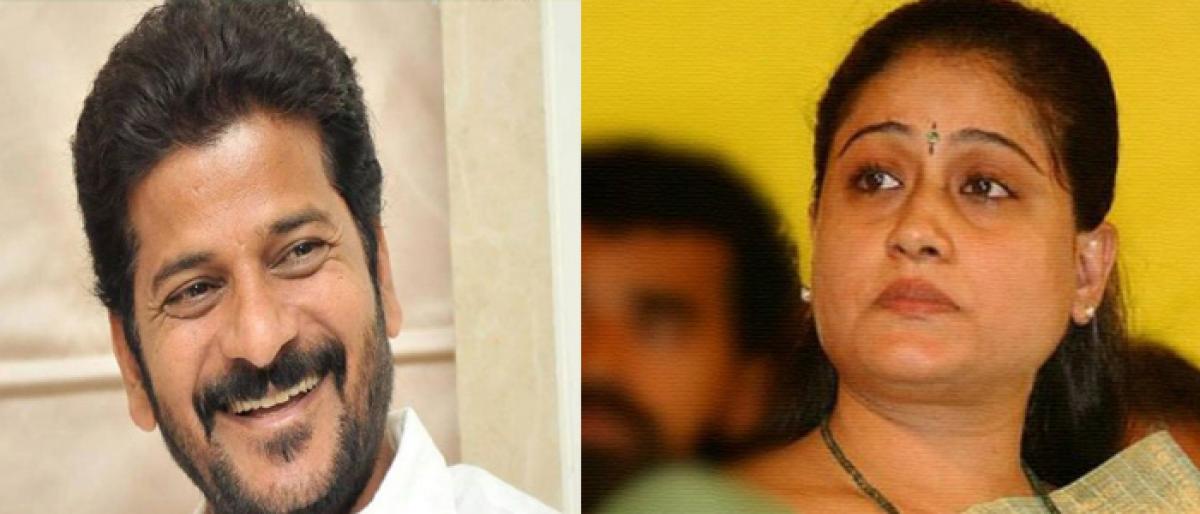 Highlights
Congress leaders A Revanth Reddy and Vijayashanthis wait to get prominent posts in Telangana Pradesh Congress Committee TPCC and All India Congress Committee AICC seems to be getting prolonged as the high command is taking time to make appointments
​Hyderabad: Congress leaders A Revanth Reddy and Vijayashanthi's wait to get prominent posts in Telangana Pradesh Congress Committee (TPCC) and All India Congress Committee (AICC) seems to be getting prolonged as the high command is taking time to make appointments.
Revanth Reddy who is eyeing for the Campaign Committee Chairman post and Vijayashanti who is aspiring for a general secretary post in the AICC executive are patiently waiting for their appointments.
With the constitution of new Working Committee, the two leaders are hoping that their wishes would be fulfilled soon. The executive of the AICC may be revamped in this month or early in August.
Revanth Reddy joined the Congress in November last year and had been kept in the party without a post. His close aides claim that the high command had promised Campaign Committee Chairman post to Revanth. The MLA could tour the entire State to campaign for the party. He would be given importance in the decision making of party affairs.
Vijayashanti, who was keeping herself away from the party after her defeat from the Medak Assembly constituency in the previous general elections, had announced her intention to return to active politics.
She met party president Rahul Gandhi early in this year and told him that she was ready to take any responsibility. Her followers are expecting that she would get a good post in the party at the national level.
But, both the leaders have been kept in waiting since the beginning of this year. Neither of them had been assigned any post so far.
According to party leaders, Vijayashanti wanted general secretary post in the AICC executive and wanted to be the Incharge of southern States. She wanted to take up the campaign for the party in the southern States. However, several senior leaders of the State have opposed to the requests by Revanth and Vijayashanti and the high command has set aside their appointments. With the fear of backlash in the State party, the AICC did not take up appointment of the new executive of the TPCC.
The appointments to TPCC committees like campaign, manifesto, coordination and strategy committees are pending. Several senior leaders of the party have been making their bid for the Campaign Committee Chairman post due to which Revanth's hopes are left hanging in balance.
Though TPCC president N Uttam Kumar Reddy had made some proposals for the heads of the committee, they have not been considered so far. The senior leaders of AICC who had several discussions regarding the new executive of the TPCC and its committees have not made any recommendations so far.