Shabby open toilets pose health hazards at Begum Bazar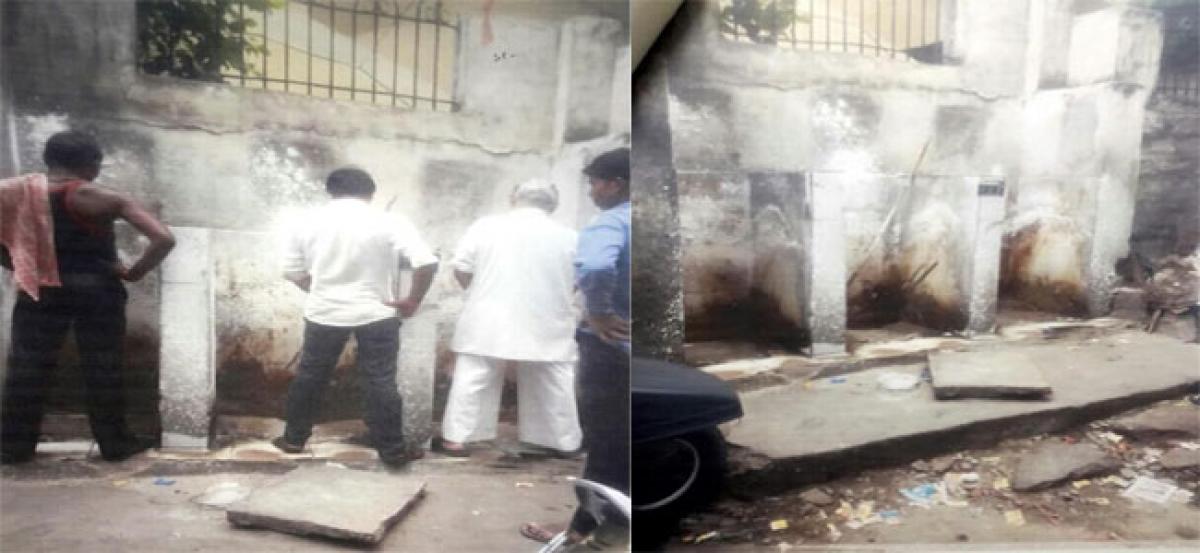 Highlights
Neglected and illmaintained open toilets in Begum Bazar division smack the mass campaign about Swachh Bharat Abhiyan and Swachh Hyderabad Campaign that was started by Prime Minister Narendra Modi and promoted by Chief Minister K Chandra Shekhar Rao
Begum Bazaar: Neglected and ill-maintained open toilets in Begum Bazar division smack the mass campaign about 'Swachh Bharat Abhiyan' and 'Swachh Hyderabad Campaign' that was started by Prime Minister Narendra Modi and promoted by Chief Minister K Chandra Shekhar Rao.
Despite the immense effort of government, there is still huge negligence in maintaining the sanitation structures which includes public toilets. Some of the open urinals near Osmania Dental Hospital, Kolsawadi and Doodkhana in ward no 15 of Begum Bazar Division operate in completely battered condition, which emits a foul smell and have also become a mosquito breeding spot.
The locals and hospital visitors are demanding either dismantling of the toilets or replace it with a good one. They opine that if the authorities wish to continue, they should be well maintained, because hundreds of patients, visitors, commuters will be using it. Hence toilets with modern amenities should come up in this worn out toilets. This could be the beneficial to people and passersby.
"As many commercial shops and kirana markets are present here in this ward there is always a huge presence of customers, where they find difficulty for basic amenities like toilet points. GHMC sanitation staff rarely visit the place and sprinkle some bleaching powder and nothing more is done," Manohar, a sweeper of Osmania Dental Hospital.
Moreover, during festive season huge processions pass this locality, during which people especially ladies also find difficulty in crossing such open toilets because of their poor maintenance and stinking smell. TRS president Begum Bazar division Raju Singh along with the market people and residents pursing the matter with authorities and also submitted letters to GHMC officials for more than a year but all the requests remained unanswered. The GHMC workers remain apathetic even though the AMOH asked to initiate action over this matter.
Raju Singh TRS President, Begum Bazar Division, Goshamahal Assembly Constituency speaking to The Hans India said, "Since this is a public grievance, the GHMC has to take immediate initiative and come up with a prompt solution. This area has market zones with many commercial shops. There is a lack of proper and hygienic toilet facilities for the general public, shop workers and the consumers.

Especially near the Osmania Dental Hospital where urine points are in such a bad condition where all the patients and visitors come to diagnose themselves but getting more diseases here in Hospital because of the poor toilets, usage of existing damaged toilets is leading foul smell and waste reaching on roads causing trouble to passerby, commuters and locals which can also lead to severe health hazards," Raju Singh.
BY Mohammed Hussain