KCR will play crucial role in national politics after LS polls: TRS leader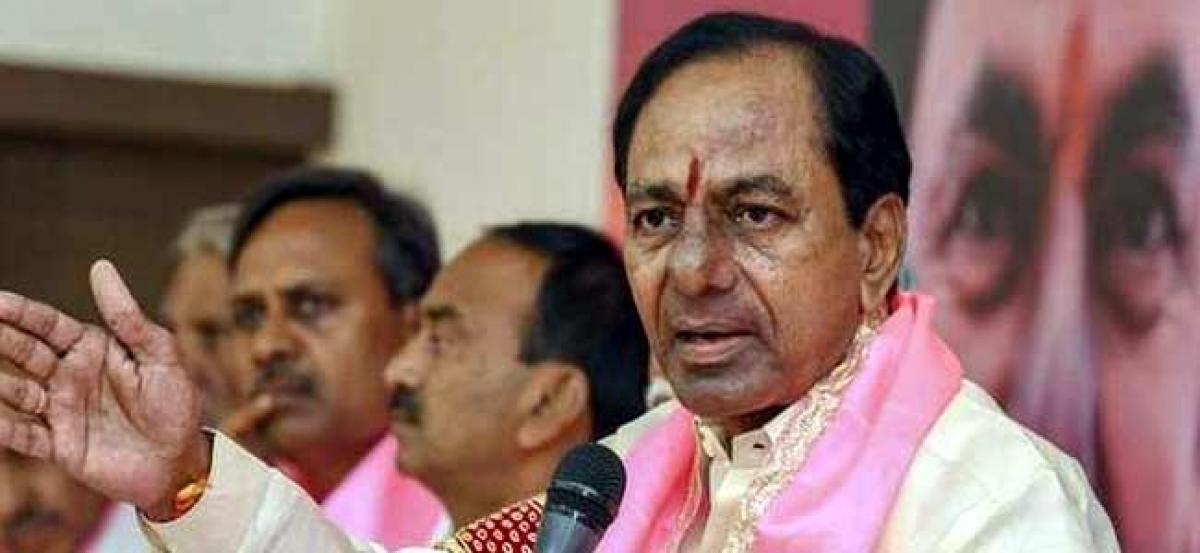 Highlights
The Telangana Rashtra Samiti chief K Chandrasekhar Rao will play an important role in national politics after the 2019 Lok Sabha elections but would not leave the state, a key party leader said Friday
Hyderabad: The Telangana Rashtra Samiti chief K Chandrasekhar Rao will play an important role in national politics after the 2019 Lok Sabha elections but would not "leave" the state, a key party leader said Friday.
B Vinod Kumar, the deputy floor leader of TRS in the Lok Sabha, also said the Caretaker Chief Minister, popularly known as KCR, would not hand over the reins to his son and Minister K T Rama Rao after the Assembly elections.
The Telangana Assembly was dissolved on September 6 on the recommendation of the TRS government, more than eight months before the expiry of its term, to pave the way for early elections.
The Election Commission is yet to announce the poll schedule.
"KCR will play an important role in Indian politics after the 2019 Lok Sabha elections", Vinod Kumar, who represents Karimnagar Lok Sabha constituency, told PTI.
When asked about KCR's move to prop up a non-Congress, non-BJP federal front appearing to be not making much headway, he said: "You see after the 2019 elections, the role of regional political parties will be very, very important."
On whether KCR would hand over reins to his son Rama Rao after the Assembly elections, as is being speculated in some quarters, Vinod Kumar said: "No, not at all. KCR is fascinated by Telangana, he will not leave Telangana".
He dismissed criticism by the opposition Congress and BJP that the TRS is a "family party", and also the move to get the State's first Assembly dissolved prematurely.
"In this country, Indira Gandhi started it (early elections)...Congress started it, BJP implemented it, more or less all the political parties in this country one or other time, they went for early elections. Why criticism?," he said.
"This is not too-early elections, just three-four months before the schedule. Anyhow, elections may be held in the last week of November or first week of December. Naturally (in the normal course), the elections could have come in March end or April first week. It's a matter of three to four months early elections, that's all", Vinod Kumar said.
On TRS being dubbed as "family party" by opponents, he claimed every political outfit in the country -- right from the Congress to regional ones -- are led by some individuals and "they have their own family clout on it. I can't deny".
Citing Farooq Abdullah-led National Conference and Mufti Mohammad Sayeed-founded PDP and the DMK in Tamil Nadu, he said every political party right from Kashmir to Kanyakumari "is having that".
Claiming that the TRS would perform better than it did in the 2014 Assembly elections, he said the Congress, by joining hands with the TDP, the CPI and Telangana Jana Samithi for an electoral alliance, has already accepted its defeat in the polls.
"All political parties coming together means the Congress had accepted defeat. That's the reason they are searching for partners, more particularly TDP," Vinod Kumar said.
On BJP President Amit Shah attacking the TRS on different fronts during his recent visit to Telangana, he said: "Let Amit Shah show his show (of strength) in Telangana; the Telangana people are peculiar people, they won't accept any communal politics. BJP will show poor performance in the elections."
Interested in blogging for thehansindia.com? We will be happy to have you on board as a blogger.