Cop babysits while mom writes exam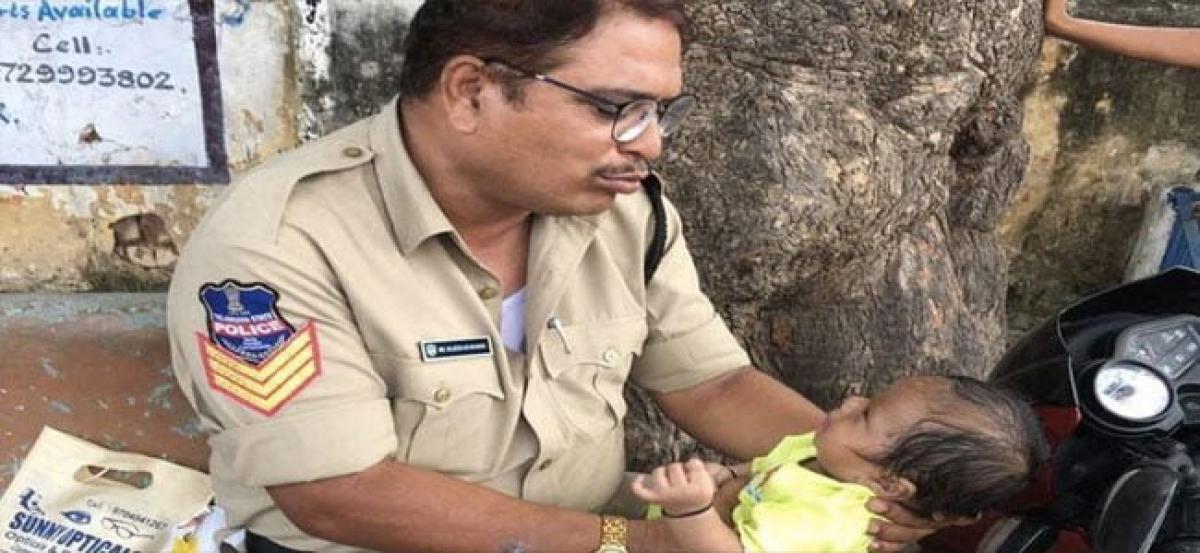 Highlights
When a young mother was forced to bring her fourmonthold to the exam centre, a Telangana policeman offered to help He took care of the baby while the mother wrote her exam
Hyderabad: When a young mother was forced to bring her four-month-old to the exam centre, a Telangana policeman offered to help. He took care of the baby while the mother wrote her exam. The heartwarming photograph of the cop trying to comfort the crying baby outside the exam centre was shared by IPS officer Rema Rajeswari on Twitter. Head constable Mujib ur Rahman is posted at Moosapet police station in Hyderabad. He was deployed at the examination centre at Boys Junior College, Mahbubnagar as part of the security arrangement for the police constable examination on Sunday.
The woman, Rahman said, belongs to an underprivileged family and desperately needs a job. She is a post-graduate, but failed to get a decent job, he said. She aspires to be a police constable now. "She brought the baby to the centre and a 14-year-girl was made in charge. But the baby kept crying. So, I tried to cheer him," Rahman said.
The 48-year-old policeman has two children and he has done his best to educate them. His son is studying medicine in China and daughter will finish school next year. Rahman loves his job and takes great pride in reacting pro-actively to critical situations. "We are here to serve the public. We are here because of the public. Nothing is more important to me," the policeman said.