Kavitha steals the show with her multilingual skills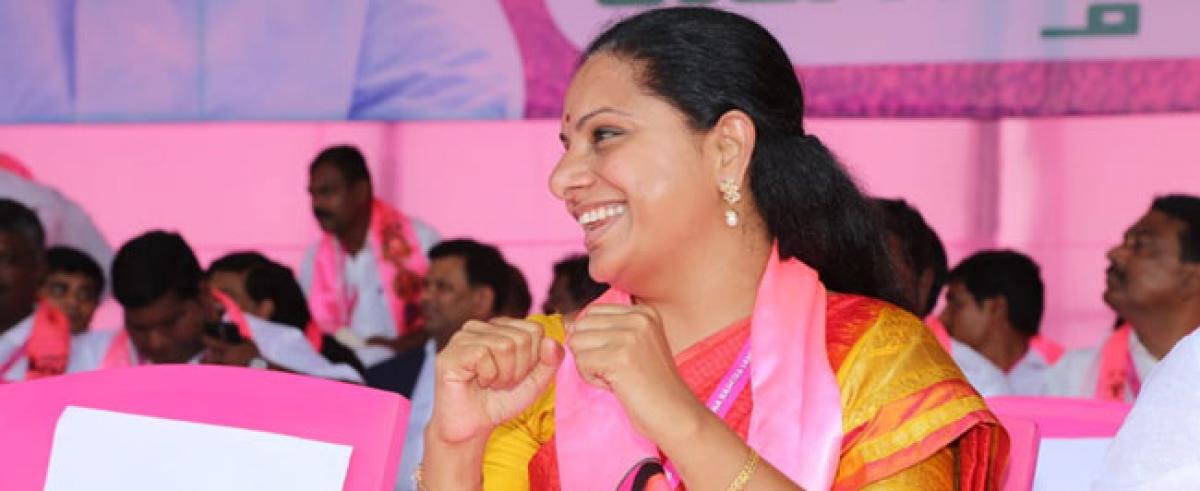 Highlights
A few minutes before the TRS chief K Chandrashekar Rao descended on Nizamabad, MP K Kavitha had ample time to steal the show with her impromptu speech in Urdu
ADVERTISEMENT
Nizamabad: A few minutes before the TRS chief K Chandrashekar Rao descended on Nizamabad, MP K Kavitha had ample time to steal the show with her impromptu speech in Urdu.
It's not just her father KCR and brother K T Rama Rao whose extemporary skills in speaking Telugu, English, Hindi and Urdu were hit with the mass and class, but Kavitha herself set the crowds on fire with her eloquent speech in Urdu while addressing crowds at Giriraj College Grounds here on Wednesday.
It may be noted here that during the statehood movement, both KCR and KTR took full advantage of their multilingual skills when they addressed public meetings or spoke to media. When the separate State agitation was at its heights, KTR's exceptional proficiency in English, Hindi and Urdu caught the imagination of the national media. In fact, he was like a spokesperson of the TRS whenever he participated in debates involving Telangana.
Kavitha, who started her speech in Telugu, shifted to Urdu. People who attended the Praja Ashirvada Sabha were a surprised lot listening to her fluency in Urdu. It was understandable that she wanted to strike a chord with the Muslims who form 38 per cent of total population in Nizamabad.
Both KTR and Kavitha who studied and worked in US for a few years returned to India joined Telangana Rashtra Samithi (TRS) and worked under the leadership of their father KCR and earned name for them. After the formation of Telangana, while Kavitha went on to win Nizamabad Lok Sabha seat, KTR became a Minister in the TRS government in 2014.
Kavitha, who drew inspiration from people's immense love for Telangana culture and indigenous art forms, established Telangana Jagruthi. It is not overstatement to say that Jagruthi played a key role in mobilising the support of people especially women and youth in taking forward the separate state movement.
It's not exaggeration to say that Kavitha is often identified with Bathukamma, a floral festival of Telangana. Kavitha who worked hard to promote Bathukamma in Telangana is also instrumental in getting worldwide importance to the festival.
"Talking different languages is not great but attracting masses and commanding their applause is something special," Baddam Srinivas Reddy, who attended the meeting, told The Hans India. He said that there are not many ministers in KCR's cabinet who are at ease speaking in different languages. This is where KCR's family, including T Harish Rao, has edge over other politicians in two Telugu-speaking States – Telangana and Andhra Pradesh.