Parties raise pitch for fee regulation mechanism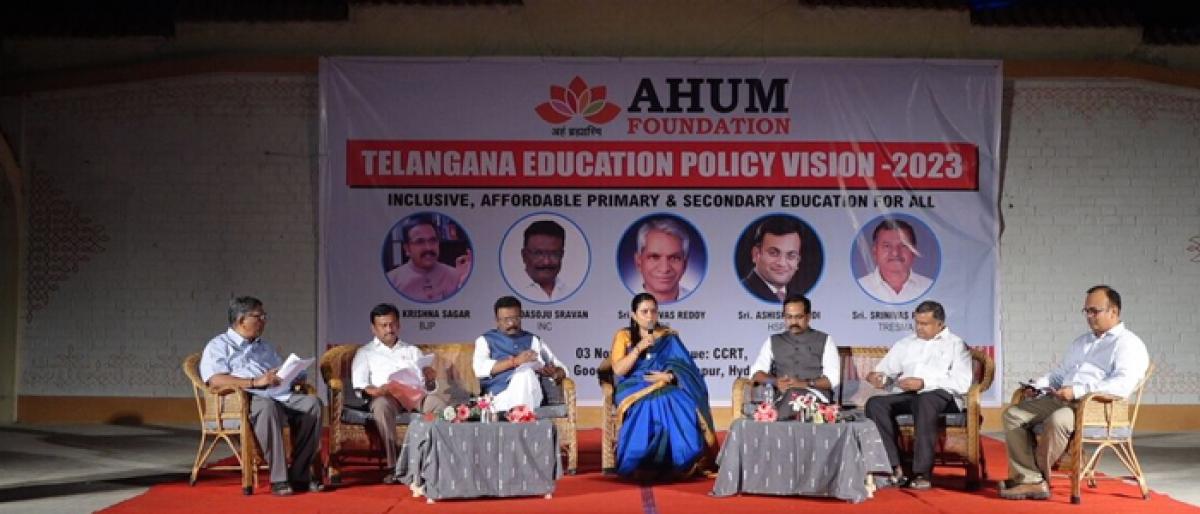 Highlights
Political parties on Monday participated in a panel discussion on Telangana Education PolicyVision 2023 The discussion was held with a hope to put in place a mechanism to regulate fee in private educational institutions in the State
​Hyderabad: Political parties on Monday participated in a panel discussion on 'Telangana Education Policy-Vision 2023.' The discussion was held with a hope to put in place a mechanism to regulate fee in private educational institutions in the State.
Organised by the AHUM Foundation at the Centre for Culture Reprocess and Training in Hitech City, Telangana Pradesh Congress committee chief spokesperson Dr Dasoju Sravan wondered why caretaker Chief Minister K Chandrashekar Rao backtracked on his promise of 'Free KG to PG' education and highlighted other pressing problems like extremely high drop-out rates amongst the SCs & STs in schools.
Bharatiya Janata Party (BJP) chief spokesperson Krishna Saagar Rao expressed concern at the decreasing values and ethos amongst the students and promised top priority to education if the BJP came to power in the State in the ensuing State Assembly elections.
Gellu Srinivas Yadav, President TRSV presented details of multiple schemes initiated by the TRS government, especially the residential schools opened for minorities and backward classes in line with its electoral promise to implement free education scheme in a phased manner.
Uma Maheshwar, former Chief Secretary of Andhra Pradesh suggested a Common Minimum Programme (CMP) for all political parties for crucial sectors like education.
Srinivas Reddy, president TRESMA asked for support to the schools, especially the Budget Schools and asked why the government could not think of 'Education Corridors' on lines of Industrial Corridors where schools can get subsidised facilities.
Ashish Naredi, executive member of Hyderabad School Parents Association (HSPA) appreciated the opportunity to openly ask the political leaders on a public platform and wanted to know why the TRS government first promised School Fee Regulation (SFR) and then went back on its words. He also highlighted how everything related to education was going downhill in the State.
He said that the number of schools decreased by around 3,000, and the number of students has gone down by around one lakh. Besides, the percentage of students in Class V being able to read a class II text also went down from around 54 to 47 per cent. However, contrary to this all while the fees continue to rise exponentially, he said.
Appreciating the HSPA for trying to highlight the SFR though different forums Dr Dasoju, assured to take the HSPA as an advisor to the government on education matters and in the unlikely event of the party will have to sit in the opposition, it will join hands to fight for the cause. Parents participating in the event hoped that the next government, irrespective of the party in power, will give education the due importance that it deserves.