TRS govt schemes enough to win polls: Ponguleti Srinivas Reddy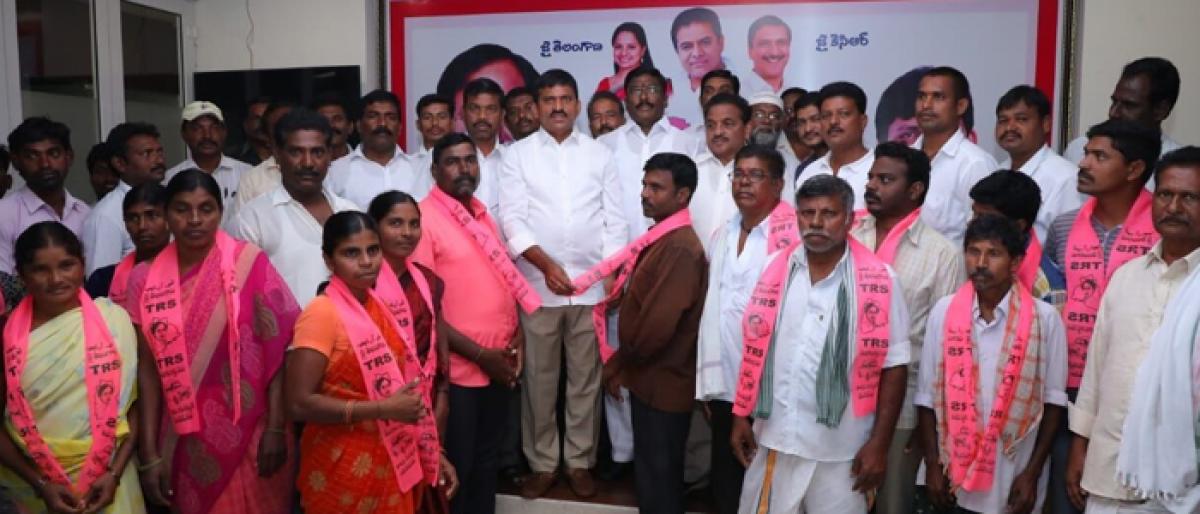 Highlights
The developmental works and welfare schemes introduced by the TRS government would enable the TRS candidates to win the upcoming Assembly elections, said MP Ponguleti Srinivas Reddy on Monday Around 45 families from Mudigonda and 35 families from Bonakal joined TRS in the presence of the MP at his camp office in Khammam
​Khammam: The developmental works and welfare schemes introduced by the TRS government would enable the TRS candidates to win the upcoming Assembly elections, said MP Ponguleti Srinivas Reddy on Monday. Around 45 families from Mudigonda and 35 families from Bonakal joined TRS in the presence of the MP at his camp office in Khammam.
Speaking on the occasion, he appealed to the people to vote for TRS candidate Lingala Kamalaraj contesting from Madhira constituency and achieve Bangaru Telangana. The TRS government during its four and half years of tenure introduced several innovative schemes for the welfare of all sections of society. Seeing the commitment shown towards the development of farm sector by the TRS party, the opposition leaders are unable to comment anything against it, he pointed out.
The 24 hours uninterrupted power supply to farm sector, Rythu Bandhu and Rythu Bheema schemes introduced by the TRS government have brought smiles on the faces of farmers. The leaders of opposition parties already sensing their defeat by seeing the enormous development that took place under the reign of TRS, that is why they are playing cheap politics by forming unethical alliance, he added.
CPM leaders A Nagulu, Narasimha Rao, Nagamani, Sujatha, Yadagiri, Thirupathaiah, Bala Raju and Renuka along with others from Mudigonda mandal and G Nageswara Rao, Shaik Nabi Sahem, G Krishna, Pulla Rao, Satish, Chinna Krishna, Rama Rao and Pabhakar Rao along with others from Bonakal mandal joined TRS party.