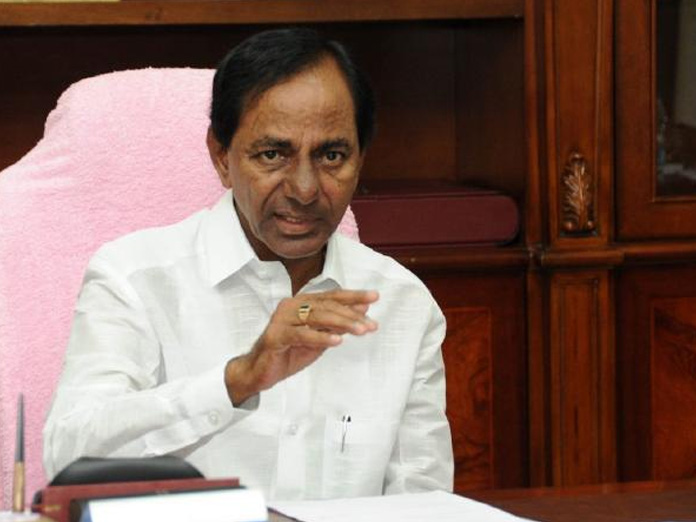 Highlights
Stage is set for the muchawaited cabinet expansion on Tuesday at 1130am It is learnt that Raj Bhavan has been asked to make arrangements for the swearingin of about 16 ministers
​Hyderabad: Stage is set for the much-awaited cabinet expansion on Tuesday at 11.30am. It is learnt that Raj Bhavan has been asked to make arrangements for the swearing-in of about 16 ministers.
True to his style of functioning, Chief Minister K Chandrasekhar Rao has kept the aspirants on tenterhooks till late in the night and only 11 of them had received the telephone call. Though the CM can have 18 members in his cabinet, including himself, sources said that only 11 would be sworn in on Tuesday and the remaining would be inducted after the Lok Sabha elections. Presently, there are only two ministers in the cabinet, i.e, Chief Minister Chandrashekar Rao and Home Minister Md Mahamood Ali.
Among those who have been informed by the CMO are Erabelli Dayakar Rao from Warangal, Singireddy Niranjan Reddy and V Srinivas Goud from Mahbubnagar, A Indrakaran Reddy from Adilabad, Koppula Eshwar from Karimnagar, Vemula Prashanth Reddy from Nizamabad, G Jagadish Reddy from Nalgonda, T Srinivas Yadav from Hyderabad, Ch Malla Reddy from Ranga Reddy and Eatala Rajender from Karimnagar district. Sources also said that a tribal leader is also likely to get a berth in the cabinet and the name of A Rekha Naik is said to be favoured.
The caste composition of the cabinet would be five Reddys, three BCs, and one each from Velama, SC and ST. There would be seven new faces in the cabinet and four are former ministers -- Rajender, Jagadish Reddy, Indrakaran Reddy and Srinivas Yadav.
Portfolios would be given after the swearing-in ceremony as the Chief Minister has taken up elaborate exercise by merging a few departments. It is learnt that KCR would keep Irrigation and Revenue departments. Niranjan Reddy is likely to be given Finance as he was heading the state planning board earlier.
Malla Reddy is likely to be given Transport, Srinivas Yadav may retain Fisheries and Srinivas Goud would be heading the Excise department. While Dayakar Rao is likely to be given R&B, Eshwar would be given the Welfare and Prashanth Reddy would be given Rural Development. Rajender is likely to be given Agriculture, while Indrakaran Reddy may be given Health and Energy department for Jagadish Reddy.
Subscribed Failed...
Subscribed Successfully...