Residents fume over faulty pipelines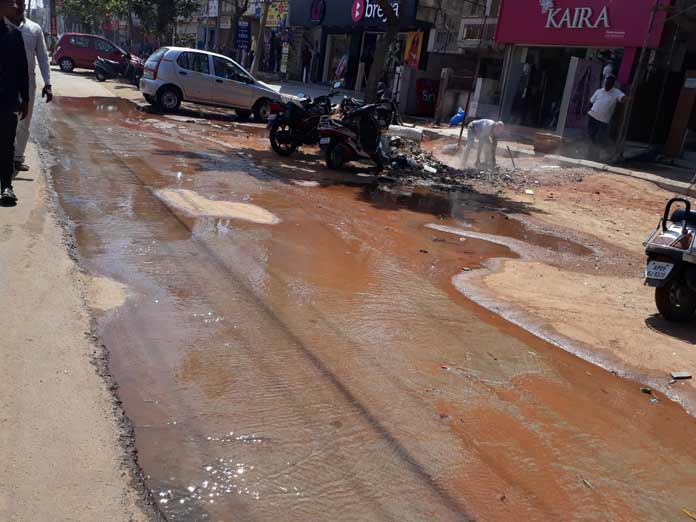 Highlights
Residents of the AS Rao Nagar division in the Kapra Circle are extremely worried over the leakage of large quantities of water at Good Luck Hotel Narrating their water woes, they said that officials from both the HMWSSB and GHMC were least bothered in solving the problem, though they complained to them a number of times
Kapra: Residents of the AS Rao Nagar division in the Kapra Circle are extremely worried over the leakage of large quantities of water at Good Luck Hotel. Narrating their water woes, they said that officials from both the HMWSSB and GHMC were least bothered in solving the problem, though they complained to them a number of times. The HMWSSB has been regularly supplying eight million gallons of water from reservoir to 300 colonies under the sixth division. The laying of a pipeline of 'Mission Bhagiratha' was also recently completed.
The officials also started installing tap connection to each household. Works relating to the linkage of new pipelines with the old was also completed. According to the local residents, due to poor quality in the works, the leakage of water from the pipelines was taking place regularly at some places in the division.
Apart from this, lack of coordination among GHMC and HMWSSB, the indiscriminate digging of roads in the colonies led to damage to pipe lines. Especially localities like Good Luck Hotel, ECIL Junction and Kushaiguda were witnessing leakage of water for every three to four days due to digging of roads. The local residents urged the officials to show a permanent solution to the problem. When contacted, HMWSSB DGM Krishna told The Hans India here on Tuesday that issue relating to the leakage of water came to their notice and action would be taken to avert it after holding discussions with the officials concerned.