One-day training programme for Congress cadre in Warangal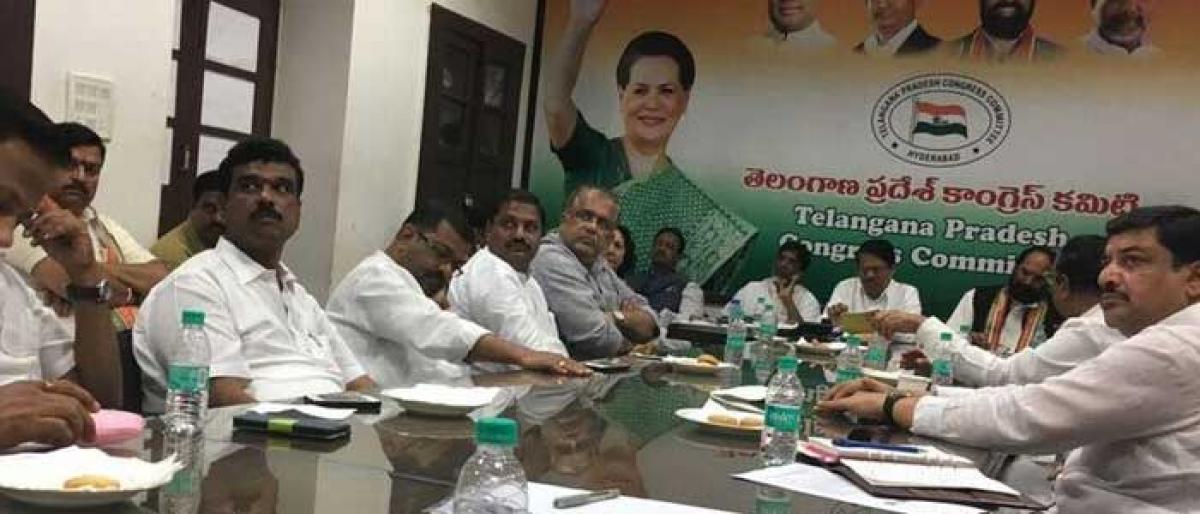 Highlights
The District Congress Committee (DCC) is gearing up a one-day training programme for its cadre on current political issues.
Warangal: The District Congress Committee (DCC) is gearing up a one-day training programme for its cadre on current political issues.
Elaborate arrangements are being made for the training programme to be held at GMR Gardens, Bheemaram on the outskirts of the city on Friday (September 22). It may be noted that the TPCC chief N Uttam Kumar Reddy held a meeting with district Congress leaders in Hyderabad on September 15 in this connection.
The TPCC president will launch the training programme, informed the DCC president N Rajender Reddy. Speaking to The Hans India, he said about three thousand leaders such as MPTCs, ZPTCs and presidents SC/ST, BC and minority cells, booth committees, mandal committees and district committees will attend.
The leaders will be trained in making effective use of social media and on the use of 'Shakti App', which the party has launched to ensure better connectivity and dissemination of information on the party activities. The party state leaders will deliberate on the prevailing political situation in the State and the country and the role of the cadre has to play in reaching out to the people spreading the party ideology at grassroots level, Rajender Reddy said.
The cadre will be sensitised on the anti-farmer and anti-people policies of the TRS government. All the party leaders attending the programme have to bring their voter ID cards along with them, he noted.
He further stated that the ruling TRS party is trying to benefit its leaders and cadre in the name of farmer coordination committee. The committees sans farmers will not yield desired results. Congress will take up extensive campaign on the issue.
The city Congress working president Rajanala Srihari on Wednesday addressed a meeting of Warangal East assembly segment leaders and explained the importance of the training programme. He asked all the leaders in the constituency to attend the meeting.
The Chief Minister, K Chandrashekar Rao, made several promises like three-acre land to SC and STs, free KG to PG, double bedroom houses but they are not yet implemented properly. Students are suffering a lot due to lack funds for fee reimbursement scheme's implementation.
During last elections, the CM promised to construct underground drainage system in the city. Three and half years passed but there is no progress in deliver the promise. As a result, the sanitation conditions in the city turned pathetic, Srihari said.
AICC Telangana in-charge RC Kuntia, SC Cell chairman Koppula Raju, TPCC working president Bhatti Vikramarka, CLP leader K Jana Reddy, MLC Md. Ali Shabbir and others will attend the training programme.