National Mathematics Day celebrated at RSC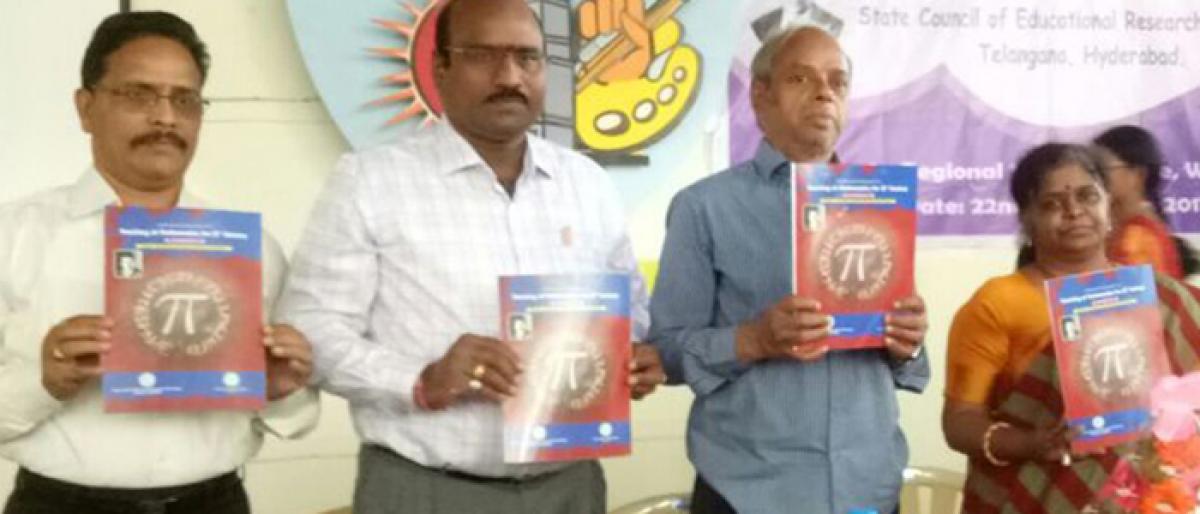 Highlights
Students should pursue their studies with an orientation towards research work instead of just aiming to secure a job, suggested TSCOST member secretary G Krishnaveni. She asked the teachers at schools and colleges to make efforts to motivate students to move towards research and advised them to devise innovative means and methods with which a student could get a thorough knowledge of subjects lik
Hanamkonda: Students should pursue their studies with an orientation towards research work instead of just aiming to secure a job, suggested TSCOST member secretary G Krishnaveni. She asked the teachers at schools and colleges to make efforts to motivate students to move towards research and advised them to devise innovative means and methods with which a student could get a thorough knowledge of subjects like mathematics.
Krishnaveni took part in the State-level National Mathematics Day-2017 celebrated at the Regional Science Centre in (RSC) Hanamkonda on Friday, commemorating the birth anniversary of world famous mathematician Srinivasa Ramanujan.
She also wanted the students to draw inspiration from Ramanujan and excel in the subject. SCERT chief organiser Prof S Suresh Babu felt that teachers have to identify the talent of students. The classroom environment must allow them think freely and raise questions without fear so that they learn fast.
Marking the Mathematics Day, a seminar was organised on the day. Teachers from all the 31 districts in the State took part and submitted research papers. They paid tributes to Ramanujan and recalled his contributions to the field of mathematics.
A professor from NIT Warangal, V Krishnamacharyulu explained about the importance of mathematics in nature explaining the achievements of Ramanujan. He wanted classroom teaching should be in a way that attracts students towards maths.
The science centre project officer S Srinivas, resource persons K Ram Gopal Reddy, Suresh Babu, Y Venkat Reddy, DIET principal Ravi Kumar and lecturer M Somaiah, KU professor Malla Reddy and others were present.
Mathematics Day was also celebrated at ZPPSS Wadlakonda in Jangaon district on Friday. A Mathematics Lab was inaugurated by the school management committee (SMC) chairperson G Sunitha Bixapathi. School students prepared mathematics charts and conducted quiz.