Learning to overcome challenges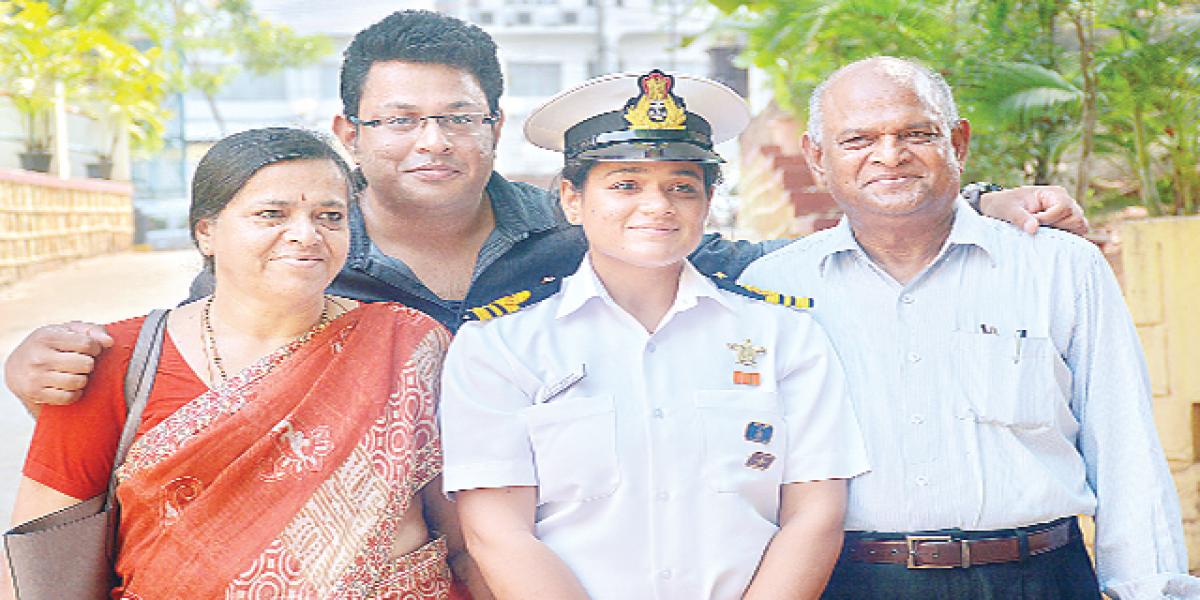 Highlights
The All-Women crew to circumnavigate the globe on an Indian Naval Sailing Vessel "Tarini" for the project Navika Sagar Parikrama, has made the nation proud.
The All-Women crew to circumnavigate the globe on an Indian Naval Sailing Vessel "Tarini" for the project Navika Sagar Parikrama, has made the nation proud. Being the first ever women crew to be a part of such voyage these women set an example that no storm can defeat them. Lt Cdr Aishwarya Boddapati, one of the six member-crew, who belongs to Hyderabad has set an empowering example. Her passion to serve the country made her join as an officer of Indian Navy in the year 2011. She has many decorations to her credit. With this voyage, she has added yet another feather to her crown. She shares the experience:
Who's your inspiration?
My parents have been most inspiring people right from my childhood. I have always looked up to them and wanted to be as humble and have a helping nature as them. My parents are my heroes. For this voyage specifically, it was Captain Donde. He is the first Indian to circumnavigate the globe. He has brought ocean sailing to our country and inspired all six of us.
How does it feel to be the first women crew to be a part of the voyage?
When we started this voyage our mentor Captain Donde told us to leave our genders behind, because the sea will not know whether you are a man or woman, it would treat you equally. So, we did not feel any different at sea, we never thought how the situation would be if we were men. We never let the gender affect us. Being a woman and doing it, it was very different.
We heard there was a bad storm. How did you deal with it?
A huge wave came hitting the boat and I could see that one person who was sitting right in front of me flew across and banged her head. The person who was supposed to be on wheel was not to be seen. She drowned. They were two people in the cock-pit area who were floating as the water was filled to the brim of that area. It was not an ideal situation and for me it was a near death experience. It was something that gives me nightmares even today. But we could handle the situation as a team together. None of us slept that night. If three of us were inside the boat,the other threewould be outside helping each other and trying to collectively get off the storm. Team spirit and the training of the past two years came to our rescue that night.
How does it feel after being conferred with the Nari Shakti award?
We put in a lot of effort and handwork; we even made lot of sacrifices. So, when we were conferred with the award it was satisfying that someone has recognised us.
What are your future plans?
My mentor has been my inspiration. Just like he made the six of us circumnavigators, I would like to help more people come into ocean sailing and pick it up as an adventures activity. I would like to help them out to become circumnavigators.
What message do you givefor the women of today?
For women, who take me as an inspiration, I would like to tell them that I faced a lot of difficulties and problems in this voyage. But it is only when you face challe­nges that you will know wh­at you are capable of. To discover yo­ur capability, you should face difficult situations. If life is easy, the­n you know that you are not doing anything.