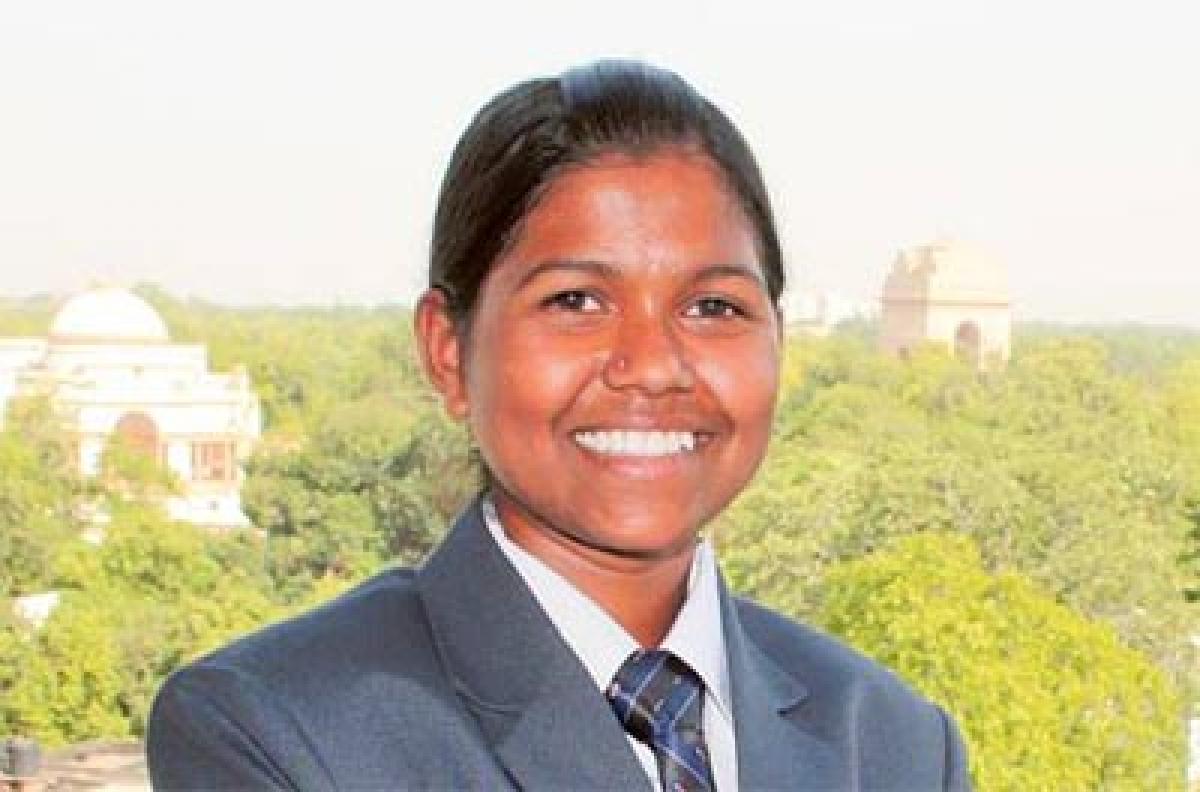 Highlights
Nearly 1,740 young and enthusiastic, but underprivileged girls from Andhra Pradesh Social Welfare Schools are getting a personality makeover, a chance ...
Nearly 1,740 young and enthusiastic, but underprivileged girls from Andhra Pradesh Social Welfare Schools are getting a personality makeover, a chance to speak up and most importantly, a chance to empower themselves at the camp being conducted by the US- based NGO 'Voice for girls'
Purnima Sriram
Every girl's dream is to be educated, empowered and independent. They also dream of being the bread winner of the family and of giving their best to fulfill their dreams too. 'Voice 4 girls', a US-based NGO has taken up the initiative to fulfill these girls' dreams by educating them on a few sensitive and important issues that every girl should learn to fulfill her dreams and goals. The NGO has been conducting training classes in many private organisations.
For the first time, the NGO had approached the APSWRES (full form) secretary Praveen Kumar, IPS, to train the girls studying in these schools. Praveen Kumar, who had left no stone unturned for the development of the social welfare schools and also the betterment of the girls studying in these schools, collaborated with the NGO and is conducting camps for these girls at Rudravaram, Gachibowli and Kurnool for 15 days.
There are 290 social welfare schools in Andhra Pradesh and from each school, six girls who underwent screening test have been chosen for the camp. The camp trains the girls in leadership qualities, communication skills, self-defense and personal hygiene. Six girls from each school who are part of this activity-based learning programme will go back to their respective schools after the camps and will teach their schoolmates.
Almost 19 counsellors and 13 co-counsellors are guiding and training the students. The counselors are students from different colleges in Hyderabad who underwent counseling sessions and also training before they became a part of this camp. They were trained by the 'Voice 4 girls' counsellors. The co-counsellors are the teachers of the social welfare schools who also underwent the same training.
Programme manager of the camp Avriel Bickerson says, "Today's girls are facing lots of challenges each passing day. The girls from the under privileged backgrounds are most vulnerable ones. I wanted to teach these girls on many topics which would empower them and also give them a vision about what life is and on how to face hurdles and challenges that come their way. I am getting amazing responses from these girls. They say, they are more confident about themselves now and also have become stronger," she adds.
"We teach communication skills, self-defense, health and hygiene, safety, difference between safe and unsafe touch, etiquette to these girls," says Bindu Madhuri, a contract resident teacher from APSWRES. "The students wrote impact assessment test before the camp could start and they will have to give impact assessment test after the camp to know how much they have learnt and improved. We give notes, workbooks and also few activities based lectures many important subjects for their empowerment. As they hail from rural background, they are vulnerable to early marriages. We create awareness on the consequences of early marriages," she adds.
S Bhargavi from Karimnagar, APSWRES, studying in Class IX says that she has been taught about how to lead life, face risks and also on how be clean and hygienic. "They taught us grammar and spoken English too. Now, I can speak English like a convent-educated student. After the camp, when I go back to my village, I will share my knowledge with my friends and school mates. The camp has changed my life completely. I learnt a lot of things, which I never knew," she expressed with a wide smile on her face. "My aspiration is to become an IAS officer and bring many chances in the society," she adds.
I Shanthi Sree, who is pursuing her BSc first year from St Francis College, Hyderabad, who is also a counsellor cum volunteer in this camp says she was shortlisted for the camp after she passed through two interviews. "I underwent a two-week training session, one week with the counselor and one more week with the government teachers who are the co-counsellors," she adds. K Pratyusha, who is pursuing her integrated masters in health psychology from University of Hyderabad, says that she teaches the girls about menstrual cycle and how to stay clean and hygienic. "I am happy to teach these enthusiastic girls who are absorbing the knowledge well. We are teaching them on communication skills, self-defense apart from leadership skills," she adds.
Y Maha Lakshmi, Principal of APSWRS, Gachibowli says, that Praveen Kumar is very keen about brushing up these girls in every aspect. "He asked them to talk in English confidently; even if they are wrong so that it will improve their speaking skills and also language skills. He even conducted camps for teachers too, on communication skills, teaching methodology. He changed the government school similar to a convent school," she adds.
An excited student from Chinatakunta APSWRS, K Sirisha, who is also studying in Class IX, expressed her happiness for attending this camp. "The camp is teaching us sentences, tenses in a creative and innovative way. Now, I am confident that I can survive in any part of world. They have strengthened us both, mentally and physically. My inspiration is Isaac Newton and I want to become a scientist like him," she adds.
"Our girl students come from the environment where women have no voice. In our residential schools, we want them to break all the stereotypes that are thrust upon them and help them gain confidence." - Praveen Kumar, IPS, and Secreatary of APSWRES