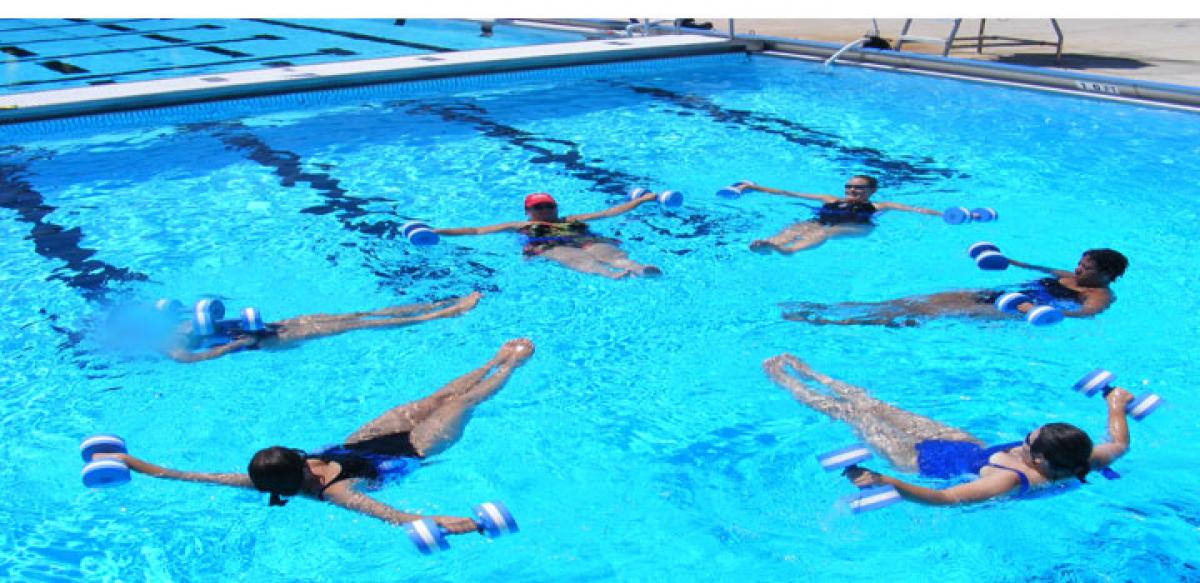 Highlights
Battling the power cuts and the summer heat? Wish you could dunk yourself in cool waters to A 'chill out' literally? Here is a lowdown on swimming...
Battling the power cuts and the summer heat? Wish you could dunk yourself in cool waters to A 'chill out' literally? Here is a lowdown on swimming pools in Hyderabad you could head to, both to brush up your swimming skills, exercise your body and of course, have fun
Victor Rao The legendary quote, "My element is water. My weapon is my body. My sport is swimming", by two time Olympic Silver Medalist, European and NCAA Champion and record holder, Martina Moravcova kindles one's passion for the art. Hyderabadis also seem to have developed a penchant towards swimming not only as a sport, but also as a valued leisure and recreation activity.
Of late, where life has become sedentary and deskbound and hectic schedule has taken a toll on health, swimming is such an activity that can burn calories and improve muscle tone. Swimming is the ultimate lifelong sport- fun for babies and toddlers; fad for youngsters; easy for older people, as energetic or relaxing as you want it to be.
With mercury soaring up to 44 degrees Celsius across the state and people seething at the sweltering weather, the only option they are left with to keep themselves indoors with their air conditioners switched on or to explore hill stations as a place of haven away from the heat. Well, there is a simpler option you could opt for. Go for swimming.
Here are places to you could go for swimming. Greater Family Swimming Pool (GFSP) is an excellent choice. Situated at Lower Tank Bund, Near Indira Park, the place have a plethora of services to offer starting from training for beginners, separate changing rooms for ladies and gents, expert guidance, weight loss programs, valet parking, restaurant and more.
"The co-owner K Ramesh Reddy and I have been working for the organisation for the last five years and ensure that the pool is professionally organised and maintained by experts," says A Harshavardhan Reddy, the owner of GFSP. They are open from 7.00 am to 11 am and again in the evening from 4:30 pm to 9:30 pm.
The membership fee is Rs 1,400 monthly; Rs 3,600 quarterly; Rs 6,000 half yearly; and Rs 10,000 yearly. Swimmers can also join the classed based on hourly basis. The charge for which is Rs 80 per student. The pool has separate timings for ladies ie from 11:00 am to 12 noon and 2:00 pm to 4:00 pm with provision of lady coaches.
CRDS Fit for Life is another such training institute engaged for the past six years. Situated at Sikh Village, they are open from 6.00 am to 9:00 pm. The pool is open throughout the week. Subba Rao, the owner of the swimming training center, says, "Our trainers are the most experienced and offer the best training for different styles. We have other services also like ladies beauty parlors and yoga classes for ladies." The monthly charge here is Rs 1,500.
Yet another swimming destination is Skyway 10 Swimming Pool at Hayathnagar. Bhaskar Yadav, the proprietor, shares, "As the schools are closed and summer is at its peak, we are expecting a crowd of somewhere between 200 and 270. We charge Rs 40 per candidate for every hour. We don't have any monthly package."
B V Gurumurthy Memorial MCH Swimming Pool, S D Road, has been into existence since 1970. They operate the pool from 6:00 am to 10:00 am, and 4:00 pm. to 7:00 pm. For ladies, the timings are from 3:00 pm to 4:00 pm. They charge Rs 510 every month.
If one is looking for a unique experience altogether, resorts are the ultimate pick. One such pristine spot is Lahari Resorts at Bhanoor, near Patancheru. Nestled amidst the nature's beauty with shimmering water bodies, water fountains, flowerbeds, lawns and paving sculptures, Lahari Resorts offers a non-residential package for Rs 1,000 (exclusive of taxes) which includes lunch, tea, dinner, swimming, water slides, beach volley ball and river crossing.