Indian diplomacy with neighbour countries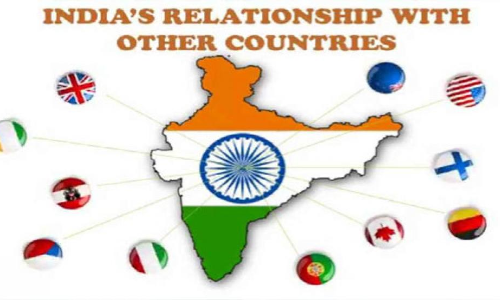 Highlights
Prime Minister Narendra Modi's schedule of foreign visits has been extremely impressive. Estimating outcomes from these visits is, however, more difficult.
Prime Minister Narendra Modi's schedule of foreign visits has been extremely impressive. Estimating outcomes from these visits is, however, more difficult.
• India has opened up its foreign policy in such a way that it is no longer dependent on any single partner unlike 90s. PM Narendra Modi has just concluded his popular 6 days visit to 4 countries, Russia, Germany, Spain and France.
• But what does the trip signifies? our experts believe that PM Modi has made India's foreign policy very dynamic and proactive.
• The timing of the trip is very interesting from the perspective of World politics. Yes, The trip has significant importance from NSG, permanent seat at UN to Trade relation, FDI in India to much discussed issues like Paris Agreement, Counter-Terrorism.
Israel
• In the case of Israel, this being the first ever visit by an Indian Prime Minister to that country we saw de-hyphenation of Israel from Palestine.
It produced better dividends, including elevation of the India-Israel relationship to the level of a 'strategic partnership'.
• The main focus of the visit was on defence cooperation, joint development of defence products and transfer of technology.
Most of the agreements signed were related to transfer of technology and innovative technology-related items. India expects to benefit substantially, considering that Israeli export rules are far more flexible than those of the U.S.
•Both countries expressed a strong commitment to combat terror.
Challenges in Israel
• China's presence- China is a far bigger investor and trading partner of Israel than India. The $40 million Innovation Fund, India and Israel decided to set up to allow Indian and Israeli enterprises to develop innovative technologies and products for commercial applications, is clearly dwarfed by the Israel-China comprehensive innovation partnership which has an outlay of $300 million.
• India and Israel also have differences over China's BRI: Israel is eager to participate in it, unlike India, and possibly views this as an opportunity to develop a project parallel to the Suez Canal.
• When the two countries speak of terrorism, they speak of very different things. Iran and Hezbollah are the main targets for Israel, which has little interest in the Afghan Taliban or Pakistan's Lashkar-e-Taiba. For India, it is the latter that matters.
Strategic imbalance in South Asian region:
Two countries where India's diplomacy, despite the impetus given to it, is currently facing heavy odds are China and Pakistan.
India's neighbors
China in Asia is already exercising some of the political and economic leverages that the U.S. previously possessed.
• China has a significant presence in East and Southeast Asia and is steadily enlarging its presence in South Asia, and is also beginning to expand into West Asia. For instance, China's influence in Iran today appears to be at an all-time high, whereas India's influence seems to be diminishing.
• A divided ASEAN has provided China with an opportunity to demonstrate its economic and military muscle. Most countries in the region also demonstrate a desire to join China-based initiatives.
• Even in South Asia, despite India's commanding presence, China has been successful in winning quite a few friends among India's neighbours such as Bangladesh, Nepal, Sri Lanka and the Maldives.
Why is India opposed to OBOR?
• The main reason behind India's opposition towards the policy is the China-Pakistan Economic Corridor (CPEC), which is a part of OBOR.
• Recent Chinese reports claim that following the launch of CPEC in Pakistan, the country has received investments worth more than $46 billion. "We are all for promoting connectivity… But on the OBOR, our position is that since the so-called CPEC forms a part of OBOR, and it passes through Indian territory, that is where our difficulty lies,". Citing sovereignty issues, India has raised objections over CPEC projects in Pakistan-occupied Kashmir (PoK).
• China, however, has not tried to attenuate India's concerns.
• "The CPEC is a flagship project, but all countries in South Asia have now confirmed participation in the Belt and Road Forum and are making use of the initiative,".
• As the rise of Nationalism in USA under the leadership of Trump moving towards isolation of US whether its Paris Agreement pull back & restrictions on Visas, Trans-Pacific relationship with EU, it has created space for other countries to fill in the gap like China & India.
• Nepal and India have also sustained good bilateral ties. However, with China entering the equation, India might just have a hard time in keeping its status intact. Chinese foreign policy experts have noted that Nepal's inclusion in OBOR may force India to join the initiative or face exclusion.
• Significantly, India–Israel Relations also refers to the bilateral ties between the Republic of India and the State of Israel.
• The two countries enjoy an extensive economic, military, and strategic relationship.
• India is the largest buyer of Israeli military equipment and Israel is the second-largest defence supplier to India after Russia.
• On a three-day bilateral visit to Israel, the first by an Indian premier, to celebrate 25 years of diplomatic relations and strengthen India's already close ties with the Jewish nation.
• India and Israel have signed seven agreements in different sectors. It includes, space technology, agriculture and water conservation etc. Further, The 7 MoUs signed between India and Israel includes a bilateral Technology Innovation Fund worth $40 million for research in industrial development.
• The two countries also agreed to establish a "Strategic Partnership in Water and Agriculture" that will focus, among other areas, on water conservation and reuse of water for agriculture.
• More Specifically, India has suffered firsthand the violence and hatred spread by terror, said PM Modi in Israel.
• India admires the success of people of Israel in overcoming adversity to advance, innovate and flourish against all odds: PM Modi.
• Israel among the leading nations in the field of innovation, water & agricultural tech; this can benefit India.
• Besides this, the Indian Space Research Organisation (ISRO) and the Israel Space Agency (ISA) will work together in the development of Atomic Clocks, GEO-LEO optical link, and in Electric Propulsion for small satellites…
India China Bilateral Defence Cooperation
• Bilateral defence interaction between India and China has been steadily growing in consonance with other aspects of the bilateral relationship.
• There have been regular high level exchanges at the level of Defence Ministers and Service Chiefs, functional level exchanges and military education exchanges between India and China.
• Ships of the Navies of both countries have regularly made port calls, enhancing bilateral defence cooperation.
• India and China hold an Annual Defence Dialogue to discuss security and defence cooperation issues between the two countries.
• The 7th Annual Defence and Security Dialogue was held at Beijing on 10 April 2015. Peace and tranquility in the border areas is being maintained in accordance with the various mechanisms and agreements between the two countries, including the 'Working Mechanism for Consultations and Coordination of India-China Border Affairs' and the signing of the 'Border Defence Cooperation Agreement'.
• The year 2014 was an eventful year for India-China bilateral defence cooperation. The Chairman, Chiefs of Staff Committee visited China in June 2014. The Political Commissar of China's Chengdu Military Region and India's Eastern Army Commander led reciprocal delegations to each other's Command/ Military Region in the months of September and November 2014 respectively.
• In addition to other high level and functional level exchanges, the 4th edition of Exercise HAND IN HAND, the joint anti-terrorism training exercise was conducted at Aundh, Pune, India. The Indian Naval Ship INS Shivalikparticipated in the multi-lateral maritime exercise held at Qingdao, China in April 2014.
• In recent development As PM Narendra Modi leaves on a crucial visit to China, Lets analys what key points which will be confronted by both.
India Wants
• Peace, stability on the LAC; no further Chinese incursions
• Roadmap towards solving border issues.
• Strong economic ties, greater Chinese investment in Indian infrastructure.
• To work with Beijing to make his pet 'Make in India' project a success.
• Greater balance in bilateral trade
China Seeks
• Solution to border issue
• Eased rules for Chinese investment in India.
• To involve India in his 'Belt and Road' vision for the New Silk Route.
• To keep New Delhi from forming a strategic anti-China alliance with US.
• To integrate India into new China-led global economic infrastructure, viz. BRICS Bank, AIIB
Where current relation stands-Where they stand Border Dispute
• 18 rounds of talks between SRs since 2003 have made limited progress. No maps of LAC have been exchanged except in the least contentious Central Sector. Notions of LAC differ, neither side is willing to show their hand easily, and selling a compromise to domestic constituencies remain difficult for both. Beijing does not seem likely to give up its claim over Arunachal Pradesh, and no Indian government will find it easy to surrender the claim over all of Jammu & Kashmir.
Skewed Bilateral Trade
• Countries gave each other MFN status in 1984, and signed a double taxation avoidance agreement in 1994. Bilateral trade reached $ 18.7 billion in 2005, and $ 72.4 billion in 2014-15. India's exports in 2014-15 was, however, only $ 12 billion; imports $ 60.4 billion — a trade deficit to over $ 48 billion.
Pakistan
• In the case of Pakistan, the implosion of the state arising from its internal stresses and problems, together with the virtual standoff between India and Pakistan has enabled the Pakistani Deep State to further entrench itself. India has been left with few options.
• As Pakistan becomes still more deeply mired in problems, its dependence on China is growing. This is contributing to a strategic imbalance in the South Asian region.
Russia
Notwithstanding India's efforts, the diplomatic scene vis-à-vis Russia also could be better.
• Russia is undergoing a strategic resurgence of sorts, sustained in good measure by the close relations recently established with China.
• Buoyed by developments in the Ukraine and Crimea, and the uncertainties surrounding U.S. commitment to NATO, the new Russia-China 'strategic congruence' is certain to impact Asia.
• The problem for India and Indian diplomacy is that at this time India-Russia relations appear less robust than at any time in the past half century.
West Asia
• In West Asia, Indian diplomacy still lacks the agility (quickness) required to deal with fast-changing situations.
• In West Asia, despite its long-time presence in the region, a 9-million strong diaspora, and the region being its principal source of oil, India is not a major player today.
• Both Russia and China have overtaken India in the affairs of the region. This is particularly true of Iran where the Russia-China-Iran relationship has greatly blossomed, almost marginalising India's influence.
Fadeout in West Asia
• India's absence from, and its inability to play a role in, West Asia, even as the region confronts a split down the line between the Arab and the non-Arab world is unfortunate.
• There is the possibility of a series of confrontations between an increasingly powerful Shiite Iran and a weakening Saudi Arabia. The most recent challenge is the one posed by Qatar to the existing order in the West Asian region.
• The fallout of all this will impact India adversely and Indian diplomacy's inability to make its presence felt will matter.
• An additional concern for India would be that growing uncertainties in the region could further fuel radical Islamist terror in the region.
In Asia-Pacific
• In the Asia-Pacific, India has to contend with an increasingly assertive China.
• There is little evidence to show that India's diplomatic maneuvers individually, or with allies like Japan, have succeeded in keeping the Chinese juggernaut at bay — or for that matter provide an alternative to China in the Asia-Pacific.
The 'Act East' policy though has produced better results- Closer relations with countries in East and South-East Asia, especially Japan and Vietnam, are a positive development.
Indian diplomats are best in the world
1. We had diplomatic relations with Soviet Union and USA in cold war
2. We have relations with Iseral and Iran other arab countries
3. We have relations with SAARC and ASEAN
4. We have membership in New development bank and Asian Infrastructural investment bank as well as World Bank & IMF as a result to maintain balance of power in Asian continent the WORLD BANK have given us highest loan that could be given to any country under the influence of USA . Everything is done for the NATIONAL INTEREST. We are in a position to negotiate with any country irrespective of Ideological differences.
• Narendra Modi has taken advantage of the Trump's Anti-Globalism policies, hit out at Trump for his rant on Russian soil to make India stand not only at high moral grounds but also to satisfy Putin & to maintain balance between Russia & US. India needs FDI, with Trump is power, US is not much of a help to India. Trump has derailed the years of bilateral ties formed after hard work in mere seconds.
• India has maintained good relations with both USA and Russia. USA and Russia are no buddies. Same is the case with China and USA. India and China have their own issues, but it isn't that bad the way China and Japan keep sparring. At the same time, Japan and India have come quite close. But India has largely kept out from interfering in the problems between these countries.
Conclusion
Indian diplomacy needs to find a way to steer amid an assertive China, a hostile Pakistan, an uncertain South Asian and West Asian neighbourhood, and an unstable world. The strategic and security implications of these, individually and severally, need to be carefully validated and pursued. Indian diplomacy may possibly need to display still higher levels of sophistication to overcome the odds.
Expected Questions
• Indian diplomacy needs to find a way to steer amid an assertive China, a hostile Pakistan, an uncertain South Asian and West Asian neighbourhood, and an unstable world. Elaborate.
Syllabus
General Studies 2
• India and its neighbourhood- relations.
• Bilateral, regional and global groupings and agreements involving India and/or affecting India's interests
• Effect of policies and politics of developed and developing countries on India's interests
By Gudipati Rajendera Kumar