Analysis of right to privacy verdict of Supreme Court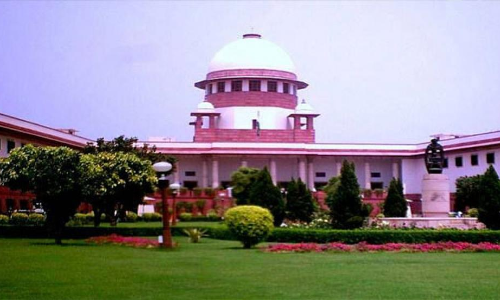 Highlights
Privacy had emerged as a contentious issue while the apex court was hearing a batch of petitions challenging the Centre's move to make Aadhaar mandatory for availing government schemes. In 2015, Attorney General while defending the Aadhaar project that seeks to assign every resident a biometric ID argued that Indians have no right to privacy under the Indian Constitution. This shocked observers an
Privacy had emerged as a contentious issue while the apex court was hearing a batch of petitions challenging the Centre's move to make Aadhaar mandatory for availing government schemes. In 2015, Attorney General while defending the Aadhaar project that seeks to assign every resident a biometric ID argued that Indians have no right to privacy under the Indian Constitution. This shocked observers and legal experts.
The government's claim would set back the privacy debate by over 50 years. Over decades, the Supreme Court has in its judgments read the right to privacy into the Constitution. The highest court in doing so had recognized that without a right to privacy, the right to liberty and freedom of expression cannot survive. The government's claim threatened our basic rights.
Introduction
9 judge bench delivered landmark judgement and unanimously declaring the Right to Privacy is fundamental right under constitution. SC has categorically held that Right to privacy will be protected as intrinsic part of Right to life and personal liberty under Article 21 of constitution of India. Judgement represents quantum leap in the evolution of legal jurisprudence pertaining to privacy in India.

Delivering a unanimous verdict, Supreme Court overruled the earlier eight-judge bench judgment in MP Sharma case and six-judge bench judgment inKharak Singh case – both of which had ruled that privacy is not a Fundamental Right.
Supreme Court of India has held that right to privacy is a Fundamental Rightand it is protected under Article 21 of the Constitution of India. This verdict has a huge impact on the lives of 134 crore Indians.
What is the big deal about Privacy?
Privacy is the basis of the freedom to dissent. With unfettered surveillance, every time you disagree with the state, they can take advantage of the huge imbalance of information between them and you. They can put you under pressure to concede or use information that you did not even know they possessed to embattle you in court.
And their story need not be true. The availability of mass data does not automatically reveal the truth. The truth has to be extracted from it. The details of your phone calls, movements, purchases, demographics and social interactions can be used to construct any number of different truths.
SC verdict on right to privacy
After hearings spread over a fortnight, a nine-judge constitution bench of the Supreme Court on 2 August 2017 reserved its verdict on whether the right to privacy should be deemed a fundamental right. The bench, headed by chief justice J.S. Khehar, did not set a date for delivering its verdict.
The nine-judge constitution bench was set up on 18 July and heard arguments over three days each week by lawyers for the central government, states and petitioners who contended that the collection of personal details under the Aadhaar infringed on the right to privacy.
1. The limited question—is the right to privacy a fundamental right—had cropped up in the context of legal challenges to the Aadhaar number, which has now become the bedrock of government welfare programmes, the tax administration network and online financial transactions.
2. Arguments were opened by lawyer Gopal Subramanium, arguing in favour of a privacy law, as he urged the Supreme Court to view privacy not as a shade of a fundamental right but as one that was "inalienable and quintessential to the construction of the Constitution".
3. Privacy was sought to be defined by Shyam Divan, counsel for one of the petitioners, who said that it would include bodily integrity, personal autonomy, protection from state surveillance and freedom of dissent/movement/thought.
4. On 26 July, as the Centre began its arguments, it recalibrated its stand on privacy, and conceded for the first time that it was a fundamental right under the Constitution—with the caveat that the right could not be extended to "every aspect" of privacy.
5. Attorney general K.K. Venugopal submitted that privacy was at best a "sub-species of liberty and every aspect could not qualify as being fundamental in nature".
6. Following this, four states—Karnataka, Punjab, West Bengal, Himachal Pradesh—and the union territory of Puducherry backed the constitutionality of the right to privacy. The states of Haryana and Kerala also joined the proceedings.
7. Amid the privacy debate, the ministry of electronics and information technology (MeitY) appointed an expert group headed by former Supreme Court judge B.N. Srikrishna to put in place a data protection legislation.
8. The Unique Identification Authority of India (UIDAI), represented by Tushar Mehta, additional solicitor general, took the stand that privacy was a valuable common right that was duly protected under statutes and did not need to be elevated to the status of a fundamental right.
9. Once the privacy question is settled by the nine-judge constitution bench, the remaining issues related to Aadhaar will be heard by a smaller bench of the Supreme Court.
Centre's argument
• The fact that a right may have been afforded protection at common law does not constitute a bar to the constitutional recognition of the right. Once privacy is held to be an incident of the protection of life, personal liberty and of the liberties guaranteed by the provisions of Part III of the Constitution, the submission that privacy is only a right at common law misses the wood for the trees.
• To Centre's argument that privacy need not be made a constitutional right and can be protected through parliamentary statutes: A statutory right can be modified, curtailed or annulled by a simple enactment of the legislature. In other words, statutory rights are subject to the compulsion of legislative majorities. The purpose of infusing a right with a constitutional element is precisely to provide it a sense of immunity from popular opinion and, as its reflection, from legislative annulment.
• To Centre's argument that privacy is an "elitist construct": Every individual in society irrespective of social class or economic status is entitled to the intimacy and autonomy which privacy protects. The refrain that the poor need no civil and political rights and are concerned only with economic well-being has been utilised though history to wreak the most egregious violations of human rights.
Justice Chelameswar
Justice J. Chelameswar: Fundamental rights are the only constitutional firewall to prevent State's interference with those core freedoms constituting liberty of a human being.
The right to privacy is certainly one of the core freedoms which is to be defended. It is part of liberty within the meaning of that expression in Article 21.
Justice Bobde
Justice S.A. Bobde: The first and natural home for a right of privacy is in Article 21 at the very heart of 'personal liberty' and life itself.
There are innumerable activities which are virtually incapable of being performed at all and in many cases with dignity unless an individual is left alone or is otherwise empowered to ensure his or her privacy. Birth and death are events when privacy is required for ensuring dignity amongst all civilized people.
Justice Nariman
Justice Rohinton F. Nariman on privacy as an elitist construct: A large number of poor people that the Centre (Attorney-General K.K. Venugopal talks about are persons who in today's completely different and changed world have cell phones, and would come forward to press the fundamental right of privacy, both against the Government and against other private individuals. We see no antipathy whatsoever between the rich and the poor in this context.
On Centre's argument that privacy need not be made a constitutional right and can be protected through parliamentary statutes: Statutory law can be made and also unmade by a simple Parliamentary majority. In short, the ruling party can, at will, do away with any or all of the protections contained in the statutes mentioned hereinabove.
Fundamental rights, on the other hand, are contained in the Constitution so that there would be rights that the citizens of this country may enjoy despite the governments that they may elect.
Justice Sapre
Justice A.M. Sapre: Right to privacy is a part of fundamental right of a citizen guaranteed under Part III of the Constitution.
However, it is not an absolute right but subject to certain reasonable restrictions.
Justice Kaul
Justice Sanjay Kishan Kaul: Privacy is nothing but a form of dignity, which itself is a subset of liberty. Thus, from the one great tree, there are branches, and from these branches there are sub-branches and leaves.
Every one of these leaves are rights, all tracing back to the tree of justice.
They are all equally important and of equal need in the great social order.
They together form part of that 'great brooding spirit'. Denial of one of them is the denial of the whole, for these rights, in manner of speaking, fertilise and nurture each other. Nine judges bench declares right to privacy as inherent part of fundamental rights
In a unanimous verdict, a nine-judge Constitution Bench of the Supreme Court on Thursday declared that privacy is intrinsic to life and liberty and an inherent part of the fundamental rights enshrined in the Constitution.
The court held that privacy is a natural right that inheres in human beings because they are human. The state does not bestow natural rights on citizens. Natural rights like privacy exist equally in all individuals, irrespective of class, strata, gender or orientation.
"Privacy is the constitutional core of human dignity. Privacy ensures the fulfilment of dignity," Justice D.Y. Chandrachud wrote.
The Centre had argued against the recognition of privacy as a fundamental right. It had assured the court that privacy would be protected through parliamentary statutes.
But the court retorted that statutory laws "can be made and also unmade by a simple parliamentary majority."
The court chided the Centre for describing right to privacy as an "elitist construct."
Attorney-General K.K. Venugopal had argued that privacy was the concern of a few, while schemes like Aadhaar, which require citizens to part with their biometric details to the state, reduce corruption and benefit millions of poor.
However, the court held that privacy is not an absolute right. The government can introduce a law which "intrudes" into privacy for public and legitimate state reasons.
But a person can challenge this law in any of the constitutional courts of the land — the Supreme Court or the State High Courts — for violation of his fundamental right to privacy.
Over 40 years after the Supreme Court's darkest hour when it said citizens had no right to life and liberty during the Emergency period, a nine-judge Bench condemned the decision in the infamous ADM Jabalpur case, better known as the habeas corpus case, as "seriously flawed."
The habeas corpus judgment in 1976 upheld the Congress government's move to unlawfully detain citizens, including political rivals, during the Emergency years.
Of the five judges on that Bench, only Justice H.R. Khanna dissented with the majority opinion of then Chief Justice of India A.N. Ray, Justices M.H. Beg, Y.V. Chandrachud and P.N. Bhagwati. Justice Khanna's dissent cost him the chief justiceship.
For the first time in Supreme Court's history, a nine-judge Bench, led by Chief Justice of India J.S. Khehar, officially condemned the Supreme Court's majority opinion in the habeas corpus case.
Nine judges bench overruled judgement onSection 377
The nine-judge Bench of the Supreme Court on Thursday ripped apart its own judgment of 2014 upholding Section 377 of the Indian Penal Code, which criminalises consensual sexual acts of adults in private.
The Bench observed that the chilling effect of Section 377 "poses a grave danger to the unhindered fulfilment of one's sexual orientation, as an element of privacy and dignity."
In separate judgments, the Constitution Bench, led by Chief Justice of India J.S. Khehar, concluded that the 2014 verdict by a two-judge Bench of the apex court pandered to a "majoritarian" view.
They turn down the LGBT community their inherent fundamental rights of life, personal liberty, equality and gender discrimination.
The 2014 judgment's view that "a miniscule fraction of the country's population constitutes lesbians, gays, bisexuals or transgenders" was not a sustainable basis to deny the right to privacy, Justice D.Y. Chandrachud observed in his judgment.
Implications of SC judgement
What matters is not the outcome but its future far reaching implications. It's a big deal overruling 8 bench judge's order. 9 judge bench is a rarity, even more of rarity is 9 judge bench is speaking in one voice unequivocally stating that privacy is fundamental right.
The fact that all the judges unanimously came down on this argument shows how much the government misunderstood the constitutional underpinnings of privacy as a value in it and as an ineluctable facet of human dignity.
The government argued that privacy is "so amorphous as to defy description", that it is needless to call it a fundamental right as it is one in common law, and that it has been given statutory protection in different forms. There was even a suggestion that privacy is an imported value and that it is elitist. All these arguments fell by the wayside.
Need for elevating it to the status of fundamental right
Privacy can be otherwise protected through codified mechanism through a statute then why do we need as sacrosanct as a constitutional right? The reason that we elevate to the status of fundamental right is take outside the ambit of the legislative majority so that no brutal majority is in a position to overturn the particular right.
Because a statutory right is effectively a creature of a particular statute and therefore it can be curtailed where as a fundamental right is there for all time to come and forms part of basic structure.
Relevance and Contemporary standpoint
From relevance and contemporary stand point the fact that privacy is extremely important concern in technology intensive society which aims to become information based society especially at a time when we are pushing for Digital India.
Aadhaar and the Right to Privacy
Recently, the Supreme Court of India refused simultaneous applications by multiple agencies demanding relief from the Supreme Court's interim order limiting the use of Aadhaar pending the Court's final decision.
The court has referred these government applications to a constitutional bench. With this, on one side the court has assured Indians that a decision on their fundamental rights will not be long delayed and on the other side it has increased pressure on the government.
The court has asked the government to address the most basic questions in a democracy governed by the law: what are the privacy rights of its citizens; and are they protected equally, with the same justice for the rich and the poor alike?
What has been the government saying?
The Government of India (GoI) has repeatedly been saying that it is the government's position that Indian citizens have no constitutional right of privacy.
It argues that the poor, whose welfare is at stake in the continuance of subsidy payments and other benefits, must be prepared to surrender their right of privacy, if any, in order to continue receiving benefits.
How these arguments are being seen?
These arguments were sharply rejected by the supreme court, which recognises that the poor have the same rights as the rich in any democratic society.
The government's stand may give rise to the doubt whether it is truly committed to protecting its citizens from violations of their privacy by the unauthorized use of information provided by them.
Why there is a need to protect citizen information?
Identifying citizens for providing various services, maintaining security and crime-related surveillance and performing governance functions, all involve the collection of information.
In recent years, owing to technological developments and emerging administrative challenges, several national programmes and schemes are being implemented through information technology platforms, using computerized data collected from citizens.
With more and more transactions being done over the Internet, such information is vulnerable to theft and misuse. Therefore, it is imperative that any system of data collection should factor in privacy risks and include procedures and systems to protect citizen information.
What should the government do?
Instead of arguing that privacy is not a fundamental right, it should assure the court that it has the technology and systems to protect the data collected.
It should assure the citizens of India that it will do everything possible to prevent unauthorized disclosure of or access to such data.
It should recognize all dimensions of the right to privacy and address concerns about data safety, protection from unauthorized interception, surveillance, use of personal identifiers and bodily privacy.
The data controller should be made accountable for the collection, processing and use to which data are put.
Centre's stand on Aadhar Linkage
Strongly backing the Aadhaar scheme, the Centre submitted that the right to life of millions of poor in the country through food, shelter and welfare measures was far more important than privacy concerns raised by the elite class.
Controversially, Attorney General K K Venugopal arguing for the Centre also stated that privacy claims required better priority in developed countries "not in a country like India where a vast majority of citizens don't have access to basic needs".
The government was categorical that after enrolling nearly 100 crore citizens spending an astronomical amount of Rs 6,300 crore there was no going back.
He said the right to privacy cannot be invoked to scrap the Aadhaar scheme.
So this case is not about Aadhaar but it still is?
Right to Privacy was always known or assumed to be a common law right. Occasionally, it was recognised in some verdicts as a fundamental right.
In concluding that "the right to be left alone" is an inalienable part of being human, the court has restated a fundamental principle, namely that some rights are natural and inherent; constitutions only recognize them and make them explicit.
In the interim period of two years of a wait for the Right to Privacy judgement, the Government of India has violated the prior orders of the Court restraining the use and expansion of Aadhaar.
It has linked and made Aadhaar mandatory for filing taxes, operating bank accounts, for children's schemes to get school lunches, scholarships, taking exams, stipends for the disabled, causing hardship to ordinary citizens.
So, it became necessary mainly due to a strange and perverse argument by the Union government in the course of the hearings on the validity of its Aadhaar-based unique identity scheme that privacy is not a fundamental right.
What implications the ruling would have on state policy and citizens' rights
What implications the ruling would have on state policy and citizens' rights will be the core issues in future.
A welcome aspect of the judgment is that it makes it clear that sexual orientation is part of privacy and constitutionally protected, and that the 2014 verdict upholding Section 377 of the Indian Penal Code is to be questioned. This opens up the case for a much-needed reconsideration.
As for Aadhaar, it is pertinent to note that the judges have referred to the restrictions and limitations that privacy would be subject to.
The test to decide the validity of any such restriction is that it is reasonable based on fair procedure and free from arbitrariness or selective targeting or profiling.
It can also be based on compelling state interest. This is where a cautionary note is in order. Courts exercising writ jurisdiction should be cautious about the nature of the relief they grant based on wide and open-ended claims of breach of privacy.
The verdict has advanced and revivified core constitutional principles in an era in which privacy is compromised against state interest. Somehow, privacy as a value finds itself
o at loggerheads with notions of national security,
o the needs of a knowledge society and
o Socio-economic policy.
Hopefully, this judgment will set many such concerns at rest and bring about a more equitable relationship between citizen and state.
Conclusion
The right to privacy broadly encompasses physical privacy, informational privacy and decisional autonomy. The interplay of technological advances and the right to privacy in the digital age needs to be closely scrutinised. The nine-judge bench has rightly emphasised the need for data protection laws — a task now entrusted, at a preliminary stage, to the Justice Srikrishna Committee.
But, irrespective of any technological changes, the respect of the right of individuals to make a choice of how and where they want to live, work and pursue their individual dreams must be protected. Nine judges of the Supreme Court have protected, for decades to come, the most important right emphasised by Justice Brandeis: The right to be left alone.
By Gudipati Rajendera Kumar