Understanding the importance of national waterways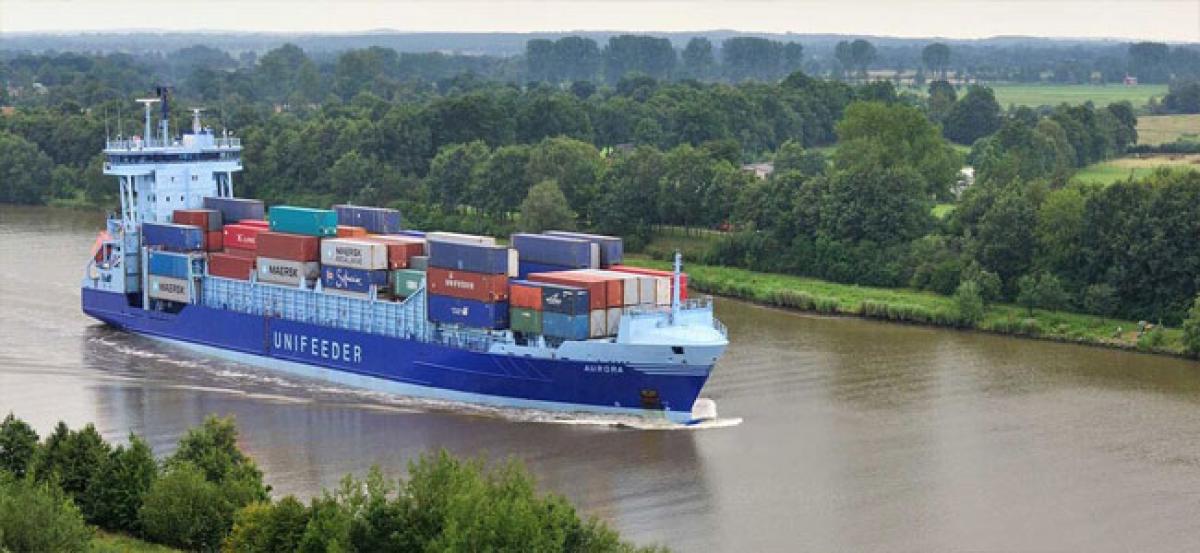 Highlights
As acquisition of land for national and State highways becomes scarce and the cost of construction of roads, flyovers and bridges goes up, the government is now exploring using water as a means of public transportation.With the enactment of the National Waterways Act, 2016, the total number of national waterways is now 111. But providing infrastructure such as jetties, terminals, and navigational
As acquisition of land for national and State highways becomes scarce and the cost of construction of roads, flyovers and bridges goes up, the government is now exploring using water as a means of public transportation.With the enactment of the National Waterways Act, 2016, the total number of national waterways is now 111. But providing infrastructure such as jetties, terminals, and navigational channels continues to pose a challenge.
The government has proposed an amendment to the Central Road Fund Act, 2000 to enable allocation of about Rs2000 crore from the central road fund (CRF) for developing inland waterways.
National Waterways Bill-2015
The Parliament has passed National Waterways Bill, 2015 to clear the way for the conversion of 106 rivers and creeks across India into transport waterways. It was first passed in Lok Sabha in December 2015 and later was passed by Rajya Sabha in March 2016.
The amendments in Bill are based on the recommendations of the Parliamentary Standing Committee on Transport, Tourism and Culture and comments of states.
Key Features
The changes effected in the original list of 101 waterways, which was introduced with the National Waterways Bill 2015, include omission of 10 waterways of Kerala, merger of 17 with the existing waterways and addition of 18.
In order to carry out these changes, an official amendment to the National Waterways Bill, 2015 was moved in the Lok Sabha.
The Bill provides for enacting a central legislation to declare 106 additional inland waterways as the national waterways.

After the inclusion of 106 additional inlands waterways to the existing five national waterways, the total number of national waterways goes up to 111.
Declaration of additional 106 waterways as national waterways will not have any immediate financial implications.
Financial approval of the competent authority for each waterway will, however, be taken based on the outcome of the techno-economic feasibility studies which are being undertaken by the Inland Waterways Authority of India (IWAI).
The expeditious declaration of national waterways and its subsequent development will spur industrial growth and tourism potential of the hinterland along the waterway.
This will also provide an additional, cheaper and environment friendly mode of transportation throughout the country.
One horse power can carry 4,000 kg load in water whereas it can carry 150 kg and 500 kg by road and rail, respectively. Further, in a study as highlighted by the World Bank, 1 litre of fuel can move 105 tonne-km by inland water transport whereas the same amount of fuel can move only 85 tonne-km by rail and 24 tonne-km by road.
Studies have shown that emission from container vessels ranges from 32-36 gm of CO2 per km while those of road transport vehicles (heavy duty vehicles) range from 51-91 gCO2 per km.
The Bill proposes conversion of 15 rivers in West Bengal, 14 each in Assam and Maharashtra, 11 in Karnataka, 12 in Uttar Pradesh, 9 in Tamil Nadu and 6 each in Bihar and Goa and 5 each in Gujarat, Meghalaya, Odisha and Telangana, among others.
The proposal also includes plan to convert the Yamuna in Delhi and Haryana into a waterway.
Inland waterways of India
India has an extensive network of inland waterways in the form of rivers, canals, backwaters and creeks. The total navigable length is 14,500 km, out of which about 5,200 km of the river and 4,000 km of canals can be used by mechanized crafts.
India has a large network of water bodies in the form of rivers, Lakes, Canals and backwaters. These long waterways are provides a good mode of transport across the cities as well as towns, like backwaters of Kerala, Canals in Gujarat and few waterways in Goa, West Bengal and Assam. Still these inland waterways are un-utilized in India as compare to other countries in the world, Inland Waterways Authority of India is working on new projects for waterways and better water transportation in India.
National Waterway 1 (NW 1) starts from Allahabad to Haldia with an distance of 1620 km. The NW 1 run through the Ganges, Bhagirathi and Hooghly river system with having fixed terminals at Haldia, Farrakka and Patna and floating terminals at most of the riverside cities like Kolkata, Bhagalpur, Varanasi and Allahabad. It will be the longest National Waterway in India.
National Waterway 2 is a stretch on Brahmaputra river from Sadiya to Dhubri in Assam state. The NW 2 is one of the major freight transportation waterway of north east India and the third longest Waterway with a total length of 891 km.
National Waterway 3 or the West Coast Canal is located in Kerala state and run from Kollam to Kottapuram. The 205 km long West Coast Canal is India's first waterway with all time navigation facility. The NW3 is consist of West Coast Canal, Champakara Canal and Udyogmandal Canal and runs through Kottappuram,Cherthala, Thrikkunnapuzha Kollam and Alappuzha.
National Waterway 4 connects Kakinada to Pondicherry through Canals, Tank and River Godavari along with Krishna river. The NW 4 the second longest waterway of India with total lenght of 1095 km in Andhra Pradesh and Tamil Nadu.
National Waterway 5 connects Odisha to West Bengal using the stretch on Brahmani River, East Coast Canal, Matai river and Mahanadi River Delta. The 623 km long canal system will handle the traffic of cargo such as coal, fertilizer, cement and iron.
National Waterway 6 is the proposed waterway in Assam state and will connect Lakhimpur to Bhanga in river Barak. The 121 km long waterway will help in trading between town of Silchar to Mizoram State.
Inland waterways in India consist of the Ganges (Ganga)–Bhagirathi–Hooghly rivers, the Brahmaputra, the Barak river, the rivers in Goa, the backwaters in Kerala, inland waters in Mumbai and the deltaic regions of the Godavari – Krishna rivers.
Freight transportation by waterways is highly under-utilized in India compared to other large countries and geographic areas like the United States, China and the European Union. The total cargo moved (in tonne kilometres) by the inland waterway was just 0.1% of the total inland traffic in India, compared to the 21% figure for United States. Cargo transportation in an organised manner is confined to a few waterways in Goa, West Bengal, Assam and Kerala.
Water transportation is receiving significant attention in recent times since logistics cost in India is one of the highest among major countries – it is 18% in India versus 8-10% in China and 10-12% in European Union.
While inland waterways are recognised as a fuel efficient, cost effective and environment friendly mode of transport, it has received lesser investment as compared to roads and railways. Since inland waterways are lagging behind other modes of transport the central government has evolved a policy for integrated development of inland waterways.
National Waterways Act, 2016
Under Entry 24 of the Union List of the Seventh Schedule of the Constitution, the Central Government can make laws on shipping and navigation on inland waterways which are classified as National Waterways by Parliament by law.
The Act merges five existing Acts which have declared the 5 National Waterways.
It has declared 106 Waterways as NWs through a single piece of legislation, in addition to the existing five NWs.
The Inland Waterways Authority of India (IWAI)which is mandated to develop, maintain and regulate these for navigation would be the nodal agency.
Intent of the government through this plan:
Government says developing the waterways is our top priority
India currently has five inland waterways while only three are operational.
India's Waterways has been a neglected sector due to lack of focus and policy measures. India is in the last position in the world in this sector.
In China 47 per cent of passenger and goods traffic is through water, in Korea and Japan it is 43-44 per cent and in Europe it is over 40 per cent. In India it is just 3.3 per cent, out of which inland waterways account for a mere 0.3 per cent.
Waterways have the potential to revolutionise transport. It could contribute at least two per cent to the country's GDP.
Waterways are cheaper than rail and road, less polluting and result in fewer accidents.
Government is also planning to introduce sea-planes, water buses, hovercrafts and floating hotels to connect coastal towns to boost waterway tourism.
Concerns expressed over the government's plans:
Opposition parties have expressed concerns over the Union government's plans to turn 111 rivers across India into national waterways through National Waterways Act, 2016.
3 Concerns:
The law's impact on the already drying rivers
The law's impact on the rights of people and
The power of the states to regulate the economy along the banks of these rivers
Other concerns:
Environmental issues and livelihood concerns that may crop up at a later stage
With rivers drying up, artificially maintaining water levels in river canals will be challenging on many stretches
The operations of a navigable river would alter the economics and ecology of the riverine system inalienably.
It sets up competing demands on the stressed water levels with existing users, particularly farmers who need water for irrigation and drinking water demands.
What does making a navigable waterway require?
It requires constant and steady water flow at a set minimal limit depending on the tonnage of weight to be shipped. This has to be managed artificially. The river has to operate like a canal.
"This will involve the construction of locking barrages to hold water for vessel movement, concretisation and building of embankments to create port terminals, and regular (high-intensity) capital dredging of river sediment deposition along channel bottoms and margins."
Requires huge private investments and participation: for funding such large scale operations
What does the Environment Ministry say?
The environment ministry says –
It will support the Waterways plan and while dealing with "clearance issue", it will consider a "case-to-case basis" for clearances.
Environmental feasibility of each stretch will be taken up only after detailed project reports are ready.
Environment ministry to give piece-meal clearances to parts of a larger integrated project.
Tough task ahead:
Environment ministry is yet to conduct a river-to-river study.
The environment ministry should also consider the impact of thermal power and hydropower plants or mining on particular river basins in a holistic manner.
The reports and recommendations of the Environment Ministry have often been heavily critiqued and never binding on the government.
Environment versus Development – Has government overlooked environmental issues?
All the above concerns and trade-offs have been treated by the government as a "clearance issue" that would be dealt with on a "project" basis.
The law and policy for inland waterways end up treating the question of environmental and economic sustainability just as governments have previously dealt with questions over exploitation of natural resources- an issue to be overcome when the time arises.
Case I: Hydropower projects in the Himalayas
Early "potential" studies claimed more than 75,000 Mw was to be unlocked through several hundred dams. The idea, however, failed.
Very little of that has materialised over the previous few decades with issues related to environment, livelihood and corruption, playing a central role in limiting the progress.
Most of the hydropower projects that have come up for clearances have secured environment approvals only to face resistance and legal challenges later.
Case II: Coal block auctions and allocations
Supreme Court judgement gave the NDA opportunity to account for environmental concerns while auctioning and apportioning the blocks anew. That did not happen.
Instead, maximising the revenue potential became the focus and now many blocks are caught yet again in issues of rights and environment.
Benefits:
Water transport is not only environment-friendly but also cheaper than other modes of transport
It takes lesser time to transport cargo by waterways and the chances of congestion and accidents on highways are eliminated.
There is a huge potential for domestic cargo transportation as well as for cruise, tourism and passenger traffic.
There is huge potential for public private partnership (PPP) led investments in dredging, construction, operation and maintenance of barges, terminals, storage facilities, and navigation, as well as tourism.
It will help in the generation of millions of job opportunities.
It will boost the maritime trade of the states and augment their economies.
Challenges
Many of the rivers generally remain dry. There is a need to develop water reservoirs for conservation of rain water to feed such rivers.
There is a need to estimate the quantum of water required on a weekly basis throughout the year to maintain the minimum depth of water in the canals for navigability, besides ensuring that drinking, irrigation and other demands of water do not get impacted.
Higher water salinity, especially in the coastal regions and estuaries, and constant inflow of silt in the rivers can be problematic.
The cost savings from NW would never be realized unless vessels are able to load to their full tonnage. This is possible only if the rivers are deepened between 2.5 and 4.5 meters and if return cargo is made available for the vessel to avoid wasteful return trips.
The right over water usage and ownership of adjacent land remain with the state government. Once a canal is declared a NW, then for any development of infrastructure or even for withdrawal of water, the State should get permission of the IWAI. This undermines the authority of the states in local development.
The right of the state governments to develop additional irrigation projects would also be impaired. Hence, specific provisions to protect the rights of the state government over the waterway even after its declaration as an NW may be provided for.
The financing requirement for NWs is huge and open-ended. Heavy investment will be needed to procure equipment, including dredgers, shipping vessels, and barges of different sizes.
These NWs will also require river ports with their support infrastructure- road and rail connectivity, warehouses and other services.
The need of amendment to the Central Road Fund Act, 2000
These waterways can be developed as environment-friendly modes of transport. This will decrease the huge logistics cost in India significantly.
But the Government will have to figure out innovative ways of financing as they would be requiring about Rs. 70,000 crore to develop these river stretches into navigable transport ways.Government will explore multiple sources of finance, including market borrowings and tapping the National Clean Energy Fund (NCEF) and the Central Roads Fund (CRF).
With the enactment of the National Waterways Act, 2016, the total number of national waterways is now 111. But providing infrastructure such as jetties, terminals, and navigational channels continues to pose a challenge.
Central Road Fund Act, 2000 Act regulates the Central Road Fund (CRF) that is credited with the cess collected on high speed diesel oil and petrol. This collected amount is then released to National Highways Authority of India, and to the state/union territory governments for the development of national and state highways. The Bill seeks to allocate a share of this cess towards the development of inland waterways.
Once enacted, Central Road Fund (Amendment) Bill, 2017 will give a big boost to our waterways as cargo transportation through water is a much cheaper and cleaner way of transportation. It will bring down logistics cost that is very high.
Utilisation of fund: Under the 2000 Act, the fund can be utilised for various road projects including: (i) national highways, (ii) state roads including roads of inter-state and economic importance, and (iii) rural roads. The Bill provides that in addition to these the fund will also be used for the development and maintenance of national waterways.
Powers of central government: Under the Act, the central government has the power to administer the fund. The central government will make decisions on the: (i) investments on national highways and expressways projects, (ii) raising funds for the development and maintenance of national highways, and rural roads, and (iii) disbursement of funds for national highways, state roads and rural roads. The Bill provides that central government will make all the above decisions for national waterways as well.
Allocation of cess: Under the Act, the cess on high speed diesel oil and petrol is allocated towards different types of roads. The Bill seeks to decrease the allocation of cess towards the development and maintenance of national highways from 41.5% to 39%. It allocates 2.5% of the cess towards the development and maintenance of national waterways.
As per the financial memorandum of the Bill, at the current rate of levy of this cess, the share allocated towards waterways will amount to around Rs 2,000 crore per annum. The remaining cess amount will continue to be used for the development of other roads such as national highways, state highways, etc.
This move will also offer incentives and certainty for the private sector to invest in the inland waterways transport sector. This would accelerate the development of national waterways by utilising the funds generated by way of cess.
Some of the other steps needed for the development of Inland Water Transportation
Inland navigation is considered to be an energy saving mode of transport. It requires the maintenance of a specified water depth and width depending upon the size of vessels expected to use that waterway. This necessitates the release of adequate discharges.
The detention of water in upstream storages may put some of the existing navigable waterways out of useunless adequate provision is made to release sufficient water downstream. Therefore, the discharge required to be made for maintaining the required water depth in the reaches of river planned for inland navigation should be made.
Sometimes water released for some other purpose may simultaneously serve the requirements of navigation. Efforts should be made plan such complimentary uses as far as possible.
Prevention of run off and preservation of water should be planned in all rivers to retain the present discharge level and to augment the lean season discharge which would not only facilitate improved navigability but also result in availability of water for other purposes.
In all multi-purpose projects in water resource management, the navigational component should be identifiedat the inspection stage and provisions made to derive the maximum navigational potential.
This is applicable in case of dams' canalisation and also in planning of diversions as part of flood season.
Preservation of existing canals, lakes etc. is an essential ingredient of environmental protection.
In case of taking up multipurpose projects on any river the navigational requirement should be kept in view for which a list of navigable waterways in the country is enclosed.
Conclusion
National waterways provide a cost-effective, logistically efficient and environment-friendly mode of transport, whose development as a supplementary mode would enable diversion of traffic from over-congested roads and railways. Hence, the waterways project deserves better regulation and development across the country.
By Gudipati Rajendera Kumar