Mithali turns emotional at Keyes High School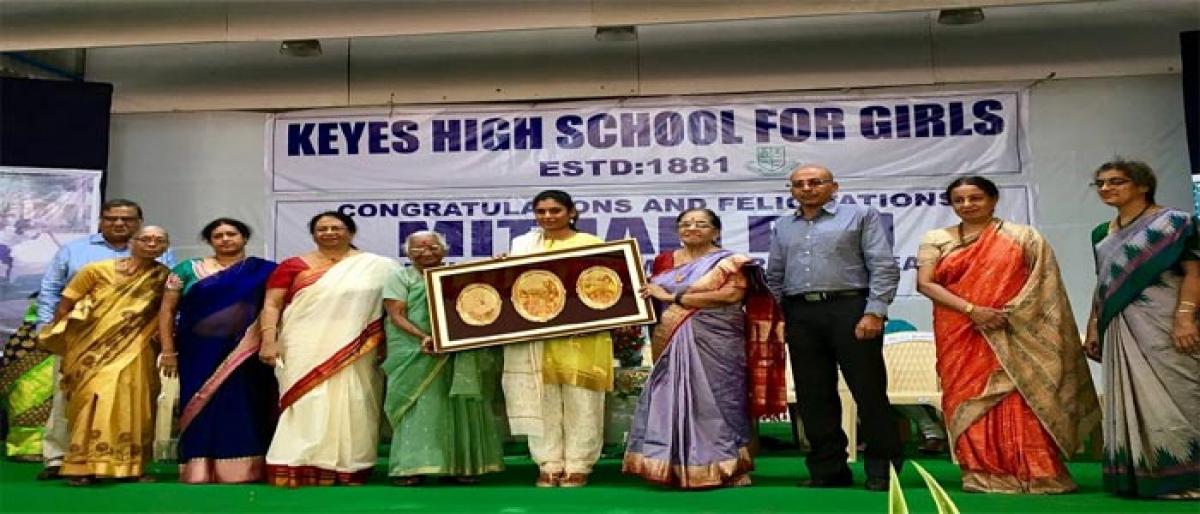 Highlights
'I feel blessed that I have studied here. I could get all encouragement to pursue my hobby that gradually became my profession. The seeds to nurture a ...
Hyderabad: 'I feel blessed that I have studied here. I could get all encouragement to pursue my hobby that gradually became my profession. The seeds to nurture a dream beyond academics were sown by my ever-encouraging parents. I shall remain indebted to all my teachers who gave me the freedom to go about my quest to become a cricketer. I don't think I could have received this flexibility between studies and cricket had I studied in any other school. Nothing could have been more motivational for me.'
That was a straight from-the-heart salutation offered by India's newest poster girl, Mithali Raj, to her alma mater, Keyes High School for Girls, where her cricketing skills were discovered and given shape by Sampath Kumar, a coach under whose wings the young and starry-eyed Mithali blossomed and became what she is today.
In touching tributes to him, she said that she was fortunate that she was picked up by Sampath Sir after her father urged her to take to cricket at an early age. Determination and the urge to excel in her chosen sport were traits that were ingrained in her by the coach, she said in remembrance of the man who is no more but 'will remain in my heart forever'.
'Returning to the very ground from where my journey began is not only nostalgic but also inspirational,' she quipped. Mithali Raj was replying to felicitations at an impressive function organised by the school management on her stellar showing in the Women World Cup-2017, where India finished second.
The speakers did not miss out the fact that she is the only Indian captain, male or female, to lead the country to two World Cup summit clashes.
It was a day wherein the staff recalled the days when Mithali was a devoted student, who preferred to seek time away from classes to work on her cricket while the player eulogised her teachers and management for going all out to help her firm up her resolve to be a cricketer of repute.

Keeping with the spirit of the momentous occasion, the pillars of the institution-President Revathy Thangavelum, Secretary KV Padmini, Vice-President Padmini Krishnama. Joint Secretary CN Ramesh, Treasurer Jayashree Shanmugaraj, Assistant Secretary Yamini Wesley and Committee member CT Srinivas, were present in full force.
The Secretary and President had a bat autographed by Mithali, which they said 'shall remain one of the most cherished legacies of Keyes High School.'
Her teachers went down memory lane while speaking about the young girl, whose humble nature was inter-laced with a gutsy determination once she was in the middle with the willow.
Making the programme that much more pleasant was the presence of retired teachers. Frail in body some of them were but they did not wish to miss out on the opportunity to reward their famous student. That spirit best exemplified the Keyes-inspired family bondage. The sense of togetherness was on show all through the 90-minute function which was executed to perfection. A word of praise must go to the band comprising of the present-day students who rendered a well-synchronised job as did those who accorded a red carpet welcome to their iconic senior.
The flair and spontaneity was on show when select students fielded questions to Mithali that touched various facets of her life and career.
Without any shade of doubt, the most touching moment came from Indira Laxmiah and Dr Sulochana, nieces of the illustrious one and only CK Nayudu.
"The great man's picture adorns the walls of the cricket headquarters at Lord's. I wish to see your picture framed for posterity. Achieve that distinction.'
Apparently that is a wonderful benchmark that Mithali Raj can set for herself as she chases future cricketing and personal goals.

Subscribed Failed...
Subscribed Successfully...