Congress takes on KCR for not inducting Madiga community member into Cabinet: MP Komatireddy Venkat Reddy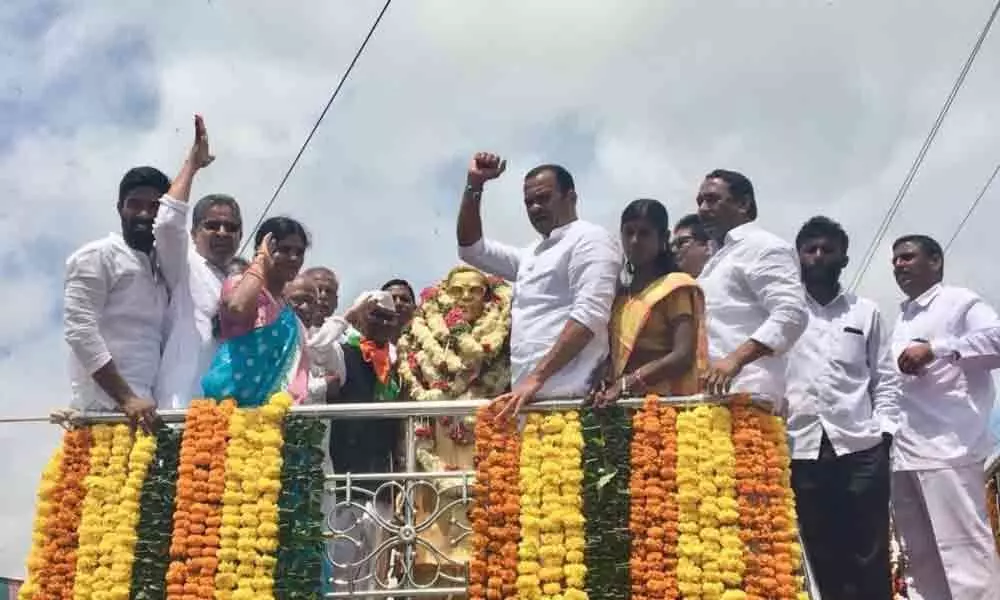 Highlights
Bhongir MP Komatireddy Venkat Reddy accuses the Chief Minister of meting out a raw deal to Madiga community members despite they making up 12 percent of State's population
Ramannapet (Yadadri-Bhongir): Bhongir MP Komatireddy Venkat Reddy stated that son of the soil late Konda Laxman Bapuji was the first person who raised the voice for separate Telangana State. On Friday, he unveiled the statue of Konda Laxman Bapuji at Padmashali Nagar in Ramannapet.

Speaking on the occasion, Komati said Bapuji was a legendary leader who had sacrificed his cabinet post for separate Telangana. Describing Huzurnagar bypoll a tussle between the self-respect of four crore Telangana people and the dictatorial rule of TRS, Komati urged the people to back Congress and teach a befitting lesson to Chief Minister K Chandrashekar Rao.
He flayed the Chief Minister for not allotting a cabinet berth to member of Madiga Community who make up 12 percent of State's population.
He raised objection over joint check power to Sarpanches and vice- Sarpanches and described the move as meaningless. He urged the government to solve the unemployment problem in the State.
To teach a fitting lesson to KCR, people of Huzurnagar must support Congress candidate Padmavathi with a record majority in the upcoming elections, he requested.