Govt conducting corona tests for namesake only: Uttam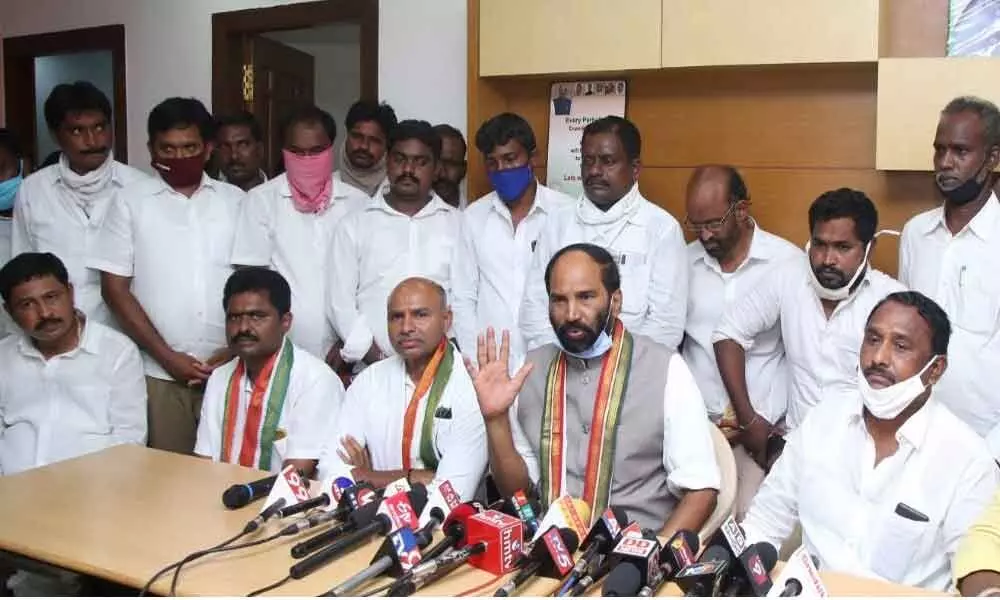 Highlights
TPCC chief and Nalgonda MP Uttam Kumar Reddy stated that people in the State and country have been suffering a lot with both State and Central governments' anti-people' policies
Nalgonda: TPCC chief and Nalgonda MP Uttam Kumar Reddy stated that people in the State and country have been suffering a lot with both State and Central governments' anti-people' policies.
Speaking to the media at his residence in Nalgonda on Tuesday, he said the Central government has increased fuel prices for 15 times in a short span of time not only became a burden for the poor and middle classes, but also increased transportation cost and rates of essential commodities.
He demanded the Central government to roll back the increased prices of fuels and provide relief to the people across the country during the critical corona time.
Uttam Kumar Reddy said the Centre had ignored Congress former chief Rahul Gandhi's alert on corona pandemic in February this year. He mocked at Chief Minister K Chandrashekar Rao over projecting himself as jack of all and commented that KCR is master of none.
He remembered KCR's comments on coronavirus that it will subside by taking paracetamol tablet, virus will disappear at 25 degree centigrade and no need to wear mask in the floor of Assembly.
Uttam said Telangana became a hub for corona due to the government lies on actual figures of victims and by conducting few tests for name sake only.
The TPCC chief said other States in the country have been doing minimum of 4,000 corona tests for 10 lakh people, whereas the TRS government is conducting just 1,000 tests for 10 lakh population.
He questioned the State government over the status of 50,000 tests in State capital Hyderabad to bring the situation under control. He advised the State government not to play with people's life in the present critical time and be transparent and responsible.
Earlier, TPCC chief Uttam met District Collector Prashanth Jeevan Pail and submitted a memorandum to be addressed in his parliamentary territorial in the district and stressed on the need to conduct more corona tests in the interest of public health.
DCC president Shankar Naik, former Municipal vice-chairman Burri Srinivas Reddy, party town president Gummula Mohan Reddy, Punna Kailas Neta and others were participated.
Subscribed Failed...
Subscribed Successfully...