Hyderabad: ATM van driver who fled with Rs 92Lakh cash nabbed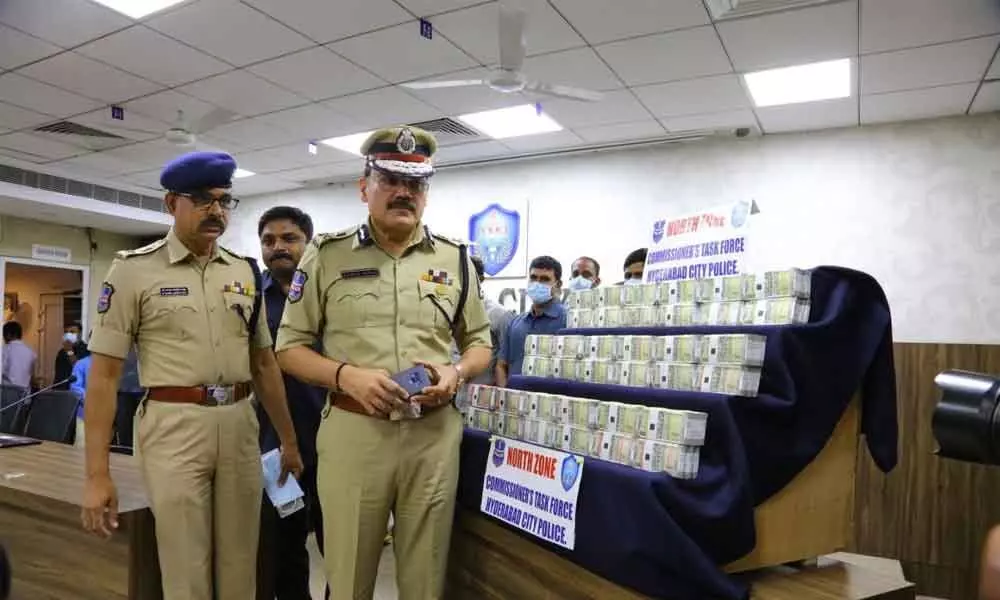 Highlights
The North Zone Task Force police on Thursday arrested one, Dondapati Prakash, who was involved in stealing cash of Rs. 92 lakhs.
Hyderabad: The North Zone Task Force police on Thursday arrested one, Dondapati Prakash, who was involved in stealing cash of Rs. 92 lakhs.
According to task force police, the accused person on March 16 drove away with the vehicle designated to replenish ATM machines with cash. The vehicle carried Rs. 92 lakhs.
Commissioner of Police, Hyderabad, Anjani Kumar, in a press conference said that, the accused person is a resident of West Godavari district and was a Diploma holder in Civil engineering. He got married in the year 2015 and moved to Hyderabad.
He said, "After moving to the city, he was unable to fetch any job and wanted to make his family believe that he is a rich person and was still working in a company as civil engineer.
In order to lead a luxurious life, he hatched the conspiracy and joined as a driver in Securitans India Pvt. Ltd (SIPL) by Five Star Facility Solutions (India) Pvt. Ltd agency.
He used to transport huge amounts of cash for the CMS Info System Ltd through SIPL and while transporting the cash, he hatched the plan and waited for the correct time."
On March 16, Prakash went to CMS vehicle parking area in Kavadiguda. He covered his face with handkerchief and a cap on head.
He approached the parking security guard and showed him a fake ID card and took the vehicle keys from the security guard. Later on, the accused reached CMS office situated at Lower Tank Bund and met the vehicle movement coordinator Anil Kumar and informed him that he was from Five Star Security Service along with route vehicle.
The coordinator then deployed one gunman and two custodians to transport the cash from SBI bank to different ATMs.
After which the accused along with gunman and custodians left for SBI bank in Koti and collected an amount of Rs 1.6 crore from the bank to deposit it in different ATMs in the city.
The accused then came to SBI ATM, near Shiva tea point in Chilkalguda and when the custodians got down with Rs. 68 lakhs of cash to deposit in ATM, the accused then told the gunman to get down as he was about to take a U turn.
As soon as the gunman got down from the van, the accused fled away with the vehicle and abandoned it near Lalaguda flyover.
Based on a complaint lodged by Poojala Harish, manager of CMS, a team of 28 cops was formed and after investigation the task force was able to nab him from his residence in Nagole and recovered the cash of Rs. 90 lakhs from his possession.
The accused was arrested under section 408, 420 of IPC.