No interim relief: Harish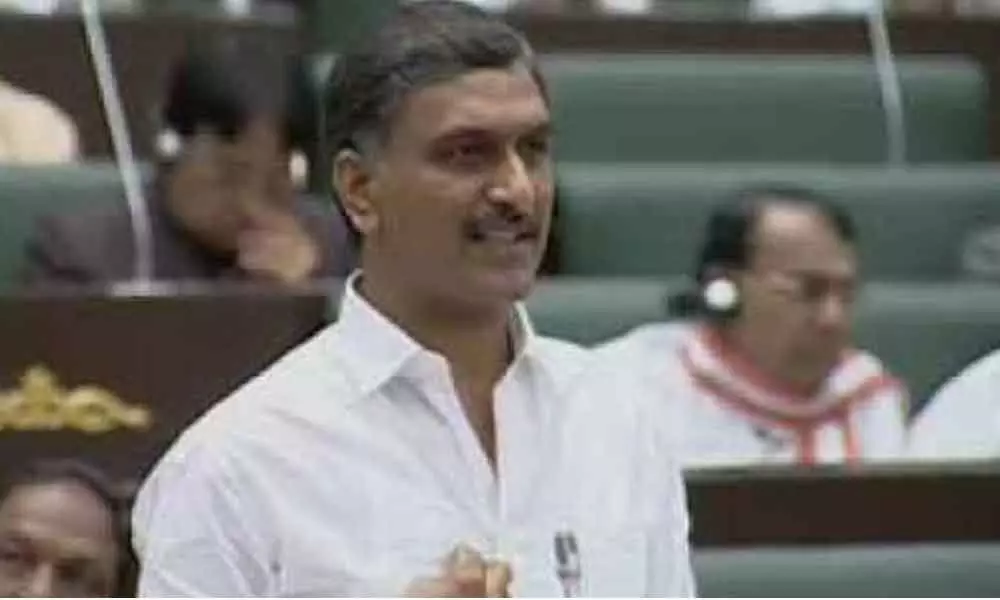 Highlights
KCR to announce PRC and retirement age hike as a package
Hyderabad: The state government has decided not to announce interim relief (IR), Finance Minister T Harish Rao told the Legislative Couincil, while explaining that Chief Minister K Chandrasekhara Rao has asked for the early submission of the Pay Revision Commission (PRC) report and will announce PRC and retirement age hike for government employees as a package, he said.
Replying on the budget discussion in the Council here on Sunday, Rao said the guidelines for the unemployed allowance scheme are being prepared. Once the process is completed an announcement will be made, he added.
Harish Rao said the GDP growth rate of the State is better than 13 other states in the country as well as the Centre and availing loans from various sources is within the limits stipulated by the Centre.
Also, unlike other states and the Centre, the entire loans raised are being spent on the capital investment in development infrastructure like irrigation projects, development of roads and others.
This was done keeping in view the interests of the long-term interests of Telangana and dismissed the allegations of the Opposition parties accusing the government of pushing the State into a debt trap.
The Finance minister taking a dig at the Congress for levelling allegations, said the Chief Minister had written letters thrice to Prime Minister Narendra Modi seeking national project status for the Kaleshwaram Lift Irrigation Project (KLIS) or at least provide a grant.
Similarly, he had also written several letters to the Centre and then the Union Finance Minister. That apart, he had raised the issue at the National Water Development Authority (NWDA) meeting, besides, submitting a representation to then Union Water Resources Minister Uma Bharati.
However, Union Minister Nitin Gadkari had announced that the Centre had decided not to accord national project status to any irrigation project as a policy measure, he pointed out. "While Congress harmed the State interest by not including KLIS, earlier known as Pranahita, the BJP has failed to do justice to Telangana," he said.
Rolling out details of the expenditure incurred on the KLIS during the eight years of Congress regime Harish Rao said, "It exposes who have the commitment to complete the irrigation projects and protect the interest of the State." However, the minister assured that the State government will be taking up the Tummidi Hatti project to provide water to Adilabad.
The Finance Minister said despite the impact of slowdown, the Chief Minister has directed to give priority to agriculture, farmers' welfare and welfare of the poor in the budgetary allocations.
Denying the charge of the Opposition of neglecting the medical and health and education sectors, Harish Rao said, "funds are allocated to the education though BC, SC, ST and Minority departments.
Similarly, the State is witnessing a lot of improvement on medical and health sectors for the lost five years."
He clarified that the State government is committed to continuing its efforts to take forward development and welfare in a balanced manner.