Rangasamudram backwaters inundate villages in Wanaparthy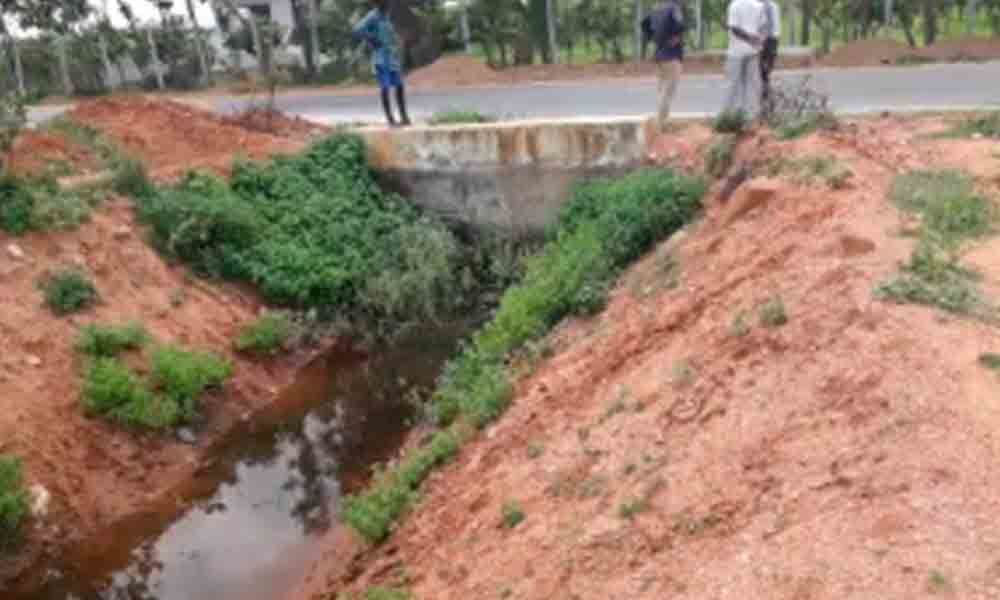 Highlights
Khambalapur villagers urge the Irrigation Department officials to complete the works of sub-canal and save their village from further inundation
Wanaparthy: The villagers of Khambalapur village in the newly-formed Rangapur mandal of Wanaparthy district are facing hardships as their houses got inundated due to the backwater from the Rangasamudram reservoir.

According to Rajendra Prasad Yadav, ZPTC of Rangapur mandal, the Khambalapur village got inundated due to the backwaters from the Rangasamudram reservoir. "Under the Bheema Phase –2 Lift Irrigation Project, the irrigation officials have constructed 20th distributor sub-canal under the 15th package works. However, this sub-canal has been stopped abruptly near the Pebbair-Rangapur Ranganayaka temple highway, because of which the water stored in the canal is entering the village and inundating the roads and the residences. We are demanding the government to direct the irrigation officials concerned to construct the canal and save the village from further inundation," said Rajendra Prasad.
He alleged that the officials and the TRS leaders were creating hurdles in the way of extension of the sub-canal further towards downstream areas where more than 15,000-20,000 acres of land will be irrigated due to the stagnant waters. He said since the TRS leaders would have to forfeit their land for the canal, they were opposing the expansion of the sub canal tooth and nail. "The people are facing a tough time due to backwaters entering the village. The TRS government and its leaders are talking tall of providing irrigation waters, but, why are they playing double standards here is not known. Since Chief Minister is visiting Wanaparthy tomorrow, we are urging the media to take this issue to the CM's notice. At least, the District Collector should take cognisance of the issue and direct the irrigation officials to do the necessary work to save the villagers," observed Rajendra Prasad.
"We are facing a tough time as water is entering our homes. Because of this, we are unable to come out of our homes," said a women from Khambalapur village, pouring out her woes.