Roll out IR, PRC before poll notification, BJP to Telangana Government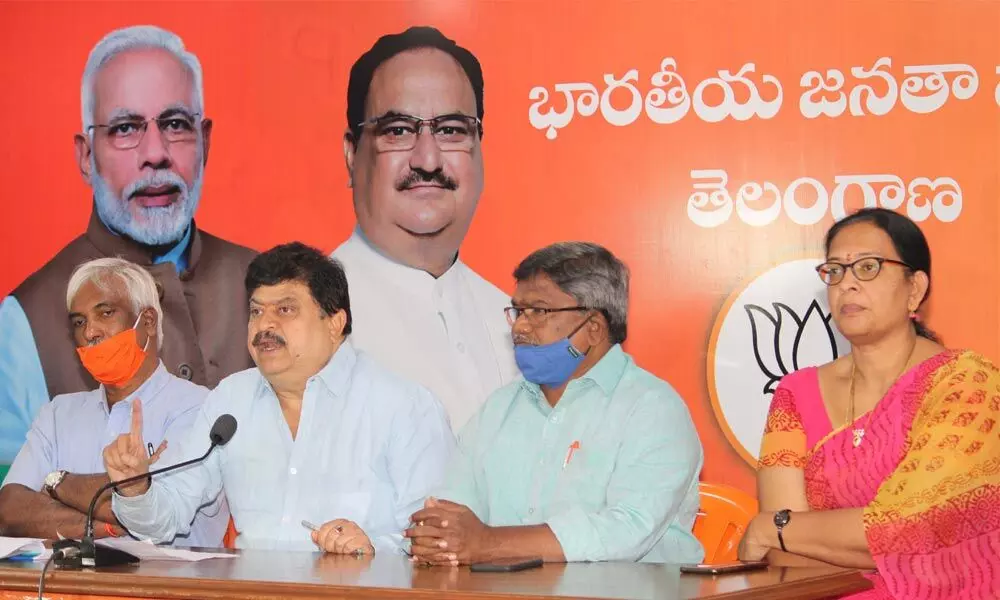 Highlights
MLC N Ramchander Rao demands 27 per cent IR, PRC
Seeks clarity on implementation of PRC, promotions, spouse transfers
Says the BJP is with TRS govt if the latter sincerely considers filling up of vacant posts
Hyderabad: Telangana BJP senior leader and MLC N Ramchander Rao on Wednesday demanded the State government to immediately announce the Interim Relief (IR) and give clarity on the implementation of PRC before the announcement of the schedule for two MLC elections in the State.
Addressing the media here on Wednesday, he said, "BJP welcomes if the State government is sincere in its recent announcement of filling up existing vacancies in the government departments," he said.
However, he added that his party demands the State government to immediately announce 27 per cent IR, PRC as a new year gift to the employees and teachers. Besides, give clarify on the implementation of PRC, promotions, spouse transfers before the announcement of the election schedule for the two MLC graduate constituencies covering six important districts of the State.
Ramchander Rao said that his party made these demands given how Chief Minister K Chandrashekar Rao has made several announcements just ahead of the elections to woo the votes. But, conveniently forgot implementing after the elections were over. "BJP welcomes the announcements of the State government if it not another election stunt of the TRS to woo the votes of the two graduate constituencies just to win the elections," he added.
He added that each government employee and teacher had to forgo about Rs 3 to Rs 3.5 lakh as the State government has failed to give the benefits which they have to get since 2014.
Earlier, committees appointed on PRC have given their reports in time. But, the 11 PRC report on the implementation of the same since June 2018 was not implemented. The committee appointed is expected to give its report in August this year. But, now it has been postponed till January 2021. State government to take a final call after holding consultations with the employees' unions after the submission of the report. However, the neighbouring state (Andhra Pradesh) has been giving 27 per cent IR. Then, what is the problem for the Telangana government to announce the same? he asked.
Similarly, the State government has kept two DAs to the employees pending.
He also reminded how the State government failed to implement the allowance to the unemployed. "If they are sincere, then we welcome the same and demand to implement them before the announcement of the MLC election schedule," he said.