TRS government committed to provide better medical services to poor: KTR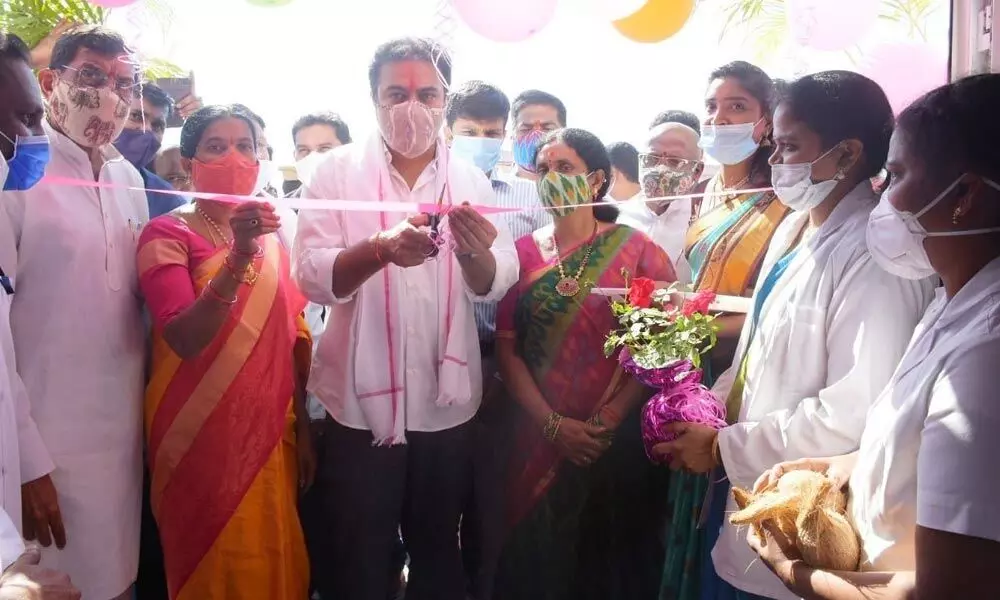 Highlights
The main aim of the State government was to provide better medical services to poor patients, hence health officials must provide services transparently to the poor, ordered IT and MAUD Minister KT Rama Rao
Karimnagar: The main aim of the State government was to provide better medical services to poor patients, hence health officials must provide services transparently to the poor, ordered IT and MAUD Minister KT Rama Rao. On Wednesday, he inaugurated newly established liquid oxygen tank, Covid ward and dialysis centre at the government main hospital in Sircilla.
Speaking on the occasion, IT Minister KTR said that with an investment of Rs 40 lakh sanctioned by the State government, special liquid oxygen tank with a capacity of six litres was set up in the premises of the government main hospital.
After inaugurating the dialysis centre, set up at a cost of Rs 50 lakh, the Minister interacted with patients and enquired them about the services provided in the hospital.
Later, KT Rama Rao inaugurated special Covid ward constructed with fabricated shed with 50 beds with an investment of Rs 40 lakh. He said the government is providing ultra-modern facilities in government hospitals with the funds released specially for the purpose to provide quality services to poor patients. It is the responsibility of the hospital staff to maintain the hospital premises neat and clean and health officials to render better medical services to the poor patients, KTR ordered.
Tescob chairman K Ravinder Rao, ZP Chairperson N Aruna, Collector Krishna Bhaskar, Municipal Chairperson G Kala and hospital superintendent Dr Muralidhar Rao were present along with others.