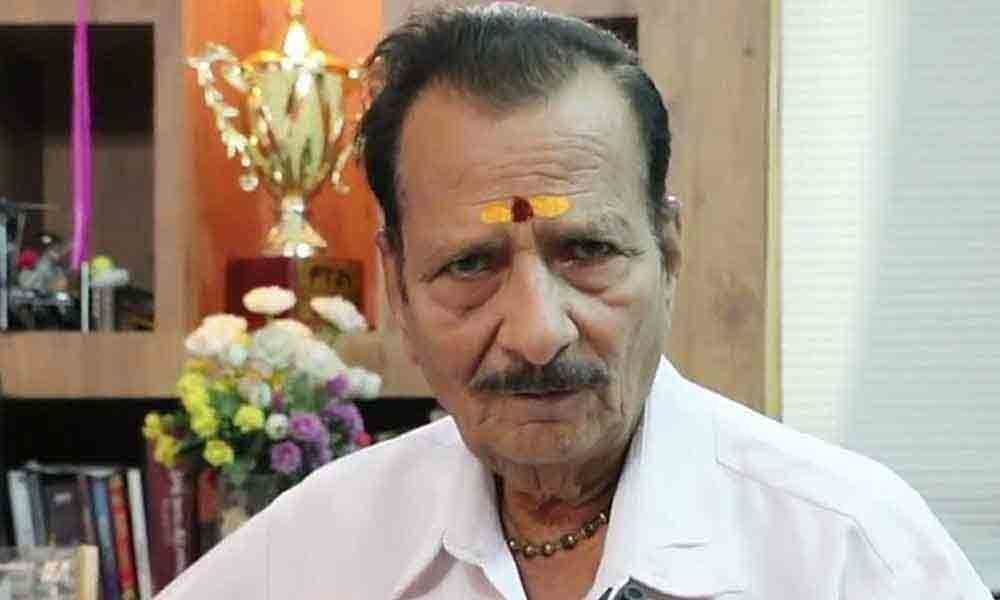 Highlights
Veteran Telugu actor Rallapalli Narasimha Rao popularly known as Rallapalli passed away at 73. In his passing away then Telugu cinema and theatre have...
His voice had a unique timbre and modulation all its own. Hilarious as a comedian, menacing as a villain and heart-warming as a character artiste drawing sympathy from his audiences Rallapalli Venkata Narasimha Rao popularly referred to as 'Rallapalli' was one of the rare breeds of Telugu actors, who transitioned from theatre to films with ease and found resounding success in both places.
This can be gauged from the many roles he essayed on-stage, television and films immortalised in over 800 films, 3,000 plays and numerous television recordings. The duration of the role never really mattered for the seasoned actor, who made his presence felt in a very arresting and powerful manner.
Films paved the way for greater recognition for Rallapalli, who from the first movie 'Stree' in 1973 came up with power-packed performances in film after film. 'Srivariki Premalekha', 'Toorpu Velle Railu', 'Bombay', 'Chali Cheemalu', 'Sundarakanda', and many other films are but a few from the long list of performances on the silver screen where he portrayed diverse roles that established his multifarious talent.

The actor, who hailed from Rachapalli in East Godavari district of Andhra Pradesh was also a playwright, who in total penned three plays that included the popular 'Mugimpuleni Katha' (a story without an end). Moving to Hyderabad to pursue his education he is said to have written the first play that fetched him an award during his student days.
Pursuing various jobs in Hyderabad, he had to quit them when his acting career took off and he had to juggle between shoots. The actor whose birthday coincided with the 'Independence Day 'on August 15, celebrated his birthday by offering financial assistance to poor artistes, who were in need of money reveals senior journalist Mohd. Rafi, who knew the actor for nearly three decades and says he was not merely a good actor but a wonderful human being as well. "Acting was his life breath.
He used to be there for all rehearsals breaking away from the tradition of established actors who were present only for the final take. He took care of many aspiring actors, motivated them and told them about acting opportunities. He had no ego whatsoever," he says. Unlike some comedians who are serious in real life, Rallapalli was always cheerful according to him.
Dr D Vizai Bhaskar, an eminent playwright and CEO of Andhra Pradesh Creativity and Culture Commission feels he was an actor, who was well up to his job and one who established a style all his own. He created a sensation with his play 'Oorammadi Bathukulu' and the movie of the same name which won him a National Award. "He was an actor, who essayed his roles with ease and a writer's actor as he could effectively convey the message envisaged by the writer. Although he has never acted in any of my plays, I knew him as a friendly, polite and helpful human being whose contribution to theatre and films will be greatly remembered," Vizai Bhaskar says.
The 87-year-old veteran poet, playwright, director and actor Duggirala Someshwara Rao is teary-eyed as he speaks of the actor whom he has known since 1960. They acted together in many plays including 'Kanya Sulkam' directed by Abburi Ramakrishna Rao, where he was 'Karataka Sastry' from Gurajada's magnum opus and Rallapalli was his famous shishya. This guru-shishya portrayal of the duo continued in two other plays 'Mricchakatika' and 'Pratapa Rudreeyam'. "We were privileged to stage the play 'Mricchakatika' at Rashtrapati Bhavan in front of the then President Dr Sarvepalli Radhakrishna, several ministers and members of parliament. The President showered us with praise, and we received much appreciation," the veteran reminisces. Rao had honoured Rallapalli with a cash prize and plaque of appreciation on his birthday last year. In his passing away then Telugu cinema and theatre have lost not just a great actor but a humane individual who leaves behind a void that can never be filled.
Subscribed Failed...
Subscribed Successfully...