Meet the 6 women who won the Equator Prize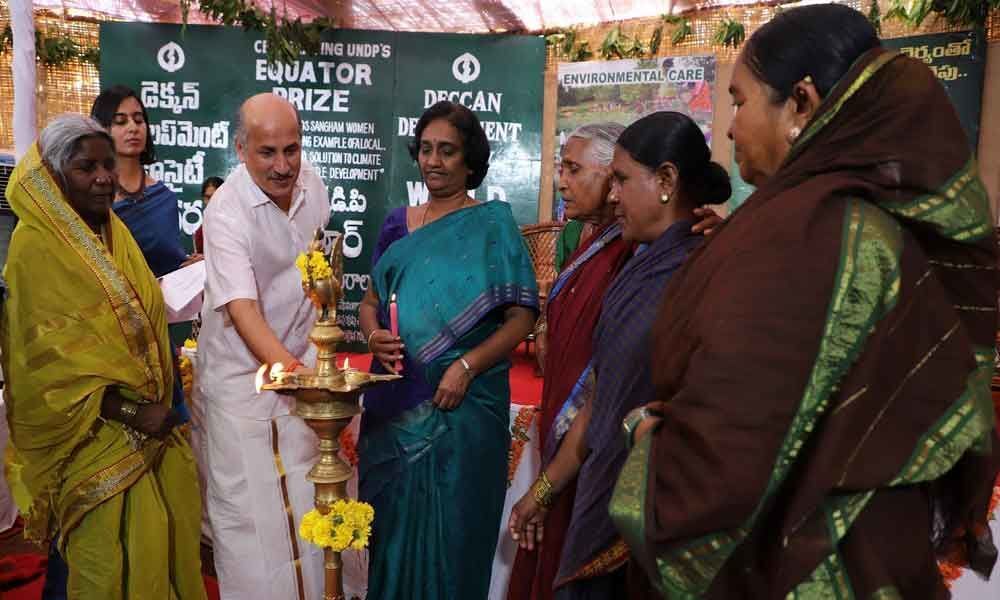 Highlights
The UN award Equator Prize for 2019 is given annually for nature-based solutions to climate change as well as sustainable development.
The UN award Equator Prize for 2019 is given annually for nature-based solutions to climate change as well as sustainable development. The award recognises local and indigenous community initiatives. DDS women are the first group in the Telugu states to have been selected for the prestigious award which will be presented at a ceremony in New York in September
Transforms wastelands into neighbourhood forests
Sunandamma from Indore is a dedicated worker of the DDS Sangam. Sunandamma used to walk more than 5-6 kilometers everyday from the village as there was no transport facility as there was no live hood in the village outskirts. Being a fearless woman, Sunandamma all alone used to walk for longer distances to gathers people and explained in the village how land gets back its fertility.
"I have no fear to work, I can walk many more miles to fill earth green in colour with the trees and fields, I was rich with unworthy land before but am rich now with a lot of trees and crops," says Sunandamma. She transformed land of rocks, hard soil and waste into the agricultural fields. "Challenges comes in life, I had a very worst part, you would have understood by listening that, the land for which i worked is a rocky land filled with stones, nothing can stop us if we are confident to face life," said Sunandamma.
Recognised for community seed collection
Anjamma a nationally honoured community seed keeper from Gangwar is well-known for saving and conserving nearly 100 varieties of traditional seeds and has been a community seed keeper for over 25 years and a sterling example of how an ecologically conscious woman can transcend her marginalization, gender and economic deprivations to become a role model for this modern generations.
"We had no land, used to work for daily wages and we lived in a hut. With extreme hard work we bought 2 acres of fallow land, cleared it and ploughed it. We grew various millets, overcoming all difficulties. We also went for daily work," says Anjammma. With the Help of Deccan Development Society (DDS) Anjamma mastered the skill of choosing the right seed during harvesting, and to treasure it for future use. She now has an ample store of these seeds, which she supplies to the Sangham members. "While harvesting we collected some good seeds checking grain by grain and stored.
Slowly I bought a bullock, a cow, a goat, a buffalo and a cart. I used the one bullock of ours and one of my brothers, and ploughed the land. With the grace of God and good rain, our hard work paid off. This was made possible by the DDS Sangham, it helped in doing this easily, and today we are able to bring back the lost seeds. What we have is being disseminated, and we are able to exchange seeds, sell excess seeds, and use the money for future purchases of seed material."
'Leader of Community Controlled PDS'
Tuljamma found life in cultivation and nature but life had other things in store for her. Few years ago due to water scarcity and other reasons, dried up. She had to carry water pots for 3-4 kilometers yet the crop did not survive. With the support of DDS, especially Satheesh, Tuljamma overcame hardship.
Selected for turning wastelands into neighbourhood forests
Anusuyamma, aged 48, has found happiness in setting things right, in spite of pressure from the family, the love and passion towards the work she went ahead. 20 years ago, Anusuyamma lost her husband and had no money to educate her son.
Later, she purchased land with the support of Deccan Development Society, and learned how to increase soil fertility and slowly started cultivation and the first crop in the hands is the forever best moments of life. "I serve more than 32 villages and now am working as a supervisor of DDS. I cover six mandals, Kohir, Zaheerabad, Nalkal, Manur and Raikod. The land which was left as unworthy for cultivation is now developed and has a good business in 75 acres of land," she said.
A responsible 'Caretaker of village medicinal commons'
Kanakamma is the go-to woman for the villagers if there is a health problem. Kanakamma has been living in Machnoor village for over 25 years. She has protected a patch of land on which she and her sangham established a sanctuary for rare local medicinal plants, and turned it into a village medicinal commons. "Though hailing from a poor family, I managed to be stable in life by adopting changes every day, with the guidance of the DDS.
My life turned in a good way and from the stage of nothing to stage of something with a positive and good recognition in the villages, my life has seen a lot of transformation. Serving the health needs of the villagers is my responsibility and I will do it for the rest of my life," says Kanakamma
Vrikshamitra Award achiever helps preserve forest & environment
Ratnamma, the leader of women sanghams in Algole and the first rural dalit woman recipient of the Vrikshamitra Award from the Ministry of Environment, Government of India, has this to say: "One tree is a life of 100 humans. My life knowingly or unknowingly is attached with land, air and water and these three filled joy and pleasure in my life. Several challenges were faced by me.
Today with exposure to knowledge about crops, a good life is achieved and am happy to be recognised by the government and I wish I would get more and more opportunities like this to serve nation and mother land," says Ratnamma.
Subscribed Failed...
Subscribed Successfully...