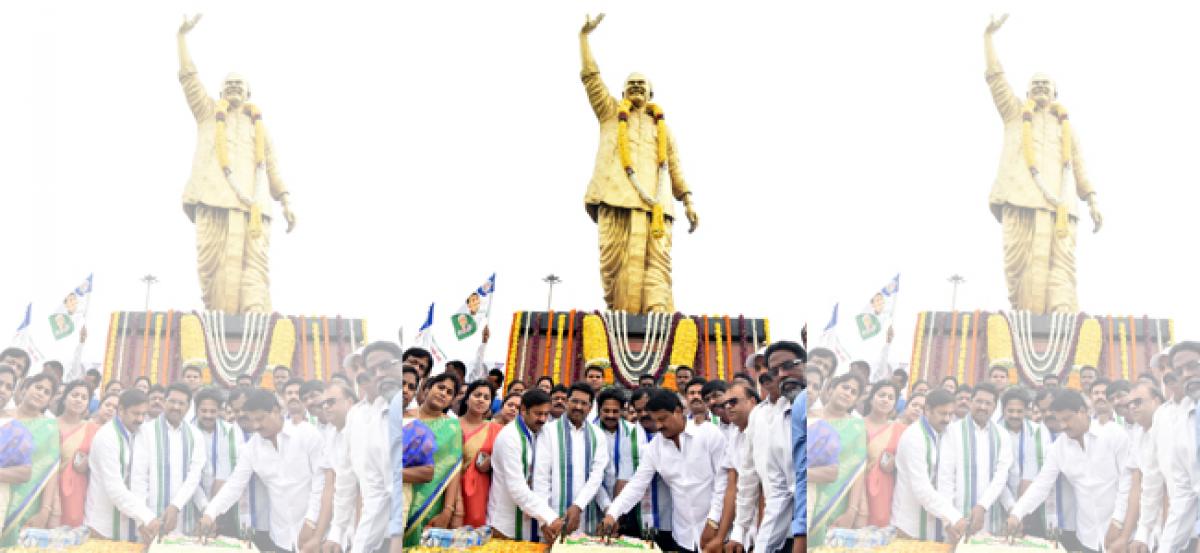 Highlights
The district YSRCP leaders and workers paid rich tributes to former Chief Minister YS Rajasekhara Reddy to mark his 69th birth anniversary here on Sunday
Visakhpatnam: The district YSRCP leaders and workers paid rich tributes to former Chief Minister YS Rajasekhara Reddy to mark his 69th birth anniversary here on Sunday.
The followers of the late Chief Minister and YSRCP leaders and workers cut the cakes and distributed books, uniforms to the poor students and clothes for the poor at the prime junctions in the city.
Former MLA Thynala Vijay Kumar, who quit the Congress and joined the YSRCP in 2014, said that people are waiting for the return of 'Rajanna Rajyam'.
He also added that like YSR, YS Jaganmohan Reddy, too, is people's man as he understands the problems of the people. Farmers and students are assuming that YS Jaganmohan would be the next Chief Minister.
Former MLA and YSRCP City President and West constituency coordinator Malla Vijayprasad said that YSR was a great leader, during his regime, there are no problems to the farmers in the state, whereas now people are fed up with the TDP government and the people will teach a lesson to the both TDP and BJP in the ensuing elections for deceiving the people without announcing the Special Category Status to the state.