Lord rides on Swarna Ratham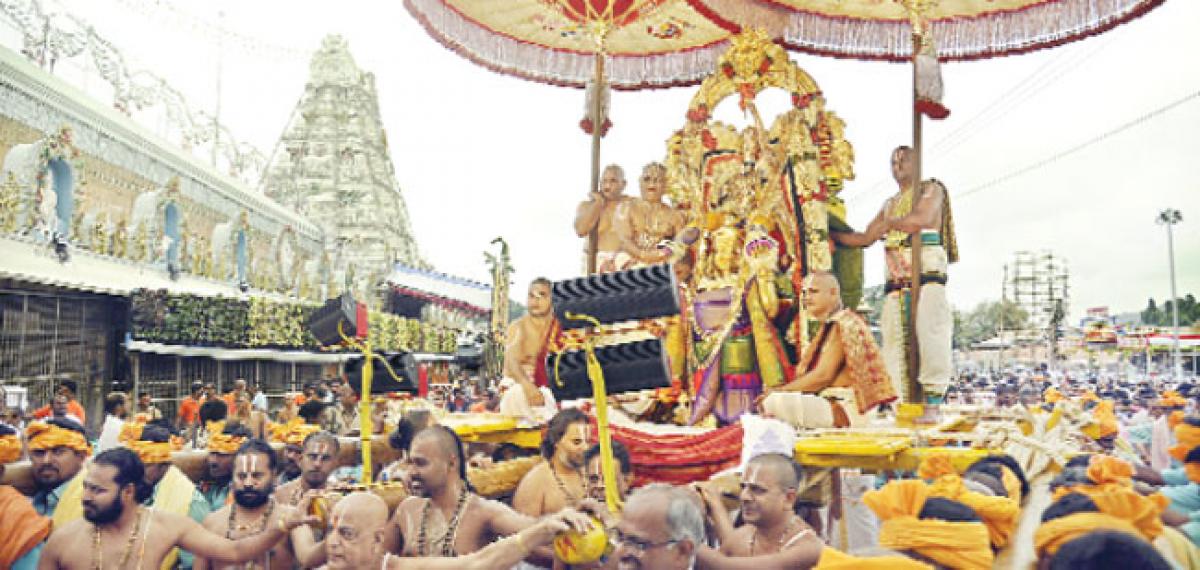 Highlights
Flanked by His two consorts Sridevi and Bhudevi, Sri Malayappa Swamy took a celestial ride on golden chariot at Tirumala on Tuesday evening
Tirumala: Flanked by His two consorts Sridevi and Bhudevi, Sri Malayappa Swamy took a celestial ride on golden chariot at Tirumala on Tuesday evening.
The procession of Swarna Ratham commenced at Tirumala at 4 pm. Scores of devotees vied with each other to pull the chariot with enthusiasm chanting Govinda Namas. The Ratham glided swiftly along the four mada streets.
The devotees were thrilled to witness the beauty of the deities in Radharanga Dolotsavam. The cultural troupes before the procession of the chariot added extra glamour and grandeur to the mega religious event.
TTD Chairman P Sudhakar Yadav, EO Anil Kumar Singhal, JEO KS Sreenivasa Raju and others were also present. Earlier in the day, Lord Malayappa Swamy took celestial ride on His humble and noble devotee, Hanumantha Vahana on Tuesday.
Lord Hanuman was embodiment of Bhakti and Saranagati (total surrender to Lord) and his devotion to Lord Rama was unique and exemplary. Devotees believe that wherever the name of Lord Rama is chanted or mentioned, this sacred being would be present there.
By taking pride ride on Hanumantha Vahana, the Lord sends a message to His devotees that anybody can attain divinity provided they surrender to Him with true devotion.
Meanwhile, the cultural show by devotees including Bhajans, various forms of traditional classic dances, mythological characters display, Sankeertans and religious discourses thrilled and regaled the thousands of devotees that thronged the nine day festival of Annual Brahmotsavam at Tirumala since September 13.