Malaysia wins fourth edition of Young Chef Olympiad 2018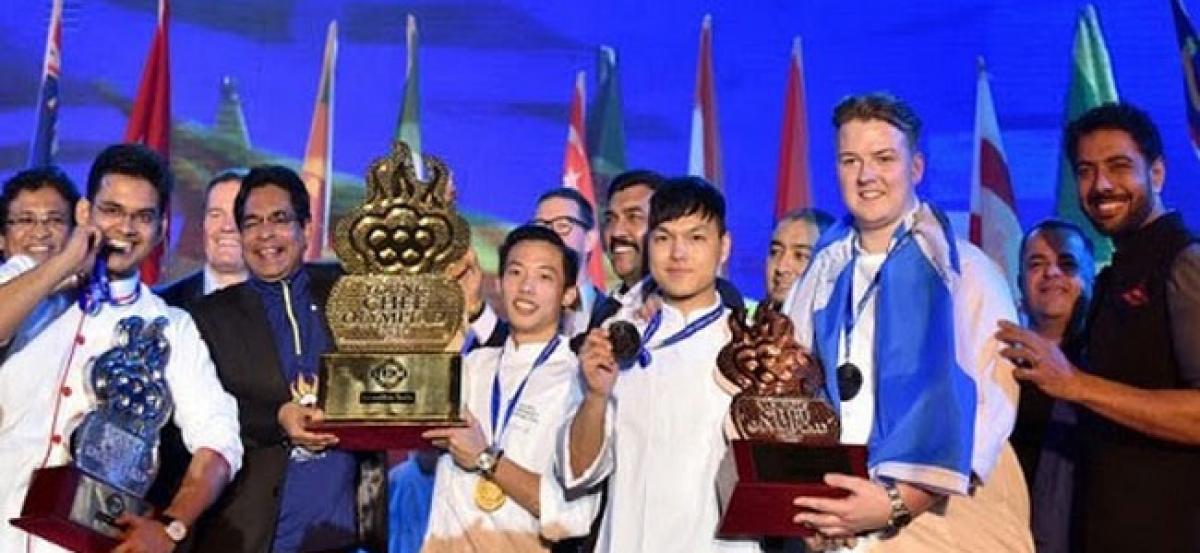 Highlights
Lai Jia Yi from Malaysia won the fourth edition of the Young Chef Olympiad 2018, world\'s largest culinary competition.
Bengaluru (Karnataka) : Lai Jia Yi from Malaysia won the fourth edition of the Young Chef Olympiad 2018, world's largest culinary competition.
Surya Sekhar Roy from India won the runners-up title, and the third place was shared by Kevin McCafferty from Scotland and Henry Lee from Hong Kong.
Lai Jia Yi was awarded the YCO 2018 Trophy and a cash prize of USD 10,000 by Padmashri Chef Sanjeev Kapoor, David Foskett and Dr. Suborno Bose, CEO IIHM.
The competition, which was conceptualised and executed by International Institute of Hotel Management, saw 50 countries compete for the title and a cash prize. The event was held across the cities of Delhi, Bengaluru, Pune and Kolkata. The competition began on January 28 and ended with a grand finale on February 2 in Kolkata.
The fourth edition saw great competition between culinary student chefs from leading universities across the world, there were two rounds one of a classical recipe and the other tested their skills on vegan and vegetarian cooking. At the end of these two rounds, 11 countries moved to the finals, which were held on February 2. All throughout, they were judged on techniques, hygiene, taste creativity and consistency.
The judges panel included eminent Michelin-star Chef John Wood, and Celebrity Chefs such as Chris Galvin, Scott Baechler, Enzo Oliveri, Ranveer Brar, and Sanjeev Kapoor.
The Winner, Lai Jia Yi, Malaysia, said, "I am very excited to win this. It is my first time here and it has been a very good experience at Young Chef Olympiad.
India, who won a position for the first time since the contest's inception, was elated at the win.
Surya Sekhar Roy, the Indian contestant, a student of IIHM, said, "It is the first time that we've got the trophy home. It is an honour. I hoped I could live up to the expectations I had on my shoulders to perform. It is a superb feeling. The exposure like this, meeting chefs like John Wood and Chris Galvin, makes you want to push yourself to greater heights."
Roy's mentor, Sudipta Mazumder, praised Surya's performance in the entire competition and said that they were happy to bring the trophy to India, especially on the occasion of IIHM's 25th anniversary.
Other than YCO Trophy, there were other category awards presented as well:
-Late Shakuntala Devi Award for Best Vegetarian Creation: Jack Gameson, England
-Dr. Zenobia Nadirshaw Award for the Most Outstanding Ambassador of Their Country: Travis Kyle, Australia
-Food Safety and Hygiene Award at the Young Chef Olympiad: Haasty Yannick, Belgium
Padmashri. Shri Sanjeev Kapoor, Chef, Mentor and Principal Judge, YCO said, "Thank you very much for making Young Chef Olympiad such a grand success. I would appeal to all people to give your best and make this event a bigger success for next year. The competition in 2018 was at least twice as big as last year and that's a great achievement!"
Some of the key highlights of Young Chef Olympiad 2018 were:
-Dr. Rupy Aujla of the Doctor's Kitchen fame from the UK as a special guest, who spoke about healthy eating and diet to the contestants and students of IIHM
-International Culinary Forum, featuring the leading chefs from India and across the world talking about the various issues facing the hospitality industry - held across Delhi, Pune, Bengaluru and Kolkata
-United World of Young Chefs: For the first time ever, the 50 contestant countries, cooked their national dish - held at The Hyatt, Kolkata
Interested in blogging for thehansindia.com? We will be happy to have you on board as a blogger.