There is no wrong TDP joined hands with Congress-PCC vice president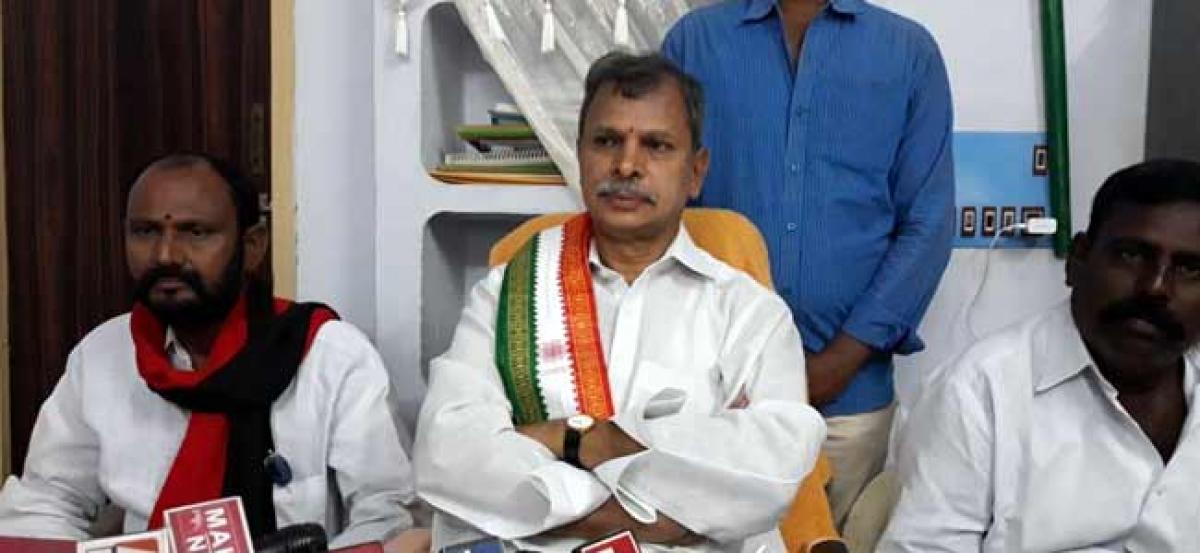 Highlights
Describing TDP having alliance with Congress as historical need, Pradesh Congress Committee PCC vice president NTulasi Reddy said it will be inevitable for both parties joined hands together in the interest of preventing BJP to voted to power in 2019 general elections
Kadapa: Describing TDP having alliance with Congress as historical need, Pradesh Congress Committee (PCC) vice president N.Tulasi Reddy said it will be inevitable for both parties joined hands together in the interest of preventing BJP to voted to power in 2019 general elections.
Addressing press conference at Vempalli on Monday he said congress leaders who were quit from the party should answer what is wrong TDP having alliance with Congress as the Rahul Gandhi assured of providing Special Category Status (SCS) to AP after it has emerged to power in ensuing elections. He said if that leaders really wishing congress emerging to power in central and welfare of AP state why they are opposing the proposal of TDP's of joining with congress.
The PCC leader recalled that When TRS and YSR congress parties moved no confidence motion against Kiran Kumar Reddy government TDP had extended support to the congress as it was escaped from defeat. He said that the so called leaders like C.Ramachandraiah, Vatti Vsantha Kumar, Botcha Satyanarayana, Kanna Lakshmi Narayana were continuing as ministers in Kiran Kumar Reddy cabinet. He said why they did not pointed out TDP extending support to the Congress at that time.
He said people of the country are feeling insecure of their lives following collapse of all sectors as nobody knows what will happens next? He said that despite there was serious threat witnessing to the democracy from all corners BJP lead NDA government least bothered over intensity of situation instead it has been trying to divert the attention of people from important issues. "If the same situation continued for some more time we cannot imagine danger prevailing to the nation" he said.
However the PCC leader reluctant to give direct answer of his party will have electoral alliance in AP when media asked he said that PCC will implement whatever decision taken by the party high command over the issue. "If high command asked us to go ahead with TDP in the ensuing elections there will be no compromise in implementing the party high command orders" he said.