Historic 3648 km yatra comes to an end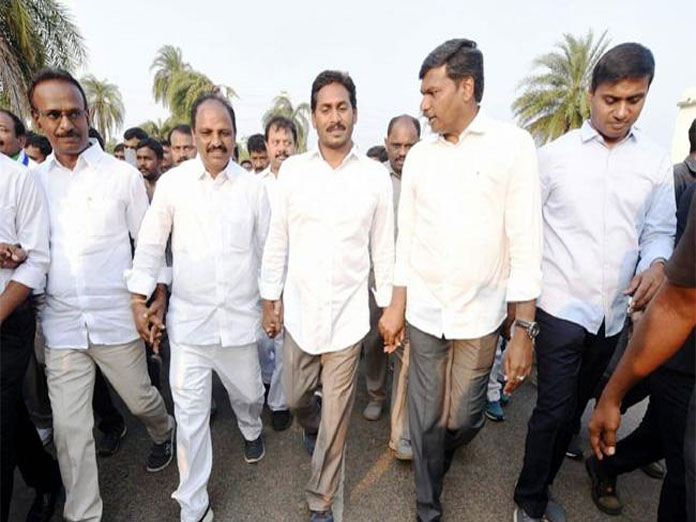 Highlights
At a time when darkness enveloped all around due to the untimely death of peoples leader YSR and when the spectre of bifurcation dogged the Telugus, a young gun began an arduous trek across the length and breadth of Andhra Pradesh
At a time when darkness enveloped all around due to the untimely death of people's leader YSR and when the spectre of bifurcation dogged the Telugus, a young gun began an arduous trek across the length and breadth of Andhra Pradesh. He took to this yatra to alleviate the lot of the poor and address their issues. He is none other than YS Jagan Mohan Reddy, the leader of the Opposition in AP Assembly and the founder of YSRCP.
On Wednesday, he is going to bring to an end his 3648 km long, 341 day Praja Sankalpa Yatra.
This indeed is a historic moment. The Yatra launched from Idupulapaya, a place which was immensely loved by his father YSR and the late leader's final resting place, has ended the yatra on January 9 at Ichchapuram. His yatra involved hundreds of public meetings, thousands of road shows and a coverage of more than 2600 villages. He had met a cross section of the people at every stop and interacted with everyone all along his yatra.

As YSRC's son, he has an unparalleled credibility. This was evident everywhere during his yatra. All along the yatra, the people loved him, hugged him and blessed him. Through this yatra, he became one with the people of the state. Unparalleled love marked the whole route.
His speeches were eagerly lapped up and he touched subjects like agricultural crisis, farmers suicides, Cheyutha scheme and welfare pensions to old and the infirm have been heard with rapt attention. He has proved the adage: Of the people, by the people and for the people. The people, who loved YSR, have seen the image of the late leader in this young leader. Today, Jagan belongs to everyone through this unprecedented and historic yatra.