Walkathon for Road Safety Awareness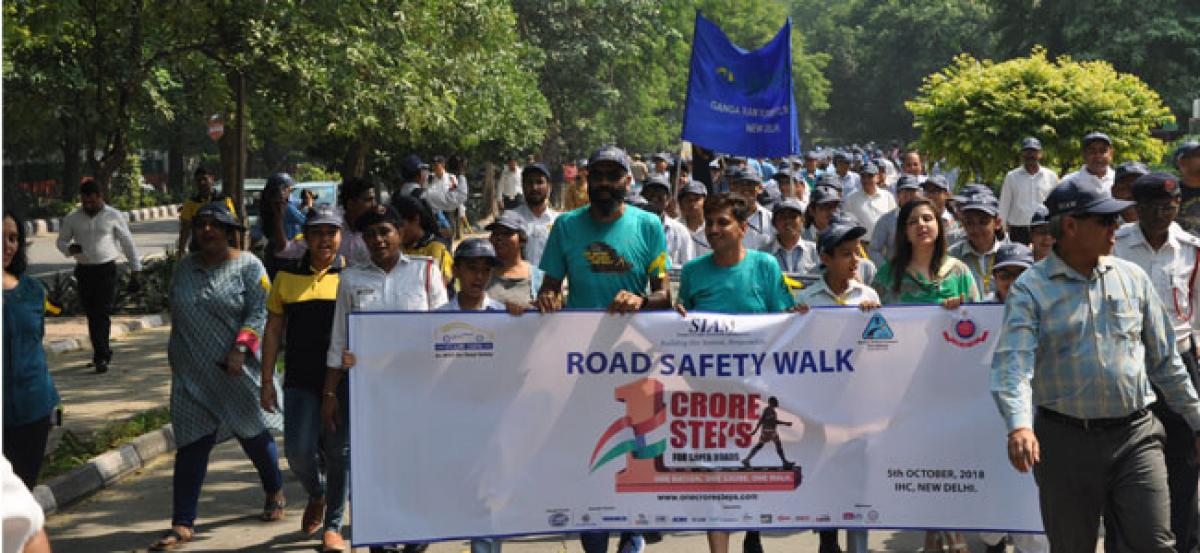 Highlights
SIAM SAFE along with Delhi Traffic Police, Ministry of Road Transport and Highway MoRTH and Club D2S organised a oneofakind walkathon to promote road safety, in New Delhi today
'Mera Kadam Meri Suraksha' campaign aims to promote better sense for pedestrian and road safety amongst school children
New Delhi : SIAM SAFE along with Delhi Traffic Police, Ministry of Road Transport and Highway (MoRTH) and Club D2S organised a one-of-a-kind walkathon to promote road safety, in New Delhi today.
Dubbed India's longest Road Safety Awareness Yatra, #1CroreSteps, the organizers invited citizens to donate their walk steps and thereby spread awareness of public traffic sense on Indian Roads. Part of the #MeraKadamMeriSuraksha campaign, the walk organized today aims to contribute 15,60,000 steps towards spreading awareness around road safety in the National Capital.
The unique national campaign on "Public Walk Donation" for safer roads became a huge success, crossing 1 crore steps in its first 20 Days as the lead walker "Subu" reached Gurgaon from Kanyakumari on the way to his final destination in J&K. With such massive National support for the campaign, its organizers – NGO Drive Smart Drive Safe (ClubD2S) has set a new Goal of achieving 125 crore Steps of public walk donations for Safer Roads. This would come under an extension campaign, #MeraKadamMeriSuraksha.
During his address, Mr. Alok Kumar, Joint Commissioner (Traffic), Delhi Police, said, "A national level, mass movement that #1CroreSteps has become a testimony to the fact that if we walk together, we can make a difference. Addressing the students at an early age will bring overall discipline and a sense of safety on roads."
"The latest data about road accidents in India is very alarming. With one death every 4 minutes and an accident every minute, the situation is very critical and cannot be left unattended for long, and hence our team member "Subu" is taking the challenge to appeal all Indians to join this national movement and donate their walk on www.onecroresteps.comto put this on highest priority" said Mr Ramashankar Pandey, President, Central Working Committee of the NGO, Drive Smart, Drive Safe and Managing Director of HELLA India Lighting Ltd.
Speaking on the occasion, Mr. Vishnu Mathur, Director General, SIAM, said, "It is our privilege to be associated with Club D2S and Hella, supported by ACMA, CII, FICCI and others. The walk for safety is a great initiative and will help us spread the message of road safety across the nation. We would like to urge every citizen to walk for the cause of road safety."
The campaign is supported by The Ministry of Road Transport and Highways, SIAM, ACMA, FICCI, CII-Yi, FADA, AIAWA, ASDC, NGO Arrivesafe, Save Life Foundation, WRI, Raahgiriday, Center for Road Safety, Jaipur and partnered by Hella, WABCO & Brakes India. Volunteers from Bharat Scouts & Guide, NCC, CRPF, RAF, Sports Authority of India, NDRF, Rotary Clubs, Schools, Colleges, Runners & Walkers Group are donating and participating to further this noble cause.