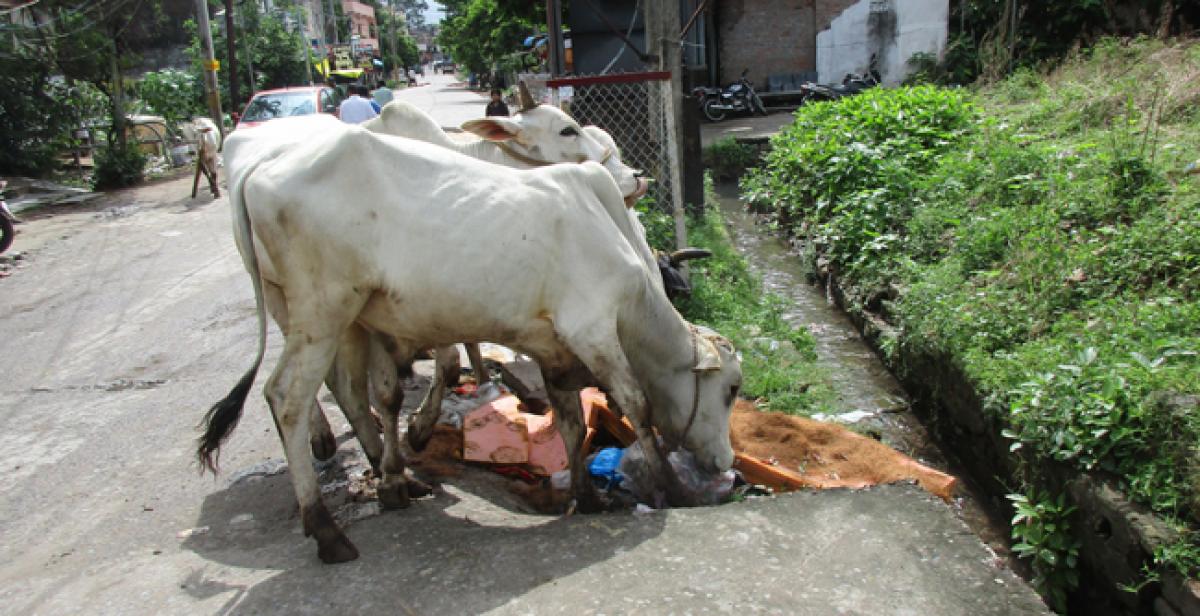 Highlights
It is said that cow is our mother and every Hindu should worship her Then why the Gaumatha is suffering at the shelter run by the Sri Sita Rama Chandra Swamy temple Lord Rama here in Bhadrachalam this is the question beyond comprehansion of ordinary devotees
Bhadrachalam: It is said that cow is our mother and every Hindu should worship her. Then why the Gaumatha is suffering at the shelter run by the Sri Sita Rama Chandra Swamy temple (Lord Rama) here in Bhadrachalam? this is the question beyond comprehansion of ordinary devotees.
The temple has been managing the Gaushala since last ten years where at present there are 20 cows. The temple authorities do not take care of them properly and even do not give them food.
The cows are suffering due to lack of fodder. According to some observers, the officers of the temple are more worried about the money they earn by the donations from the cow bhakts and forget about giving the fodder to cows from which they fill their pockets.
They are so careless about the gaushala that they do not bother to pay for the fodder to the supplier. According to sources, due to non- clearance of old dues, the contractors have stopped supplying of fodder to the gaushala.
Therefore, the gaumatas are depended on the outside food that they get on streets. Every morning, the workers drive the cows outside the gaushala so that they can get something to survive. After filling their tummy with leftover foods, plastics and rotting vegetables piling on the street, they come back in the evening time.
The devotees used to donate fodder to the cows, but now they have stopped doing so. Obviously, when the temple officials are not giving fodder to the cows, they fall sick. According to sources, they are not maintaining the regular check-up of the cows. The veterinary doctors have not visited for the last few months. Therefore, cows are suffering from different diseases.
According to experts, this shelter requires at least three tractor fodder and other items for the maintenance of the twenty cows. Expressing his dismay over the sorry state of affairs, BJP senior leader Avula Subba Rao said, "the temple authorities failed to run the cow shelter. the cows in the shelter are facing many health-related problems."
"The temple staff and department are not showing interest in the cows. The cows are suffering to due to lack of fodder for several weeks in this shelter," he added. He wondered when the temple receives a lot of funds from the devotees and other sources why the temple officers neglect the cow shelter.
By Sayam PV
Interested in blogging for thehansindia.com? We will be happy to have you on board as a blogger.