Chandi ka Warq business surviving on orders from Unani Medicine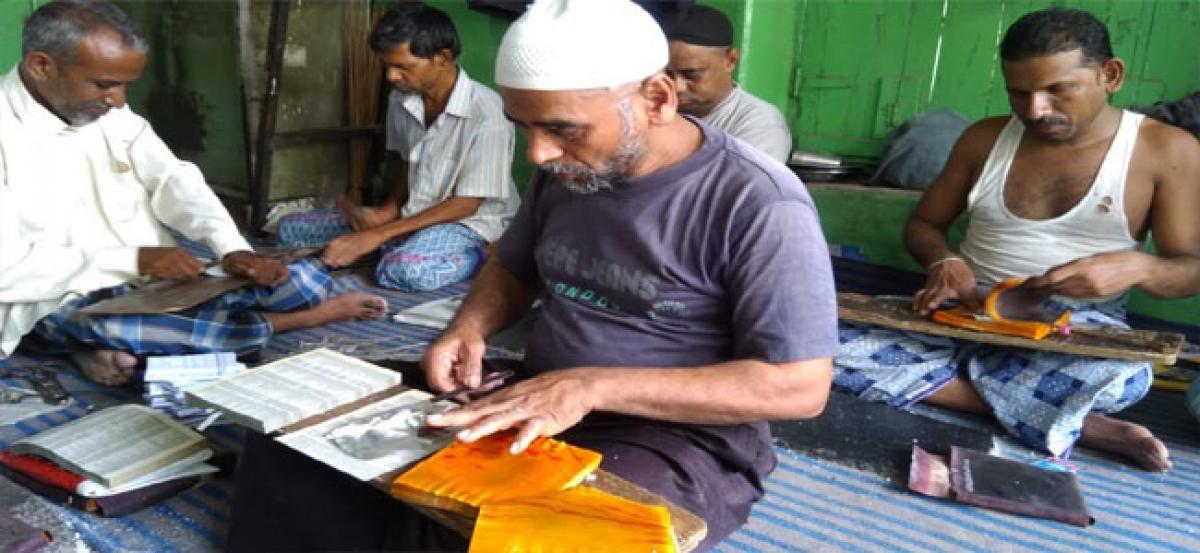 Highlights
Even though the traditional makers of Chandi ka Warq were affected by different kinds of rumours spread over mechanism involved in making, they find some respite as it continues as one of the important component in most of the Unani Medicine
Charminar: Even though the traditional makers of 'Chandi ka Warq' were affected by different kinds of rumours spread over mechanism involved in making, they find some respite as it continues as one of the important component in most of the Unani Medicine.
In Hyderabad, the makers of this popular super ultra thin silver leaf continue to run the industry from Nizam's era. Considered for its health benefits, silver has been used by Hakeems for hundreds of years and its practice continues in making of medicine, generally called as 'halwa'. For general public the known usage is reduced to sweets, pan masalas and other decorative edible items. "The business of silver leaf making was thriving during the Nizam era, as it is said that even famous Luqmaan-e-Hakeem used it for medicinal purposes while treating his patients. Even to this day, Unani doctors continue to use this in their medicines," said Md Shareef, owner of MA Metro Warq Shop, near Mecca Masjid..
A research which was published in Indian Journal of Pharmacology conducted about two decades ago found that it boosts growth in mammals. It was found that usage of silver in Ayurveda and Unani showed antiseptic properties and growth promoting effects without gross or subtle toxicities, weight loss, sedation, motor deficit, aggression or ill effects on cognitive functions. Explaining about the impact of the machine based manufacturing Shareef said that youngsters were ready to take up the profession of 'warq wala', as it needs focus and stamina. The workers at his shop are mostly of old age. Amongst 15 workers, 6 of the workers remained with him ever since the family started the business.
For making this Chandi ka Warq, pure silver, leather pouch and hammer which is nearly 2 kgs is used. The process of making involves making of a foil from raw silver and cutting 5 gm ribbon of silver for making silver leaves. Generally the foil is cut into 160 small equal sizes with a thickness of an inch. These small pieces are kept in a small leather pouch and are pounded with hammer continuously on the corners. It takes minimum of 2 hours for the entire process is completed and thin wafers come out. Similarly, gold leaves are also made by warq workers, if they get any orders, says Ahmed.
Earlier there were 25-30 shops on the stretch between Charminar to Shalibanda, but now hardly 10 shops exist. The rate of the bundles at present is Rs 340 per bundle which has 100 sheets. For hammering of both gold and silver, Rs 200 is charged and can differ according to its weight, he explained. Dr Mohd Saleem of Nizamiah General Hospital said that the Chandi and Sona Ka Warq is used in Unani medicines in both tablets and halwa which is good for digestion, treatment of fertility and also for medicine's effectiveness, Warq is used for coating some tablets which are bitter, its coated for taste as one of the tablets is Warq-E-Nuqra.
BY M M Farooqui
Interested in blogging for thehansindia.com? We will be happy to have you on board as a blogger.