Nala overflow causes heavy traffic jam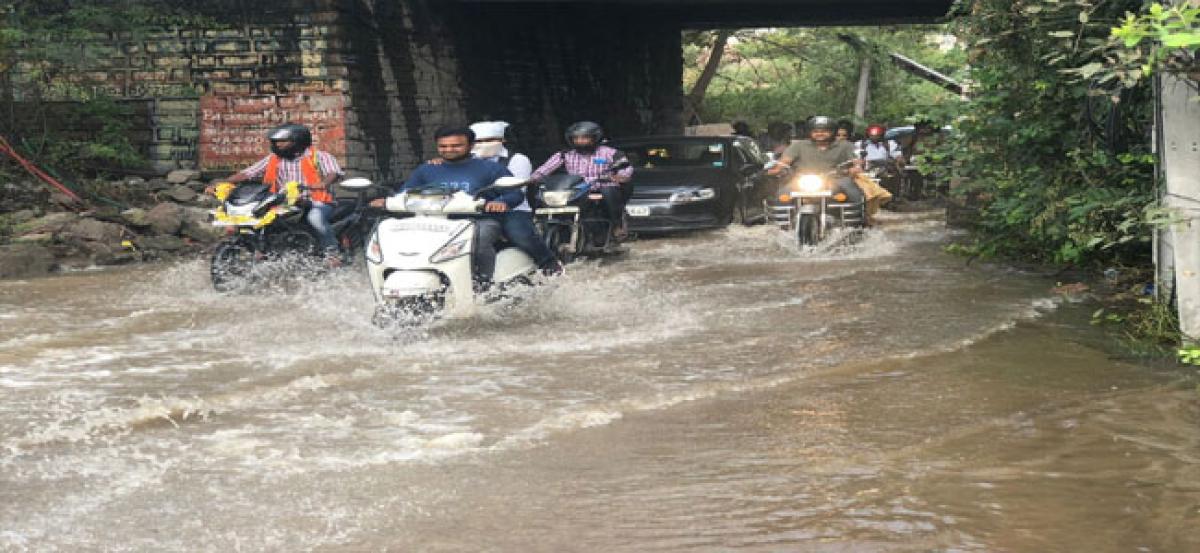 Highlights
Water from the nala under HiTec City railway tracks is causing heavy traffic jam at KPHB Phase IV Though the nala, covered with BT road, has small drain pipes for smooth water flow, even a small shower makes the nala overflow inundating road up to the kneelevel
Hi-Tec City: Water from the nala under Hi-Tec City railway tracks is causing heavy traffic jam at KPHB Phase IV. Though the nala, covered with BT road, has small drain pipes for smooth water flow, even a small shower makes the nala overflow inundating road up to the knee-level.
Locals said that no emergency vehicle from GHMC Disaster Management Department reached the spot to clear the way. Commuters faced a lot of troubles to cross the way wading through the water. As vehicles coming from Moosapet and Kukatpally pass under the RoB, they create a traffic jam affecting the timings of office goers and annoying the locals.
A software employee from Tech Mahindra said, "I stay at KPHB, it's my daily route to office. In this traffic jam, there will be an inordinate delay in reaching the office. Ibrahim, another software employee, said "I come via Moosapet, the road takes me under the flyover. It is difficult to travel during the rains." Deputy Commissioner Moosapet V Mamtha said that she took charge only on Monday. She assured that she would look into the matter and take necessary measures after inspecting the area.