Resume road-widening works brazenly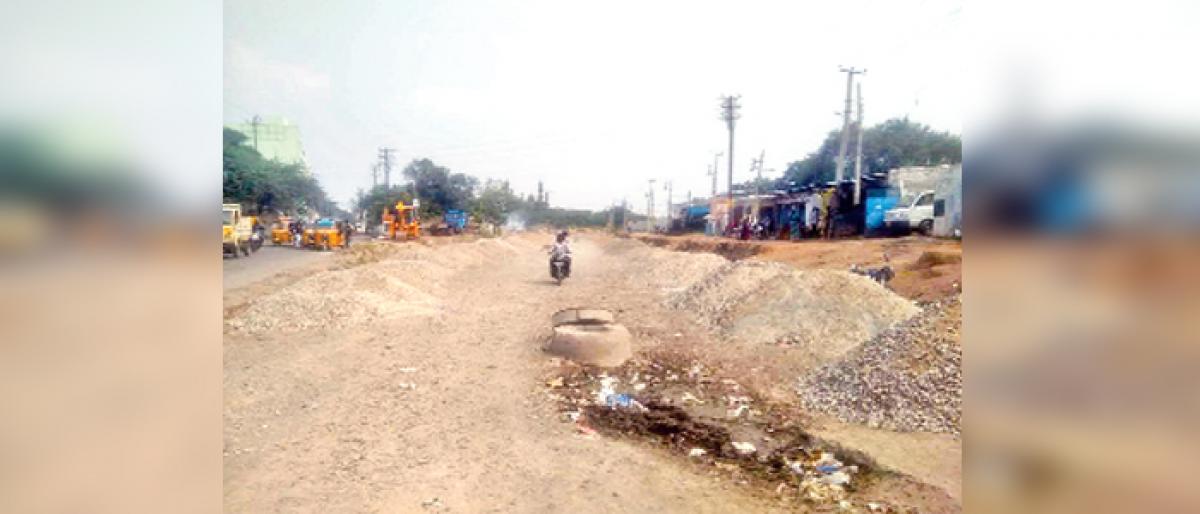 Highlights
In a brazen violation of the judgement and decree of State Wakf Tribunal, the works which had been stopped in May by its officials were resumed by the contractors of HDRDL at KarwanJiyaguda on Tuesday
HRDCL contractors violate Wakf Tribunal decree…
The Tribunal had stalled construction works until completion of due procedure of compensation
A compensation of Rs 48 crore (as per 2013 decree) was to be paid for acquiring 16,000 sq yds of Toli Mosque land
The current value of land ranges from Rs 600 cr to 1,000 cr
Till now no compensation has been paid
The officials had stopped works after Tribunal decree
HDRCL contractors resume work after 5 months
Hyderabad: In a brazen violation of the judgement and decree of State Wakf Tribunal, the works which had been stopped in May by its officials were resumed by the contractors of HDRDL at Karwan-Jiyaguda on Tuesday.
The Tribunal had stalled construction work on Wakf property attached to Toli Masjid without following any due procedure like compensation, however, the contractors of HRDCL (Hyderabad Road Development Corporation Ltd) once again resumed road-widening works at Karwan-Jiyaguda road after five months.
Irked by the development, the Wakf activists decided to resist the works and when confronted they were allegedly threatened by the contractors.
The foundation stone for road-widening was laid by the then Chief Minister, N Kiran Kumar Reddy, but the then GHMC Engineer-in-Chief in his 'Memo of Undertaking' assured that the works would be taken up only after getting clearances from the Wakf Board by 'following the required procedure' in 2013.
"As per the decree, the authorities taking up development should first compensate Rs 48 crore (2013) for land acquisition of 15888.8 sq yds, which has been never paid, but the works were once again resumed in violation of Tribunal orders and decree," said Osman Bin Mohammed Al-Hajri, president of Deccan Wakf Properties Protection Society.
The Toli Masjid was built in 1671 AD on Karwan road and 27 acres and 30 guntas of land was recorded under Wakf.
Its current market value is said to be between Rs 600 and Rs 1,000 crore.
But politically influential land grabbers and unauthorised constructions came up in the last two decades.
Meanwhile, the Chairman of TS Wakf Board, Md Saleem, sent his team of Wakf officials once again on Tuesday to take stock of the situation and lodge a complaint with the local police station.
Subscribed Failed...
Subscribed Successfully...