TRS leaders jump ship, join Congress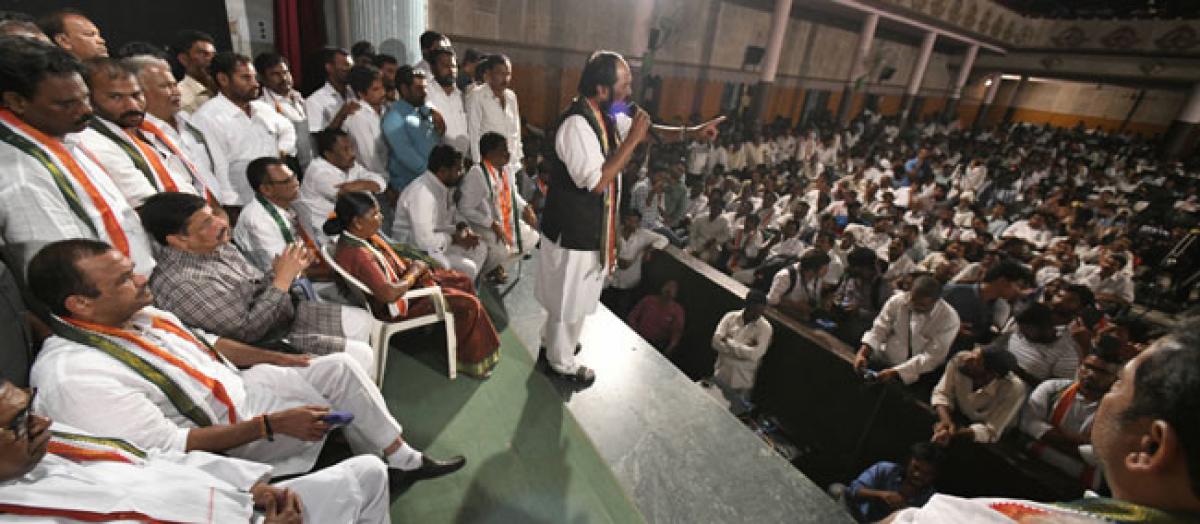 Highlights
Several prominent leaders of TRS from Miryalguda joined the Congress party on Thursday in the presence of TPCC president N Uttam Kumar Reddy, K Jana Reddy, Komatireddy Venkat Reddy and other leaders at Prakasam Hall in Gandhi Bhavan premises
Hyderabad: Several prominent leaders of TRS from Miryalguda joined the Congress party on Thursday in the presence of TPCC president N. Uttam Kumar Reddy, K Jana Reddy, Komatireddy Venkat Reddy and other leaders at Prakasam Hall in Gandhi Bhavan premises.
Among those joined the Congress party on Thursday include Dindi MPP Virakala Naganna, PA Palli MPP Rajamma Narayana, Devarkonda MPP vice-chairmen Devender Reddy, Bodya Naik and their hundreds of followers.
Speaking on the occasion, Uttam Kumar Reddy expressed confidence that the Congress party would win the seat in next elections. He said that Ravinder Naik got elected from Miryalguda seat on CPI ticket due to the support of Congress party. However, he later defected to the TRS. He said Ravinder Naik had no right to seek votes again from this constituency and people should punish him by not voting for the TRS.
Uttam Kumar Reddy said that the TRS has cheated the Dalits and Girijans on the promise of giving three acres of land to each poor family. Similarly, he said KCR has cheated STs by not giving promised 12% reservation.
He said time has come for the people to teach TRS and KCR a fitting lesson in next elections. He said that the Congress party was all set to return to power and the next Congress Government would be formed on December 12.
The TPCC Chief promised that the next Congress Government would waive off crop loans up to Rs. 2 lakh in a single take and ensure payment of remunerative prices to farmers for their produce.
He said that the next Congress Government would full responsibility of crop insurance. He also promised that one lakh vacancies would be filled within one year of power and 20,000 teachers would be recruited by conducting a Mega DSC within 100 days. He said unemployed youth would get an allowance of Rs 3,000 per month.
He said poor Dalit and Girijan families would get free ration, including fine rice and eight other essential commodities, and they would be supplied free power up to 200 units.