CPM roots for secular govt post LS elections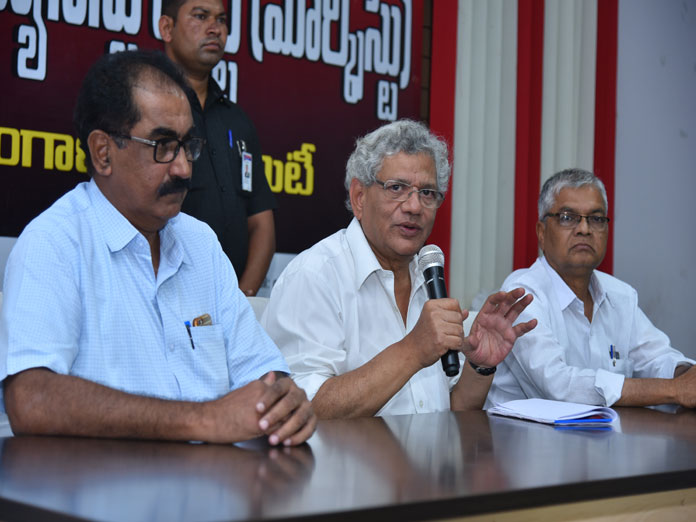 Highlights
Communist Party of India Marxist CPIM central committee has chalked out a threepoint strategy for the upcoming Lok Sabha elections, according to party general secretary Sitaram Yechuri on Wednesday Addressing the media here, Yechuri said the principal task of the party is to defeat BJP and its allies Apart from it, the Left parties would strive to increase their strength in Lok Sabha and su
Hyderabad: Communist Party of India -Marxist (CPI-M) central committee has chalked out a three-point strategy for the upcoming Lok Sabha elections, according to party general secretary Sitaram Yechuri on Wednesday. Addressing the media here, Yechuri said the principal task of the party is to defeat BJP and its allies. Apart from it, the Left parties would strive to increase their strength in Lok Sabha and support and alternative secular government at the Centre post 2019 Lok Sabha polls.
In view of varying factors in different States, the CPI-M is working out statewise strategy to bring together secular and democratic forces to defeat the BJP, he said.Alliances are formed after elections to form coalition governments. The United Front, NDA and UPA alliances were formed post elections, he said. The CPI-M is confident that a similar situation would arise after Lok Sabha polls, he said. In Telangana, he said, while the BJP is the principal target, the party will also launch a campaign in a big way against the policies of the TRS government.
Responding to a question, he said there could be discussions and initiatives from different quarters to form alliances of one sort or other. On the proposal of grand alliance, Yechuri said it is premature to talk about it. Some parties do not have any influence outside their respective States. DMK outside of Tamil Nadu, TMC outside of West Bengal, TDP outside of Andhra Pradesh have not much significant influence, he pointed out.
On the Federal Front, proposed by TRS chief K Chandrashekar Rao, Yechuri said the Telangana State Chief Minister spoke to him on the issue almost a year ago. Since then there was no further communication, he said. Condemning the attack on the 42 CRPF jawans, he termed it as a brazen anti-national attack.
Everyone in the country are condemning it. Also, at all-party meeting, the Opposition pledged its support to the government to protect the security of people and the country. However, he expressed displeasure at the statements of BJP national president Amit Shah on the issue and deplored the ruling party politicising the incident.